The Buick Wildcat started production in an interesting way. Like many other muscle cars of the time, it wasn't originally its own model. Instead, it was a subseries of the full-size Buick Invicta which was in itself a conglomeration of the Buick Century and Buick LeSabre. Not even its name was unique to the model, as GM took the Wildcat name from a show car from a 1950s concept car. With that being said, the Wildcat did have some unique strengths.
The Buick Wildcat became its own series in 1963, splitting from the Invicta parent variant. During that time, it received its own styling, which was once again a new arrangement of existing GM odds and ends, and received some enticing engine options including a high-performance 401 Nailhead V8. The Wildcat also received a bespoke interior to separate it further from the other similar cars in the segment.
Ultimately, the Buick Wildcat only survived two generations, the first from 1963 to 1964 and the second from 1965 to 1970. Despite its short run, the Wildcat signaled an important shift in Buick's philosophy, allowing them permission to venture towards performance-focused models. In the following article, we'll cover the Buick Wildcat including performance specs, engine options, styling changes, and special models.
Buick Wildcat Concept Cars
There's no other place to start this article than in the early 1950s. As an interesting fact, Buick was the first auto manufacturer to release a concept car. The idea was to drum up interest in the manufacturer while also judging public interest in a new concept. That's exactly what Buick did first in the 1930s and later in the 1950s. Their first Wildcat concept car was released in 1953 for the Autorama auto show in New York. The Wildcat I was a fiberglass convertible that had a streamlined and futuristic teardrop shape. It also introduced some novel features for the time like a hydraulically operated convertible top. While it was popular at the auto show, it didn't stir the crowd as much as Buick had hoped.
Buick Wildcat II
Things changed a bit with the 1954 Buick Wildcat II. Instead of a luxury focus, Buick attempted to build a performance car. It was seen as a Corvette parallel and looked somewhat similar. Like the first Wildcat, the Wildcat II was also built from fiberglass and remained a convertible. Its bodylines were reminiscent of the Corvette Stingray and it featured an open wheel design in the front, covered by a massive clamshell hood that rode the top of them. It was one of the first signifiers that Buick was capable of building something that deviated from their "luxury on a budget" brand.
Buick Wildcat III
The Wildcat III followed up the previous concept car in 1955. It was once again a serious departure from the previous concept model, this time a 4-seat coupe. Styling was handled by famed Buick designer Harley Earl and was more boxy than sweeping like the previous models. The primary purpose of the Wildcat III was to show off some of the styling cues to come to production Buicks later in the decade.
While the Wildcat name would remain a staple for Buick concept cars, it only received a production model for 7 years. With that being said, the production Wildcat is beloved by Buick fans and muscle car fans alike due to its performance and associated history.
First Generation (1963-1970) Buick Wildcat History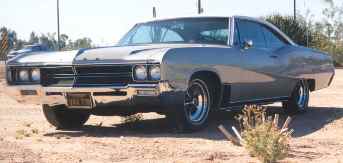 The Buick Wildcat was arguably Buick's first performance car, although it was more a luxury sports coupe than all-out performance. Nevertheless, it began Buick's quest for power and even lent its name to several Buick engines of the mid-sixties.
1962 Buick Wildcat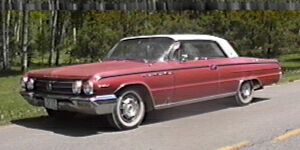 The first Wildcat (officially named the Wildcat Sport Coupe) was part of the Invicta line, but included front bucket seats, a console, tachometer, and a rear floor lamp. Its body style was classy and attractive. Buick engineers adjusted the suspension to improve the handling of the Wildcat. Highlights included a frame that carried boxed cross-members with heavy side rails, coil springs on all four corners, and oversized 10-inch drum brakes. Sporty yes, but light, no.
The Wildcat weighed in at 4,150 pounds. It also boasted a strong performing Buick LT401 cid V8 engine that produced 325 bhp. The car came with a standard 3.42:1 rear end, which would have provided a good balance of acceleration and highway cruising. Buyers seeking more straight-line speed could opt for the available 4.45:1 rear end, which would have offered more low-end torque and quicker acceleration.Marketed as a "family-sized sports car", approximately 2,000 were sold.
Production: 2D Hardtop: 2,000 (est.)
Engines: 401 V8 325 bhp @ 4400 rpm, 445 lb-ft @ 2800 rpm
1963 Buick Wildcat

The Wildcat received some new styling changes for 1963. The name was scripted on the rear fenders, within the rear cove, and across the front of the hood. A custom grille adorned the front. Under the hood, the 401 cid V8 rated at 325 bhp carried over. But the big news was the expansion of the Wildcat line to three models: Model 4639 (the four-door hardtop), Model 4647 (the two-door sport coupe), and Model 4667 (the two-door convertible). Although Buick tried to play up the performance image of the Wildcat, the 4 door model outsold the other two by a wide margin.
Production: 4D Hardtop: 17,519. 2D Hardtop: 12,185. 2D Convertible: 6,021.
Engines: 401 V8 325 bhp @ 4400 rpm, 445 lb-ft @ 2800 rpm.
1964 Buick Wildcat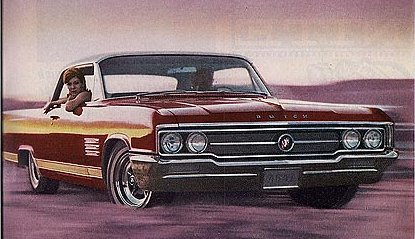 Buick continued to support the Wildcat, calling it "the next best thing to owning a Riviera." More importantly, the carryover standard 401 cid V8 rated at 325 bhp was joined by two optional engines, a 425 cid V8 rated at 340 bhp and the top-of-the-line 425 cid V8 rated at 360 bhp. The extra performance was needed as curb weight was now 4,500 lbs. The suspension was further upgraded and included a link stabilizer bar and a semi-floating rear axle using a three-bar link with a track bar. A posi-track rear axle was optional. A fourth model, Model 4669 (the four-door sedan) was added, which somewhat diluted the Wildcat's performance image. But sales continued to increase.
Production: 4D Sedan: 20,144. 4D Hardtop: 33,358. 2D Hardtop: ?. 2D Convertible: ?.
Engines: 401 V8 325 bhp @ 4400 rpm, 445 lb-ft @ 2800 rpm. 425 V8 325 bhp, 465 lb-ft.  V8 425 CID 360 bhp, 465 lb-ft.
1965 Buick Wildcat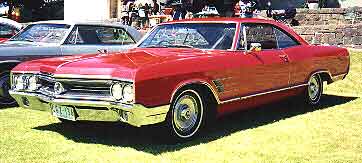 The engines carried over for 1965, but the Wildcat received all new styling, as its sheet metal was now shared with the LeSabre. The Wildcat still continued with a unique grille and badging. Buick went crazy on the models, expanding the Wildcat lineup to ten models, five sedans and five coupes.
Production:
Engines: 401 V8 325 bhp @ 4400 rpm, 445 lb-ft @ 2800 rpm. V8 425 CID 325 bhp, 465 lb-ft. 425 V8 360 bhp, 465 lb-ft.
1966 Buick Wildcat

The Wildcat was basically unchanged for 1966 except for the addition of the Wildcat Custom. This included extra niceties such as a deluxe steering wheel, padded armrests, plusher seat materials, and custom bucket seats. But of greater interest to performance fans was the addition of option Y48, the Wildcat Gran Sport Performance Group.
For $381.01 over the cost of the 425 V8 360 bhp engine, the package added a high-performance 425 cid V8 with a pair of four-barrel carbs, a chrome-plated air cleaner, cast aluminum rocker arm covers, dual exhaust, heavy-duty suspension, Posi-Traction rear end, and 8.45×15 inch whitewall tires. This engine (also known as A8 or the Wildcat 465) was good for 380 bhp and 465 lb-ft of torque. This was certainly a rare option as only 21 were believed to have been produced. This would be the only year for this option. Overall Wildcat sales were up, as 68,584 total units were sold.
Production: 68,584.
Engines: 401 V8 325 bhp @ 4400 rpm, 445 lb-ft @ 2800 rpm. 425 V8 325 bhp, 465 lb-ft. V8 425 CID 360 bhp, 465 lb-ft. 425 V8 (2×4) 380 bhp, 465 lb-ft.
1967 Buick Wildcat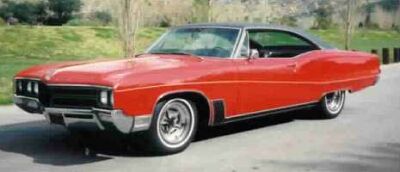 The Wildcat received an all-new 430 cid engine for 1967. This engine featured 10.5:1 compression, hydraulic lifters, a giant four-barrel carb, and was rated at a strong 360 bhp. Much of the added power came from a domed chamber design that greatly increased the efficiency of the engine.
Engines: 430 V8 360 bhp @ 4600 rpm, 475 lb-ft @ 3200 rpm.
1968 Buick Wildcat

The Wildcat got an all-new look for 1968, with a new grille design and new body side moldings. The Wildcat was still offered in both standard and plusher Custom models.
Production:
Engines: 430 V8 360 bhp @ 4600 rpm, 475 lb-ft @ 3200 rpm.
1969 Buick Wildcat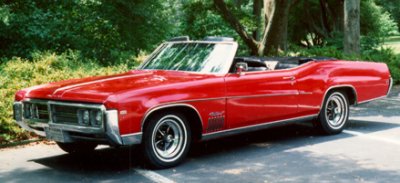 The Wildcat continued virtually unchanged for 1969, with the exception of a new grille design with vertical texturing. The Wildcat differed from the LeSabre only in the grille and a broad rocker molding with fender extensions and wheelhouse moldings. The standard equipment was the same for both the LeSabre and the Wildcat, although the Wildcat did come with a unique steering wheel.
Engines: 430 V8 360 bhp @ 4600 rpm, 475 lb-ft @ 3200 rpm.
1970 Buick Wildcat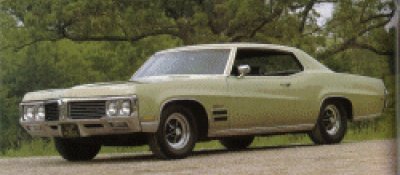 1970 was the last year for the Wildcat, but it went out with a bang. The standard engine was Buick's all-new 455 cid V8, rated at 370 bhp and a earth-shaking 510 lb-ft of torque. This new engine had a 10:1 compression ratio, a cast iron block, hydraulic lifters, five main bearings, and a four-barrel carburetor. But in the end, the Wildcat was too similar to the LeSabre on which it was based, and sales dropped considerably. The Wildcat would vanish at the height of its performance.
Production: 23,619.
Engines: 455 V8 370 bhp @ 4600 rpm, 510 lb-ft @ 2800 rpm.