1978-1987 Grand National / Regal T-Type History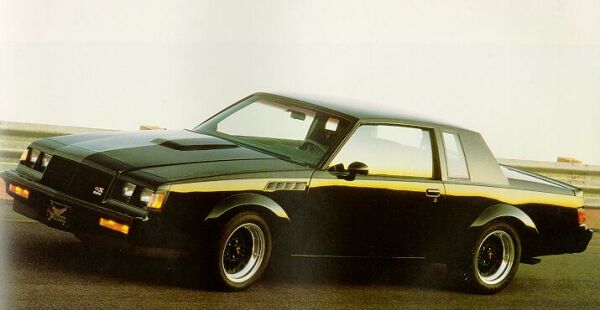 Introduction: The Buick Grand National represented Buick's return to its muscle car roots. Buick performance revival started with the Turbo Regals, then moved to the Grand National and finally the mighty GNX which would dominate the drag strips during the late 1980s.
1978 Buick Turbo Regal
Comments: 1978 was the first year that the Buick Regal was available with a turbo charged engine, Buick's 3.8 Liter (231 cubic inches) V6. Sporting a characteristic hood bulge, the Turbo Regal was available with either a four barrel carb version rated at 165 bhp or a two barrel carb version rated at 150 bhp. All were Regal Sport Coupes.
Production: Turbo Regal: 30,508
Engines: 3.8 liter V6 Turbo (2bbl) 150 bhp. 3.8 liter V6 Turbo (4bbl) 165 bhp.
1979 Buick Turbo Regal
Comments: The 1979 Turbo Regal became more luxurious with the wheel arches receiving more emphasis. There were also minor tweaks to the turbo engine, resulting in 5 more horsepower.
Production: Turbo Regal: 21,389
Engines: 3.8 liter V6 Turbo (2bbl) 150 bhp. 3.8 liter V6 Turbo (4bbl) 170 bhp.
1980 Buick Turbo Regal
Comments: 1980 saw a huge sales decrease to just 6,276 units, which was puzzling because the model was basically carried over from the year before. The only changes was a minor restyling with four rectangular headlights and a different grille design.
Production: Turbo Regal: 6,276
Engines: 3.8 liter V6 Turbo (2bbl) 150 bhp. 3.8 liter V6 Turbo (4bbl) 170 bhp.
1981 Buick Turbo Regal
Production:
Engines: 3.8 liter V6 Turbo (2bbl) 150 bhp. 3.8 liter V6 Turbo (4bbl) 170 bhp.
1982 Buick Regal Grand National
Comments: Buick introduced a limited edition Regal in 1982 called the Regal Grand National. This marked the return of Buick performance and brought Buick the prestigious manufacturer's trophy in the 1981 and 1982 NASCAR Winston Cup Series. Named after the Grand National NASCAR Winston Cup events it competed in, the Regal Grand National was only available with a two-tone paint scheme with a silver mist upper body and charcoal gray lower body. The paint scheme was accented with red pin stripping, and large "Buick" decals on the rear quarters.
This was the only year that the Grand National was not black. All Regal Grand Nationals came with T-top roofs and front and rear spoilers. A total of 215 units were built, making it one of the rarest Grand Nationals. They were all built off of existing Regal units pulled off of the assembly line, so there are numerous deviations. Regal Coupes, Regal Sport Coupes, and Regal Limited Coupes were all used in the production of Regal Gran Nationals. Unfortunately, the pizazz of the exterior did not carry over to the interior. In fact, the new Turbocharged engine found in the Regal T-Type was not used in the Regal Grand National. Instead, the sole engine was an under performing 4.1 liter V6 rated at a mere 125 bhp, hardly a performance engine. The Grand National did come with a 3.23 rear axle ratio and the Gran Touring suspension system.
Production: 215
Engines: 4.1 liter V6 125 bhp.
1983 Buick Regal Grand National
Comments: Curiously, there was no Grand National for 1983. The best performer would be the Regal T-Type with its turbocharged V6.
1984 Buick Regal Grand National
Comments: 1984 saw the return of the Grand National, now with a turbocharged, fuel injected V6 (Engine Code LM9). The engine was rated at a strong 200 bhp and 300 lb-ft of torque. The new SFI (Sequential Fuel Injection) system handled fuel management and the engine also included an electronic wastegate control for engine boost adjustment. Maximum boost was set at 15 psi.
To put all that power to the road, the Grand National came with a 3.42:1 Posi-Traction rear end. The Grand National package (Option WE2) came with the standard black paint, black bumpers, rub strips, and guards, black front air dam, a deck lid spoiler, aluminum wheels with black paint, Lear Siegler front and rear seats (trim code 995) with a stylized "6" embroidered on the front seats, and Grand National identification on the exterior and instrument panel.
The Buick Regal T-Type continued on, with the same powertrain and engine as the Grand National all the way through 1987. But it was the Grand National that got all the attention.
Production: Grand Nationals: 2,000
Engines: 3.8L V6 Turbo 200 bhp @ 4000 rpm, 300 ft-lb @ 2400 rpm.
1985 Buick Regal Grand National
Comments: The 1985 Grand National was a carryover from the year before,with the only change being the addition of six bright accents to the grille.
Production:
Grand National: 2,102. T-Type: 2,100
Engines:
3.8L V6 Turbo 200 bhp @ 4000 rpm, 300 ft-lb @ 2400 rpm.
1986 Buick Grand National
Comments: 1986 saw significant changes to the Grand National that would make it truly one of the best American performance cars of the mid-1980s. Buick added an air-to-air intercooler, adjusted the turbo, modified the upper and lower intake manifolds, and redesigned the exhaust system. All of these changes added up to a boost in power to 235 bhp and 330 lb-ft. Other changes included a revised front air dam with an opening in the center to allow cool air to reach the intercooler duct and a revised grille with fine vertical bars.
But for the first time, there was another Grand National, the LeSabre Grand National. Only 117 were built to qualify the body for NASCAR competition. All LeSabre Grand Nationals were black (although white was also planned), and came with a sport suspension, 3.8 liter S.F.I V-6 leather wrapped steering wheel, 15 inch alloy wheels with Goodyear Eagle GT tires and rear quarter window close-outs. The "Grand National" emblems on the front quarters were just like regular GN emblems, except that the Power Six logo was all red instead of two-tone red and yellow.
Production: Grand National: 5,512. LeSabre Grand National: 117.
Engines: 3.8L V6 Turbo 235 bhp @ 4000 rpm, 330 ft-lb @ 2400 rpm.
Performance: 0-60 in 5 seconds.
1987 Buick Grand National
Comments: 1987 was the last year for the Regal and the Grand National, but Buick decided to go out with a bang (although the rear wheel drive G-body platform would last one more year until 1988). A whooping 26,555 Turbo Regals were sold, of which 20,193 were Grand Nationals. Buick made some changes to the powertrain and power increased to 245 bhp and 355 lb-ft. The grille was slightly revised, with the teeth set further apart and the Buick emblem siting on the left side. Chrome wheels also were new.
But the big news for 1987 was the introduction of the limited edition GNX. Only available for 1987, the Buick GNX represents the height of Grand National performance. In a nod to the famous Buick GSXs of 1970-1972, the GNX logo featured a larger "X" than the other letters, just like the GSX logo. All GNXs began life as fully optioned Grand Nationals that immediately left the factory and were sent to ASC/McLaren Specialty Products in order to be extensively modified. The modifications included a more efficient Garrett air-to-air intercooler and a special pipe that connected the intercooler to the engine coated with CERMATEL (Ceramic/aluminum) for increased heat rejection and heat dissipation. Front fender vents were installed to pull heat away from the engine while driving. The GNX also received a special Garrett "hybrid" T-s turbocharger that used a very lightweight ceramic impeller (as opposed to metal in standard Grand Nationals).
The decreased weight allows the turbo charger to spin up much faster, thereby decreasing the turbo lag time inherent in turbo charged engines. Maximum boost was set at 15 psi and the turbo used an electric wastegate. The turbo also incorporated special low drag, dynamic turbine shaft seals, and a built in contamination trap. All of these modifications added up to 275 bhp and a whooping 360 lb-ft. To handle this extra power, the transmission was beefed up with firmer shifts and the rear axle received a longitudinal torque ladder bar with a panhard rod to help prevent wheel hop and torque twist. It also received a special rear axle housing cover made of aluminum (with GNX embossed on it) that serves as an additional strengthening element and point for the torque bar. For even more strengthening, the car body received special structural reinforcements in the form of "behind the back seat bracing" and special chassis (steel cross member between the chassis rails) bracing.
The GNX was the only Regal to ever receive 16 inch wheels. The wheels were made of a lightweight alloy and the rear wheels were wider than the front. The GNX came with P245/50VR16 tires in front and P255/50VR16 tires in the rear. Special welded in fender flares were added to the wheel wells to make room for the larger wheels and tires. The standard transmission was a reprogrammed Turbo Hydra-matic 200-4R four speed hooked up to a custom torque converter. Inside, the dash had a special Steward Warner analog gauge package. All GNXs were black in color and the only exterior identification was small "GNX" badges placed on the front radiator grille and rear deck lid. Under the hood, a special turbocharger heat shield had "GNX" stamped on it, similar to the aluminum rear axle cover.
All GNXs received a special numbered plaque mounted on the passenger side dash which identified the number of that particular car (1-547). Also, the Fisher body plate has "GNX" stamped on it. Special "GNX" decals were used on the intercooler and other locations and there were several hidden I.D. stampings to prevent fakes. But all of this came at a price. The cost of the GNX option was a whopping $10,995, which resulted in a final MSRP of $29,900. All out performance doesn't come cheap.
Even more rare are the Buick Regal T-Type "Special T." These models had a Grand National exterior, but a Regal T-Type interior.
Production: Grand Nationals: 20,193 GNX: 547
Engines: Grand National: 3.8L V6 Turbo 245 bhp @ 4400 rpm, 355 ft-lb @ 2000 rpm. GNX: 3.8L V6 Turbo 276 bhp @ 4400 rpm, 360 ft-lb @ 3000 rpm.
Performance: Grand National: 1/4 mile in 14.23 seconds @ 98 mph. GNX: 0-60 in 5.5 seconds, 1/4 mile in 13.43 seconds @ 103 mph.