1969-1971 AMC History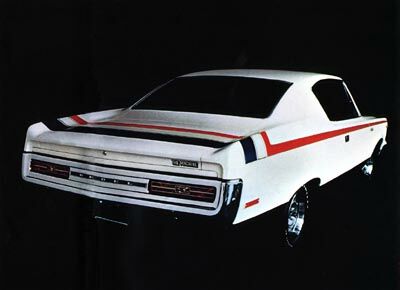 By the late 1960s, AMC was stuck. Its only offerings in the muscle car market were the two seat AMX and the pony car Javelin, and the rest of its lineup was considered by many enthusiasts, a bit boring. Therefore, to add some excitement to its lineup, AMC offered three special vehicles, only offered for one year each: the 1969 AMC Hurst S/Rambler, the 1970 AMC Rebel "Machine", and the 1971 AMC Hornet SC/360. Each would add their own unique style to AMC's muscle car portfolio.
1969 AMC Hurst SC/Rambler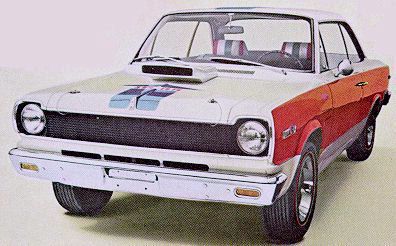 Comments: Needing an entry in the growing compact performance segment, AMC took the lowly Rambler Rouge compact and decided to make a muscle car out of it. AMC turned to Hurst Performance Research Inc., and created the SC/Rambler (often nicknamed "Scrambler"), which debuted in the middle of the 1969 model year. All SC/Ramblers began life as appliance white Rambler hardtops with two-tone mags, racing mirrors, blackout grille and tail panel, Hurst badging, and a functional ram-air hood scoop with an upthrust snout. Under the hood, AMC fited its largest V8, the 315 bhp, 390 cid V8. A Borg-Warner four speed with Hurst shifter and a 3.54:1 limited-slip differential completed the powertrain. The suspension was toughened up with heavy-duty shocks, anti-sway bar, and anti-hop rear links. E70x14 Red Stripped Goodyear Polyglas tires and the AMX's optional heavy duty brakes with Bendix front discs were included. The interior was standard gray vinyl Rouge interior with the addition of reclining bucket seats (with red, white, and blue headrests), full carpeting, and a Sun 8000rpm tach strapped to the steering column. A $61 AM radio was the only option available. The exterior was treated to one of the wildest factory paint jobs on any muscle car. Two exterior options were available. The first 500 cars built featured the "A" trim with red center body side panels, and thick blue horizontal racing stripes on the hood, roof, and deck. A blue arrow pointed towards the scoop, which had large letters spelling the words "390 CU.IN" and the word "AIR" appeared on both sides of the air scoop. When these quickly sold, a second batch of were made with the new "B" type trim. These had a mostly white exterior with narrow red and blue stripes. Then a third batch was made, reverting to the "A" style trim, but lacking some of the elements. About 1,200 of the 1,512 made had the "A" treatment. It may have been a supercar caricature, but it was quite a performer. With 315 bhp and a curb weight of just 3,000 lbs., the hot compact had a power-to-weight ratio of just 10.03 lbs/bhp. This enabled the SC/Rambler to pull off quarter miles in the low 14 seconds at 99 mph. Not bad for a little compact from AMC, even if it lasted only one year.
Production: 1,512
Engines: 390 V8 315 bhp @ 4600 rpm, 425 lb-ft @ 3200 rpm.
Performance: 390/315: 0-60 in 6.3 seconds, 1/4 mile in 14.3 seconds @ 99 mph.
1970 AMC Rebel "Machine"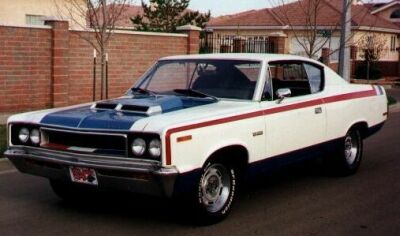 Comments: AMC followed the success of its 1969 SC/Rambler with a new model for 1970, the Rebel "Machine." The original concept of the "Machine" was of a basic black midsize coupe with black wheels, fat tires, and no stripes, scoops, or spoilers. The Rebel "Machine" debuted as a midsize coupe for 1970 but it was not basic black, but rather featured the outrageous Patriotic paint scheme featured on the SC/Rambler. Priced at $3,475, the Machine was based on the midsize Rebel platform and featured a 114 inch wheelbase and a curb weight of 3,640 lbs.
Under the hood, AMC stuffed its 390 cid V8, now upgraded to 340 bhp. The engine breathed through a standard Ram-Air induction system which featured a huge hood scoop with a vacuum-controlled butterfly valve. A 8000 rpm lighted tachometer was integrated into a raised fairing on the scoop in front of the driver. A Hurst-shifted close ratio four speed transmission was mandatory and included a 3.54:1 axle.
A low back pressure dual exhaust system, front and rear sway bars, a choice of either 3.54:1 or 3.91:1 rear axles, E60x15 white letter tires, styled wheels, and power disc brakes were standard. AMC's limited-slip differential was a $43 option, with a genuine Detroit Locker and ratios up to 5.00:1 available. The Machine was one of the most stiffly sprung muscle cars. Its extra-heavy-duty suspension included firm station wagon rear springs, which elevated the tail and helped account for the raked look. Cornering ability was top-notch, but rear-axle juddering off the line prevented the willing, lightweight V8 from propelling the car into the low 14-second range. The first 1,000 cars were painted white and featured blue lower beltline stripes and hood, with red stripes on the upper body sides. At the rear, red, white and blue stripes ran across the fender tips and deck. Special "The Machine" emblems were tacked on the front fendersides and rear trim panel's righthand sides.
After the first 1,000 units, the Rebel Machine was made available in any color without the stripes. The original color scheme became a $75 option. In AMC tradition, The Machine lasted only one year.
Production: 2,326
Engines: 390 V8 340 bhp @ 5100 rpm, 430 lb-ft @ 3600 rpm.
Performance: 390/340: 0-60 in 6.8 seconds, 1/4 mile in 14.4 seconds @ 99 mph.
1971 AMC Hornet SC/360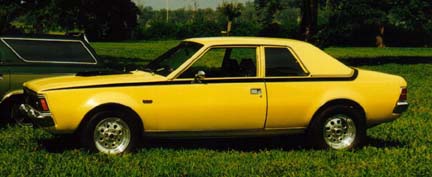 Comments: By the early 1970s, the clouds were already on the muscle car horizon. Tightening government regulations and increasing insurance rates were making big block muscle cars expensive to own. AMC responded with its third, and last, one year performance model, the Hornet SC/360. The compact Hornet replaced the Rambler for 1970. It was efficiently sized with a 108 inch wheelbase and short 179.6 inch overall length. It was only 70.6 inches wide, despite having wheelwells that looked large enough to fit racing slicks. It was the perfect platform for a compact performance car.
The original plans called for a SC/360 and a SC/401, but when AMC learned the 401 wouldn't offer much of an insurance advantage, it shelved the idea. Priced at just $2,663, the base SC/360 came with the 360 V8 from the Javelin AMX. Also standard was rally stripes around the beltline, styled steel wheels with Polyglas D70x14s tires, three speed manual transmission, and reclining seats. The standard 360 engine had a two-barrel carb and a modest 245 bhp.
Performance buyers could check off the $199 "Go" package which included a four barrel carb and a functional black hood scoop with a ram air setup for a more satisfying 285 bhp. Also included with the "Go" package was a handling package, raised-letter tires, and a tachometer. Optional was either a Hurst-shifted four speed manual or an automatic transmission, and a Twin-Grip differential with 3.54:1 or 3.90:1 gears. Although the SC/360 offered decent performance for a cheap price, only 784 were built, a small fraction of the total Hornet output.
Production: 784
Engines: 360/245 V8. 360 V8 285 bhp @ 4800 rpm, 390 lb-ft @ 3200 rpm.
Performance: 360/285: 0-60 in 6.7 seconds, 1/4 mile in 14.9 seconds @ 95 mph.