Grand Prix History
1962-1973
Introduction: Introduced in 1962, the Pontiac Grand Prix was one of the first and most popular personal cars of the 1960's. It was also first in a long line of posh Pontiac's that continue till today. Of course, luxury in the 60's meant performance, and the Grand Prix had lots of it.
1962 Pontiac Grand Prix
Comments: The Pontiac Grand Prix was introduced in 1962 as a single hardtop model, based on the 120 inch wheelbase Catalina platform, Pontiac's shorter big-car chassis. The new Grand Prix sported straight lined styling along with the buckets and console interior popular at the time. The Grand Prix represented a new way of thinking for exterior design as it was tastefully restrained and was nearly devoid of bright side trim, save for a lower rocker molding. Up front, the grille was a fine-mesh design, accented by a racing inspired "chequered flag" badge. The rear panel treatment was also unique to the car, with a full-width molding that mimicked the grille design, right down to the badge. The interior was sporty and luxurious, with features such as Morrokide-covered bucket seats, console, floor shift, tachometer, and rear speaker. The Grand Prix also could be fitted with Pontiac's gorgeous 8 lug wheels, and was available with either three or four speed manual transmission or automatic.
The standard engine was a 389 cid V8 4 barrel rated at 303 bhp. Economy minded buyers (what were they thinking?) could substitute a low compression 389 2 barrel rated at just 230 bhp which was only teamed up with the automatic transmission. Those buyers wanting more power could order the "regular" 389 Tri-power with three two barrel carbs rated at 318 bhp with 10.75:1 compression. Those wanting even more power ordered the 425-A Trophy V8 engines, which differed from lesser 389s by their four-bolt main caps, lower block reinforcing ribs, and longer duration cam. The single four barrel was rated at 333 bhp while the Tri-Power version carried a 348 bhp rating. For the truly obsessed, 16 Grand Prixs were built with Pontiac's 421 Super Duty engines, rated at a staggering 370 bhp. Only one is known to survive today. Also, a rumored 75 cars were built with non-Super Duty 421 engines rated at 320 bhp.
Production: 30,195
Engines: 389 V8 (2 bbl) 230 bhp. 389 V8 (4 bbl) 303 bhp. 389 V8 (3×2 bbl) 318 bhp @ 4600 rpm. 389 V8 Trophy (4 bbl) 333 bhp. 389 V8 Trophy (3×2 bbl) 348 bhp. 421 V8 (4 bbl) 320 bhp. 421 V8 Super Duty (3×2 bbl) 370 bhp.
Performance: 389/370: 0-60 mph in 6.6 seconds, 1/4 mile in 15.1 seconds
1963 Pontiac Grand Prix
Comments: The Grand Prix underwent a few changes in its second year. The styling was all new, with more flowing fender contours and a "Coke bottle" shape. The sides of the car were clean except for "Grand Prix" lettering, plus moldings for the rocker panels and wheel openings. The roof was unique for this year, and featured gracefully sculpted C-pillars which housed an interesting concave rear window exclusive to the GP in the Pontiac lineup (although it was shared with the Oldsmobile Starfire). The concave rear window would become a GP trademark through 1968. The Grand Prix also sported a special grille treatment with radical stacked headlights and a tail panel with a special full width molding that covered the rear of the decklid and also concealed the taillights. Gone were the '62's side cove and chrome fender wind-splits. To help differentiate it from the Catalina, the Grand Prix featured round signal lights set off with a single horizontal chrome strip within the grille cavity.
The standard 389 with 303 bhp and the low compression 389 with 230 bhp carried over for 1963 but the big news was the deletion of the two 389-425 A Trophy engines. In their place were two regular production 421 cid V8s. The first featured a single four barrel carb and 10.75:1 compression and was rated at 353 bhp. The top street engine was the 421 HO Tri-Power which was rated at a whopping 370 bhp. Three Grand Prixs were actually built with 421 Super Duty engines, one with the 421 Super Duty 390 bhp NASCAR four barrel engine and two with the 421 Super Duty 405 bhp dual quad carb engine and aluminum front ends. None are known to exist today. Overall, buyers loved the new Grand Prix and sales more than doubled from the year before.
Production: 72,959
Engines: 389 V8 (2 bbl) 230 bhp. 389 V8 (4 bbl) 303 bhp. 389 V8 (3×2 bbl) 318 bhp @ 4600 rpm. 421 V8 (4 bbl) 353 bhp @ 5000 rpm, 455 lb-ft @ 3400 rpm. 421 V8 HO (3×2 bbl) 370 bhp @ 5200 rpm, 460 lb-ft @ 3800 rpm. 421 V8 SD (4 bbl) 390 bhp. 421 V8 SD (2×4 bbl) 405 bhp.
Performance: 421/370: 0-60 in 6.6 seconds, 1/4 mile in 15.1 seconds @ 94 mph.
1964 Pontiac Grand Prix
Comments: The Grand Prix sported only a mild redesign from the previous year. The headlights were frenched into the fender and bumper, instead of cutting sharply into the body like the year before. The grille treatment was also updated, with a fine horizontal slat arrangement. The turn signals remained in the grille cavity, but were now rectangular with rounded corners. The large chrome support bars were deleted. The base 389 increased to 306 bhp when mated to the manual transmission (but still 303 bhp with automatic). The economy 389 carried over. With the GM pullout from racing in January 1963, the Super Duty engines were officially killed. This did free up the Pontiac engineers to focus their efforts on the street engines. The 389 Tri-Power was now rated at 330 bhp (up from 318). The 421 4 barrel engine had a slightly lower compression ratio, and horsepower fell from 353 bhp to 320 bhp. The 421 Tri-Power could now be ordered in two forms. The first featured the standard camshaft and exhaust manifolds and was rated at 350 bhp. The top engine was the famous 421 HO, which was good for 370 bhp.
Production: 63,810
Engines: 389 V8 (2 bbl) 230 bhp. 389 V8 (4 bbl) 303 bhp. 389 V8 (3×2 bbl) 330 bhp @ 4600 rpm, 430 lb-ft @ 3200 rpm. 421 V8 (4 bbl) 320 bhp @ 4400 rpm, 455 lb-ft @ 2800 rpm. 421 V8 (3×2 bbl) 350 bhp 421 V8 HO (3×2 bbl) 370 bhp @ 5200 rpm, 460 lb-ft @ 3800 rp
1965 Pontiac Grand Prix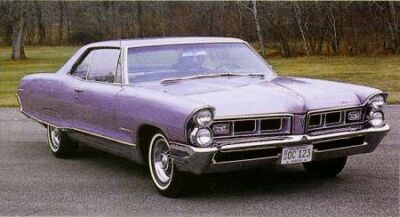 Comments: The second generation Grand Prix was still built on the shorter Catalina platform, but was larger and weighter than the 1962-1964 original. The Grand Prix was increasingly being shifted away from performance and more towards luxury, and with the same flowing "coke bottle" styling featured on all full size Pontiacs during this time and standard standard fender skirts, the Grand Prix looked as big as the Bonneville sedan. A bench seat could be ordered for the first time in place of the buckets and console. But the Grand Prix maintained tradition with a somewhat more formal roofline than Catalina two-door hardtops, complete with a concave backlight just like the 1962-1964 models.
A lot changed in the powertrain department. Power increased across the board, primarily due to new cylinder head designs, which also changed the intake manifold bolt pattern. The standard engine was the 389 4 barrel which was rated at 333 bhp with the manual and 325 bhp with the automatic transmission. The automatic transmission version used the milder 066 cam while the manual version used the hotter 067 cam. Compression was 10.5:1 for both engines. The low-compression 389 was now rated at 256 bhp and the optional 389 Tri Power increased to 338 bhp. The 421 engines also were improved. The 421 4 barrel put out 338 bhp, while the two Tri-Power versions put out 353 bhp and 376 bhp. The biggest change was the new M40 Turbo-Hydramatic 400 automatic transmission, which replaced the old "Slim Jim" 2 speed Hydramatic. The new automatic was a tremendous improvement over the old one and only 1,973 manual GPs were sold.
Production: 58,881
Engines: 389 V8 (2 bbl) 256 bhp. 389 V8 (4 bbl) 325/333 bhp. 389 V8 (3×2 bbl) 338 bhp. 421 V8 (4 bbl) 338 bhp. 421 V8 (3×2 bbl) 353 bhp. 421 V8 (3×2 bbl) 376 bhp
1966 Pontiac Grand Prix
Comments: The Grand Prix was slightly restyled for 1966. Frenched headlights replaced the previous year's chrome "eyebrows." The front end sported blacked-out plastic eggcrate grilles and turn signals in the same cavities, which curved toward the sharp, pointed nose; similar to the 1966 GTO. The GP's taillight panel featured chrome trim ribs, blacked out in between to give the impression of full-width taillights, although the lights were conventional in size and were hidden between the ribs at the ends. The engine line up remained the same, except for the deletion of the 338 bhp 389 Tri Power engine. Pontiac probably figured out that it was a bit silly to have two engines with the same power rating and thus just kept the bigger and simpler of the two. This would be the last year for Pontiac's Tri-Power engines. Sales continue to decline, with only 917 GPs sold with manual transmissions.
Production: 36,757
Engines: 389 V8 (2 bbl) 256 bhp. 389 V8 (4 bbl) 325/333 bhp. 421 V8 (4 bbl) 338 bhp. 421 V8 (3×2 bbl) 353 bhp. 421 V8 (3×2 bbl) 376 bhp
1967 Pontiac Grand Prix
Comments: The Pontiac Grand Prix was restyled again for 1967, its third generation. The new restyling was bigger and more massive-looking than ever before, despite remaining on an unchanged wheelbase. The front end was all new and although the same bumper was used on the Catalina, the Grand Prix's housed both disappearing headlights and headlight doors with an integrated grille, instead of having the stacked headlights like the Catalina. In the place where the top headlight would have been was a louvered front fender extension panel. The parking lamps were secreted in the fender tips, behind three small, horizontal slots. Also new were hidden windshield wipers. The hardtop coupe had new one-piece side glass, with GP initials frosted on it. Twin pinstripes decorated the fender tops. A wasp-waist rear emphasized width. The taillamps were embedded inside twin slots on the slanted rear end panel. Identification items included GP initials on the left-hand grille and right hand edge of the rear deck lid, plus the Grand Prix name spelled out on the rear fenders. The big news was the introduction of a Grand Prix convertible model, the only year it would be offered.
Both the 389 and 421 engines received a bore increase to 4.12 inches, which resulted in new engine displacements of 400 and 428 cid. In addition, the block received new cylinder heads with completely redesigned ports. Valve diameters were increased to 2.11 inches for intakes and 1.77 inches for exhaust. To make room for the increased valve sizes, the distance between the valve stem centers was increased from 1.82 to 1.98 inches. The new heads were said to increase airflow from 30 to 35 percent and were superior to any previous design — even that of the Super Dutys. Since GM outlawed all triple carb setups (except on the Corvette), Pontiac used a spread bore Rochester Quadrajet 4 barrel carb. The new setup and enlarged engines were actually equal in performance to the old Tri-Power engines and were easier to tune and maintain. Furthermore, they meet the first federal smog standards that took place in 1967. The base engine was now a 400 cid V8 with 10.5:1 compression that was rated at 350 bhp. A low compression 400 cid V8 265 bhp economy engine could be substituted at no cost. A new 428 cid V8 with 360 bhp was available, with a Quadra Power 428 option with 376 bhp. Transmissions included the column shifted three-speed manual, three-speed manual with floor shift, four speed manual with floor shift, and the Turbo Hydramatic automatic transmission. Interiors came standard with soft countered bucket seats of expanded Morrokide, a cloth option for Sports Coupes. The Strato-bench seat was a no-cost substitute for hardtop models. Woodgrain interior trim was now simulated elm burl, rather than real walnut veneers. Most color combinations were monochromatic, but darker carpets were used when extremely light colored seats were ordered. First-phase federal safety equipment also made their first appearance. New technical advances included a dual master cylinder, optional disc brakes, collapsible steering column, and side marker lights. Unfortunately, sales continued to decline as performance buyers turned to smaller cars.
Production: Hardtop Coupe: 37,125. Convertible: 5,856
Engines: 400 V8 265 bhp. 400 V8 350 bhp. 428 V8 360 bhp. 428 V8 376 bhp
1968 Pontiac Grand Prix
Comments: The Pontiac Grand Prix was redesigned again for 1968, but it looked even heavier looking, which further hurt sales. The Grand Prix now had a new peripheral front bumper and a massive pointed nose dividing a split, cross-hatched grille. It had hidden headlamps and a GP badge on the left hand side. The parking lights were now exposed at the corners of the gravel pan. At the rear, large horizontal taillamps were house inside the bumper and were no longer hidden behind the grilles or slats. The rear side window lost its sharp trailing edge, a Grand Prix signature design. New wheel discs and pencil-thin whitewall tires were introduced. The rocker panel had a 428 engine call out. Standard equipment included all GM safety features, Deluxe wheel discs, fender skirts, dual exhausts, padded Morrokide bucket seats with contoured backs and armrests, center console, three speed manual transmission with floor shift and a 400 cid V8. The Strato bench seat and cloth upholstery could be substituted. Also available was a "halo style" Cordova vinyl top that unfortunately looked a bit awkward as it tended to exaggerate the lower half's size even more than before. As for the powertrain, the two 400 cid engines were carried over, but the two 428 engines were improved. Four speed manual transmissions were limited to 428 cid engine vehicles. This would be last year that the Grand Prix would be based on the B-body.
Production: 31,711
Engines: 400 V8 265 bhp. 400 V8 350 bhp. 428 V8 360 bhp. 428 V8 376 bhp. 428 V8 HO 390 bhp
1969 Pontiac Grand Prix
Comments: The Grand Prix began its four generation on a whole new platform, moving from the Catalina's 121 inch wheelbase to a new "A-special" platform with an exclusive 118 inch wheelbase which was later named the G-body. The new redesign was a combination of modern elegance, and distinct Pontiac styling cues. It featured a "beaked" radiator" style grille, "Coke bottle" sides and slotted taillights and resembled something that Dusenberg would have offered if they were still in business. Pontiac product planners saw (or exploited) the similarity and offered the Grand Prix only as a hardtop coupe, and in two trims, J and SJ (a la Duesenberg). The SJ cost $316 more than the J model and offered more luxury and usually more standard power. New for 1969 was an innovative curved cockpit dash design, and was dubbed the "Command Seat." The buying public loved the redesign and the GP's better handling, which was much better than any previous Grand Prix since the 1962 original (which was similar in size). The sales success of the 1969 Grand Prix prompted Chevrolet to offer the similar Monte Carlo in 1970, which cut into Grand Prix sales.
Production: 112,486
Engines: 400 V8 265 bhp. 400 V8 350 bhp. 428 V8 360 bhp. 428 V8 370 bhp. 428 V8 HO 390 bhp.
Performance: 428/390: 1/4 mile in 14.1 seconds
1970 Pontiac Grand Prix
Comments: The 1970 model was essentially a carryover from the previous year except that the grille itself now featured vertical slats, and vertical hash marks appeared on the front fenders just behind the front wheels. New interior upholstery patterns and the reintroduction of the bench seat rounded out the visual changes. Under the hood, the two 400 cid V8s carried over. But the big news was that both 428 engines were dropped and in their place was Pontiac's brand new 455 cid V8, the largest engine ever in a Grand Prix. The 455 cid V8 had a four barrel carb and was rated at 370 bhp and a staggering 500 lb-ft of torque.
Also new for 1970 was a special Hurst SSJ version, a semi-custom conversion with electric sunroof, gold-colored wheels, and Hurst shifter. The SSJ started life as J models (the vinyl accent stripes on SJs were incompatible) built by Pontiac, than sent to Hurst. All 272 cars were painted either Cameo white (code CC) or Starlight Black (code AA). Interiors were ivory, black, or sandlewood in cloth or all-Morrokide. Mandatory options included body-color Sport mirrors, G78 x 14 whitewalls and Rally II wheels. The Space-Saver spare and Ride & Handling package were recommended. After assembly, the cars were shipped to a Hurst plant in Southfield, Michigan where Frost Gold accents were applied to the hood, side windows, front of the roof, and Rally II wheels. A landau-style half-top (Antique white, white, or black) was installed, as was a steel electronically operated sunroof (similar to that used in the Cadillac Eldorado.
Production: 65,750
Engines: 400 V8 300 bhp. 400 V8 350 bhp. 455 V8 370 bhp
1971 Pontiac Grand Prix
Comments: The Grand Prix was modestly restyled for 1971 with a crisper, slightly "boattailed" rear deck. Other styling cues included single headlamps, and a separate bumper running across the grille. Overall length increased by two inches. The Hurst SSJ version continued for 1971, although the Rally II wheels could be replaced by gold honeycomb or American mag wheels. New Hurst accessories appeared including an Auto-Stick shifter (with automatic transmission only), A Roll Control device, and a digital computer to calculate speed and elapsed times in the quarter-mile. Also available where B.F. Goodrich radial T/A GR60-15 tires in place of the standard G78x14 white stripes. Engine choices were the base 400 cid V8 with 300 bhp in the J model and the 455 cid V8 with 325 horsepower that was standard in the SJ model and optional in the J model. Only 157 Jurst SSJs were sold.
Production: 58,325
Engines: 400 V8 300 bhp. 400 V8 350 bhp. 455 V8 325 bhp. 455 V8 370 bhp
1972 Pontiac Grand Prix
Comments: GM followed the indstry standard and began to rate all its engines in SAE net horsepower, which resulted in a significant drop in power ratings, although true engine power was relatively unchanged. There was new styling for 1972 which included an eggcrate grille with multiple fins between main bars, and triple-segment taillamps. Finned wheelcovers were available. There was also rumored to be 60 Hurst SSJs built, all with a dual-gate automatic transmission. 1972 would be the last year for the John DeLorean long hood/short deck design.
Production: 91,961
Engines: 400 V8 250 bhp (net). 455 V8 300 bhp (net)
1973 Pontiac Grand Prix
Comments: The Pontiac Grand Prix was restyled again with a new fixed-pillar "Colonnade" styling, which had fixed rear opera windows. The front end styling mimicked the previous generation, with a large vertical slatted grille, headlights set in square bezels, and turn signals cut into the leading edge of the front fenders. The slim bumpers were not as massive as the '71-'72 ones, but jutted ahead of the grille. The rear of the car was similar to previous years, although the taillights were no longer set in the bumper. The Grand Prix now shared its chassis with the 116 inch wheelbase Monte Carlo and all A-body four doors, a decrease of two inches. Overall length actually increased 3 inches to 216.6″ but the real killer was overall weight, which increased 125 pounds on the base GP, but up to 500 pounds more on a fully loaded SJ model. Engine choices were limited to a 400 cid 4 barrel V8 rated at 230 bhp (net) or an optional 455 4 barrel V8 rated at 250 bhp (net). Although there were rumors that the legendary Super Duty 455 engines would be offered in the Grand Prix (as well as GTOs), this never happened and they were only available to the '73-'74 Firebird Formula and Trans Am. Despite all this, sales actually increased tremendously to 153,899 units. There was no special Hurst prepared SSJ models. Although the Pontiac Grand Prix would continue to the present day, 1972 is considered the end of the performance Grand Prix's.
Production: 153,899
Engines: 400 V8 250 bhp (net). 455 V8 300 bhp (net)