Super Bee History
1968-1971
Introduction: During the late 1960s, it is no secret that MOPAR was under a lot of pressure from the competition. Cars like the 1968 Chevrolet Camaro Z/28 and Pontiac GTO were tearing up the strip. While their full-size muscle cars, like the Plymouth GTX, were selling well, they wanted to target a market that had largely been forgotten by many of MOPAR's competitors. As a result, the focus of both the Plymouth Road Runner and Dodge Super Bee projects was to target the affordable, mid-size segment.
While a bit of back and forth was common with other manufacturers competing under the same umbrella company, 1968 was the first time that Plymouth and Dodge were allowed to duke it out for the top-selling model. The result was the Dodge Super Bee, a direct competitor to Plymouth's Road Runner. Although a capable budget muscle car, it never was as successful as the Road Runner, which truly must have hurt.
1968 Dodge Super Bee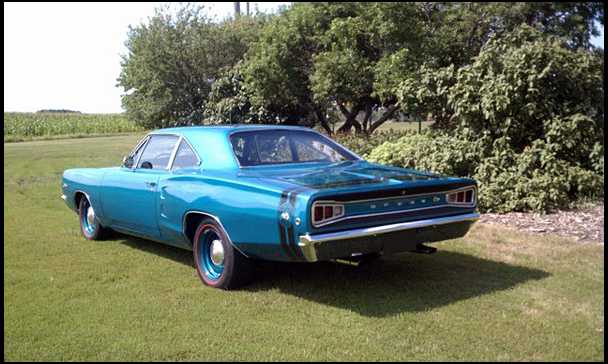 Dodge watched as Plymouth launched their budget muscle car, the Road Runner, in the fall of 1967 as a 1968 model. Already upset that Dodge had coined the "road runner" name in a 1967 Coronet ad, Dodge responded by launching its own budget muscle car. Based on the redesigned Dodge B-Body Coronet pillared coupe, Dodge looked to its Scat Pack symbol and released its new model in the spring of 1968 as the Super Bee. The $3,027 base price was $131 more than the Road Runner, which used the same basic chassis. The biggest difference between the tow was the Super Bee's inch-longer wheelbase. Curb weight was nearly identical, and both used the same engines, so performance was almost identical.
1968 Dodge Super Bee Specifications
The standard engine was the 335 bhp four barrel 383 cid V8 that borrowed cylinder heads, camshaft, and induction system from the Magnum 440 V8. The 426 Hemi was the only other engine option, but at nearly $1,000 more, it clashed with the budget nature of the Super Bee and only 125 were ordered. The low price meant minimizing amenities, and although the Super Bee borrowed the Rallye gauge package from the Charger to edge out the Road Runner, a tachometer was still $38 extra.
A heavy-duty suspension, brakes, four-speed manual transmission with Hurst Competition Plus shifter, and red-line wide oval tires were standard. The low price didn't mean low profile, and the Super Bee had bumble bee racing strips circling the tail, and a big Super Bee emblem hovering on the rear fenders. The grille was finished in black matte and the hood had a decorative power bulge. The wheel lips and the rear body panel were accented with thin bright moldings. Inside, the Super Bee had door-to-door carpeting, pleated vinyl seats and door panels, and a standard bench seat.
Production: 2D Pillared Coupe w/ 383: 7,717. 2D Pillared Coupe w/ Hemi: 125.
Engines: 383 V8 335bhp@5200rpm, 425lb-ft@3400rpm. 426 Hemi V8 425bhp@5000rpm, 490lb-ft@4000rpm.
Performance: 383/335bhp: 0-60 in 7.1 sec, 1/4 mile in 15.0 sec @ 96mph. 426/425bhp: 0-60 in 5.3 sec, 1/4 mile in 13.55 sec @ 105mph.
1969 Dodge Super Bee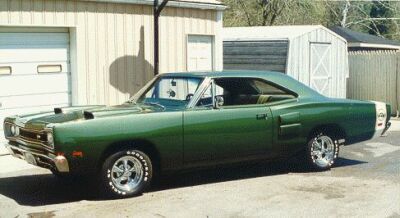 Comments: A two-door hardtop joined the existing pillared coupe for 1969. The Super Bee also received a single wider rear bumble bee stripe and a Dodge "Scat Pack" badge on the grille and trunk, plus front fender engine callouts. Also new was a new Ramcharger cold-air induction system, which was standard on Hemi cars. The Ramcharger system featured two large hood scoops, an underhood air plenum and a switch to select between warm and cold air.
But the big news for 1969 was a new optional engine in the Super Bee. MOPAR engineers took the existing 440 cid V8 and replaced the single Carter four-barrel carb with three Holley two-barrel carbs on an Edelbrock Hi-Riser manifold, creating the Dodge 440 Six Pack (Plymouth called it the 440+6). Only the center carb was used for normal driving, but slamming on the fun pedal opened all six carbs for a combined 1,375 cfm rush. Hemi valve springs, a hotter cam, magnafluxed connecting rods, and other improvements helped boost output to 390 bhp. A Hurst four-speed manual transmission was standard. Torqueflite automatic was optional, but disc brakes, air conditioning, and cruise control were not allowed.
Dodge 440 Six Pack
The Super Bee Six Pack came with one of the wilder hoods in muscledom. The lift-off hood was made of fiberglass, had a matte black finish, four NASCAR tie-down pins, and a large air scoop molded right in with "Six Pack" written on the sides. The all-business look was completed with standard black steel wheels, unadorned except for chrome lug nuts. The 440 Six Pack cost $463, about $500 less than a Hemi. The Six Pack could keep up with a Hemi up to 70 mph and came with a Hemi-grade suspension that turned the Super Bee into a decent handler.
Production: 383: 25,727. 440 Six Pack: 1,907. 426 Hemi: 166
Engines: 383 V8 335bhp@5200rpm, 425lb-ft@3400rpm. 426 Hemi V8 425bhp@5000rpm, 490lb-ft@4000rpm. 440 Six Pack V8 390bhp@4700rpm, 490lb-ft@3200rpm.
Performance: 440/390bhp: 0-60 in 6.3 sec, 1/4 mile in 13.8 sec @ 104.2 mph.
1970 Dodge Super Bee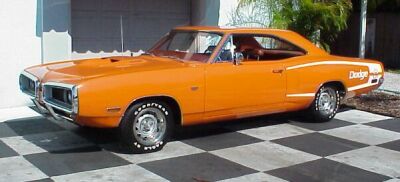 The Super Bee was restyled for 1970. To differentiate it from the Coronet that it was based on, the Super Bee did not get the dummy rear fender scoops as standard equipment. It also had horizontally divided (rather than individually segmented) taillamps. New options included a hood tach and spoiler. Buyers could order the R/T type bumble bee stripe or pipe-shaped upper and lower rear fender stripes with a circular Super Bee decal between them. The Super Bee was available in a number of wild colors, such as Plum Crazy, Sublime, and Go-Mango. Extras included the "Kruncher" and Bee-Liever" performance options. Base prices fell $64 but sales dropped to about 15,500 units. Hemis were installed in just 32 hardtops (21 with four-speed) and 4 pillared coupes (all with the four-speed). This was the last year that the Super Bee was based on the Coronet.
Production: 2D Pillared Coupe: 3,966. 2D Hardtop Coupe: 11,540.
Engines: 383 V8 335bhp@5200rpm, 425lb-ft@3400rpm. 426 Hemi V8 425bhp@5000rpm, 490lb-ft@4000rpm. 440 V8 375bhp@4600rpm, 480lb-ft@3200rpm. 440+6 V8 390bhp@4700rpm, 490lb-ft@3200rpm.
Performance: 383/335bhp: 0-60 in 7.1 sec, 1/4 mile in 15.0 sec @ 96mph. 426/425bhp: 0-60 in 5.3 sec, 1/4 mile in 13.49 sec @ 105mph. 440/375bhp: NA. 440/390bhp: NA.
1971 Dodge Super Bee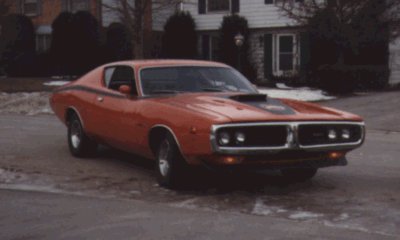 The Super Bee switched over to the Charger platform for 1971 but still represented a low-cost, high-performance package. Priced at $3,271, the Dodge Charger Bee included a 383 cid Magnum V8 with a single four barrel carb rated at 300 bhp (down 35 bhp from the year before due to detuning), three speed floor shift, power bulge hood (black finished), tape stripes, bee decals, and a Charger 500 interior, except with a standard bench seat. The Super Bee also came with a heavy duty suspension, fat F70-14 tires, and a long list of optional equipment. Still optional was the 440 Six Pack and the mighty 426 Hemi, rated at 385 bhp (down 5 bhp) and 425 bhp respectively. Only 22 Hemis were built, nine with four speeds, and 13 with the Torqueflite.
Production:
Engines: 383 V8 300bhp@4800rpm, 410lb-ft@3400rpm. 426 Hemi V8 425bhp@5000rpm, 490lb-ft@4000rpm. 440 Six Pack V8 385bhp@4700rpm, 490lb-ft@3200rpm.
Performance: 440/390: 0-60 in 6.9 seconds, 1/4 mile in 14.7 seconds. 426/425: 0-60 in 5.7 seconds, 1/4 mile in 13.7 seconds.
Mexican Super Bee Variants
While the first generation Dodge Super Bee was discontinued in the United States after 1971, Mexico received a different version of the early 1970s Bee, as well as an exclusive second-generation Bee between 1977 and 1980. The first gen Mexican Bee model, available from 1970-1976 replaced the Plymouth Barracuda and was built on the MOPAR A-platform. As a result, the Mexican Bee shared many attributes with the Plymouth Duster. From 1970-1974, the Super Bee was essentially a Duster with a rotation of grilles borrowed from other Dodge and Plymouth vehicles. Due to less strict emission laws in Mexico, the Bee could be ordered with either a 270 horsepower 318 cid V8 or a 300 horsepower 360 V8. The A-body-based Bee was discontinued by 1976.
Mexico was the only nation to get a "second generation" Super Bee. With that being said, It was only a Bee by name, as the 1977-1980 version was really just a strange mix between a Dodge Aspen and Plymouth Volare. With that being said, it was a Super Bee in terms of performance. The second-generation Mexican Bee made use of a 360 V8 producing 300 horsepower. Despite being somewhat of a hodge-podge of other existing MOPAR cars, it must be said that Mexico got a bit more life out of the Super Bee name.
2007-2009 Charger Super Bee
While the Bee was retired in its true form in the early 1970s, the namesake got a bit of a revival in the mid-2000s. Unfortunately, this came in the form of a Charger SRT-8 cosmetic package. However, it isn't like the SRT-8 doesn't live up to the Bee name. With a 6.1L HEMI under the hood, the 2007-2009 Charger isn't short on performance. The 2007 Charger Super Bee was unveiled in "detonator yellow" paint, harkening back to the original Bee. It also featured a dashed hockey stick stripe with a Super Bee decal in the center.