Chrysler 300 History
1962-1972
Some MOPAR purists insist that the Chrylser 300 Series or "Letter Cars" were the first muscle cars. That is debatable as the 300 Series were fast, large, luxury coupes instead of cheap all out intermediate size performance. However, there is no denying that the elegant if somewhat unconventionally styled Chrysler 300 Series made performance cool again and started the horsepower race among American automobile manufacturers. And for that, all muscle car fans must be thankful.
1955 Chrysler C-300
Comments: The Chrysler 300 "Letter Car" debuted in 1955 and firmly established Chrysler as the king of performance. Positioned as an expensive and fast luxury coupe, the C-300 ("C" stood for coupe, "300" stood for the 300 bhp engine) was only available as a hardtop coupe and came only in three colors: black, red, and white. Standard power was MOPAR's top engine, a 331 cid Hemi V8 with two four barrel carbs, a full-race cam, solid lifters, special manifolds, fat dual exhausts, and 300 bhp. The Hemi engine derived its name from its hemispherical combustion chambers. These chambers required a pair of rocker arm shafts on each cylinder head, with the spark plugs fitting between the valves.
The C-300 also featured a performance modified PowerFlite automatic transmission and special Blue Streak racing tires. To further enhance its high speed image, the C-300 came without an outside rear view mirror. The C-300 quickly became a legend when it did 127.58 mph in the Flying Mile and averaged 92 mph in the Daytona Grand National stock race. Priced from $4,055 with a leather interior standard, the C-300 represented the top of the line Chrysler and only 1,725 were built. Only an estimated 8% of those survive today.
Production: 1,725
Engines: 331 V8 Hemi 300bhp
1956 Chrysler 300 B
Comments: In 1956, the 300B was released and all future models would be labeled with a sequential letter after the 300. The new standard engine was upgraded to a new 354 cid Hemi V8 with similar features which generated 340 bhp. Optional was a more powerful version with 10:1 compression that produced 355 bhp. Standard with the optional motor was a special three inch exhaust system. Performance of the new 300B improved as it averaged over 90 mph in the Daytona Grand National and hit almost 140 mph in the Flying Mile. Only 1,102 copies were sold.
Production: 1,102
Engines: 354 V8 Hemi 340 bhp. 354 V8 Hemi 355 bhp
1957 Chrysler 300 C
Comments: For 1957, the 300C featured a new 392 cid Hemi V8 with 375 bhp standard. Optional was a high performance version with a more radical cam, 10.1:1 compression (instead of 9.25:1) fatter exhausts and a manual transmission which were good for 390 bhp. Only 18 of these were built. Also available for the first time was a convertible model. The 300 played on the American theme with ten red, white, and blue "300" medallions and the wheel covers had a red finish painted in the depressed outer layers of the covers.
Production: Coupes: 1,767, Convertibles: 484
Engines: 392 V8 Hemi 375 bhp. 392 V8 Hemi 390 bhp.
Performance: 392/375: 0-60 in 7.7 seconds, 1/4 mile in 17 seconds at 84 mph.
1958 Chrysler 300 D
Comments: The standard engine in the 1958 300D was again upgraded. The 392 Hemi V8 featured 10.0:1 compression, new valve timing, heavier pistons, and a new camshaft, which resulted in 380 bhp. A very rare option was a 390 bhp Hemi with electronic fuel-injection. This $400 EFI system proved trouble-prone and most of the 35 fuel-injected cars were recalled to install the standard dual carburetors. Exterior changes were minimal with a simpler eggcrate grille up front and odd, truncated taillights that no longer filled the space for them in the tail fins featured on the rear. The 300D was a large car with two-door hardtops weighing in at 4,305 pounds and convertibles grossing 4.475 pounds. Perhaps as a result of this heft, power brakes came standard. Performance was still world class, when a 300D driven by Norm Thatcher at Utah's Bonneville Salt Flats to a new Class E speed record of 156.387 mph. And Brewster Shaw drove one at the Daytona beaches, producing a quarter-mile time of 16 seconds with a trap speed of 94 mph. Despite this performance, only 618 hardtops and 191 convertibles were produced. This would be the last year for the Chrysler Hemi engine — at least for now.
Production: Coupes: 618, Convertibles: 191
Engines: 392 V8 Hemi 380 bhp @ 3800 rpm, 435 lb-ft @ 3600 rpm. 392 V8 Hemi (EFI) 390 bhp.
Performance: 392/375: 0-60 in 7.7 seconds, 1/4 mile in 17 seconds at 84 mph.
1959 Chrysler 300 E
Comments: The big news for 1959 was the new Golden Lion V8 which replaced the heavy and expensive Hemi V8. The new Golden Lion V8 sported Chrysler's new wedge-shaped combustion chamber design. Displacement increased to 413 cid but the engine actually weighed 103 pounds less than the 392 cid Hemi V8 it replaced. Much of this weight reduction was due to the use of a single rocker shaft and the lighter and more compact cylinder head. A smaller 16 quart (instead of the previous 25 quart) cooling system also saved 18 pounds. The new 413 "Wedge" V8 continued to use dual four barrel carburetors and the compression ratio was slightly higher (10.1:1) than the previous Hemi (10.0:1). The 413 Wedge also featured low-restriction air cleaners, heavy-duty valve springs and dampers, and a fluid fan drive. The 300 E continued to use Chrysler's three-speed TorqueFlite as its standard transmission. Acceleration was fast at a claimed 8.3 second 0-60 time. The 300 E suspension continued to use front torsion bars and semi-elliptic rear leaf springs. New for 1959 were the 300 E's special Goodyear Blue Streak 9.00×14.00 tires. These tires were constructed of nylon, had a low cord angle, and a unique tread design. The 300 E's standard power steering, with 3.5 turns lock-to- lock provided sports car response.
The appearance of the 300 E was similar to the previous model. The most significant change was the use of narrow horizontal red bars highlighted by four chrome bars in place of the older eggcrate grille. Red bars were also used in the narrow air scoops for the front brakes that were positioned below the headlights. Also new were the "300" letters located on the lower, driver side portion of the hood. At the rear were new taillights and a larger bumper with recessed back-up lights. The 300 medallion was positioned near the front of the side sweep spear. Also new were wheel covers with gear-shaped center portions. Inside, the instrumental continued the tradition of easy-to- read gauges with two large circular gauges. The left unit contained the odometer and the 150 mph speedometer. The right unit contained the ammeter, fuel, oil pressure, and water temperature gauges. The 300 E also sported a unique standard front swivel seats finished in a new natural tan "Living Leather" upholstery that used a basket-weave pattern. Its perforations were intended to allow air circulation in warm weather. The swivel seats were controlled by a lever located at the base of the seat and could swivel through a 60 degree angle to facilitate entry and exit into the vehicle. The 300 E was available as either a two dour hardtop coupe for $5,319, or a convertible for $5,749. Both came in six different colors: ivory white, formal black, cameo tan, metallic turquoise-grey, radiant red, or copper spice. The loss of the Hemi engine took its toll on sales, however, as only 522 coupes and a mere 125 convertibles were sold.
Production: Coupes: 522, Convertibles: 125
Engines: 413 V8 Wedge 380 bhp @ 3800 rpm, 450 lb-ft @ 3600 rpm.
Performance: 413/380: 0-60 in 8.3 seconds.
1960 Chrysler 300 F
Comments: To fill the vacuum caused the loss of the Hemi, Chrysler introduced a new ram-inducted 413 cid Wedge V8 good for 375 bhp in standard form and a whooping 400 bhp in optional form. Engine hardware common to both included a hot cam, heavy-duty valve springs, low back-pressure exhaust system, dual point distributor, low- restriction air cleaner, special plugs and dual four barrel carbs. The carbs were mounted on a wild looking cross-ram manifold that put one air cleaner on each side of the engine. The stacks were 30 inches long and had to be criss-crossed to fit under the hood. These long rams were designed to produce a supercharging effect in the heart of the rpm range. At low speeds, the "long" rams worked great, but they hurt performance above 4,000 rpm. To solve that problem, Chrysler's engineers removed a section of the inner walls of the manifolds to create the optional 400 bhp engine. On the outside, these "short" rams looked the same, but they were effectively only 15 inches long. Only 15 of these "short" ram cars were built, mainly for Daytona or Flying Mile race cars. The $800 "short" ram option also included a rare four-speed Pont-a-Mousson manual transmission, a French made transmission made for the Facel Vega, a Chrysler powered French luxury car. One of the 400 bhp cars set a Flying Mile record of 144.9 mph. The 1960 300 F also was the first year to use Chrysler's weight saving uni-body construction, which further helped performance. Sales increased to 969 hardtop coupes and 248 convertibles.
Production: Coupes: 969, Convertibles: 248
Engines: 413 V8 Wedge "long" ram 375 bhp @ 5000 rpm, 495 lb-ft @ 2800 rpm. 413 V8 Wedge "short" ram 400 bhp @ 5000 rpm, 465 lb-ft @ 3600 rpm.
Performance: 413/375: 0-60 in 7.0 seconds, 1/4 mile in 16.00 seconds @ 85.0 mph.
1961 Chrysler 300 G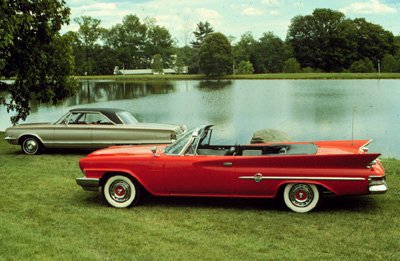 Comments: The 1961 Chrysler 300 G saw a major exterior redesign that sported an inverted grille shape, redesigned headlights, and the relocation of the taillights from the fins to above the rear bumper. Other changes included reshaping the canted tail fins and replacing the (optional) Imperial-like trunk lid with a ribbed unit. Interior revisions included a speedometer that read from 0-150 mph in single mph units, a black finish for all painted sections of the dash, and changes in the design of the dash panel padding and seat perforation. Four exterior colors were offered: Formal Black, Alaskan White, Mardi Gras Green, and Cinnamon. Among the 300 G's equipment features were chrome wheel covers, a "SilentFlite" fan drive, front and rear armrests, windshield washers and an electronic clock. Numerous options were available including air conditioning, remote-control exterior mirrors, six-way power seat, power door locks, and a "Sure-Grip" differential. Under the hood, the two Wedge V8s with "long" and "short" ram tubes carried over, but a standard axle ratio of 3.23:1 gave the 300 G a slight top speed advantage over the 300 F. On the optional 400 bhp version, a Chrysler heavy-duty three speed manual transmission replaced the expensive French four speed. Other performance highlights included suspension front torsion bars that were 33% stiffer than standard, 60 inch leaf springs that were 9% stiffer than standard, and 8.00×15 Goodyear Blue Streak Super Sport high performance white wall tires.
Production: Coupes: 1,280, Convertibles: 338
Engines: 413 V8 Wedge "long" ram 375 bhp @ 5000 rpm, 495 lb-ft @ 2800 rpm. 413 V8 Wedge "short" ram 400 bhp @ 5000 rpm, 465 lb-ft @ 3600 rpm.
Performance: 413/375: 0-60 in 7.0 seconds, 1/4 mile in 16.00 seconds @ 85.0 mph.
1962 Chrysler 300 H
Comments: 1962 saw the beginning of the end to the exclusive 300 "letter cars." Chrysler debuted a new line of non-letter Sport 300s which used a milder 383 cid two-barrel carb V8 engine standard and shared their 122 inch wheel base with Chrysler's low-priced Newport line. A real letter car, the 300 H, was still offered but it too was based on the same smaller platform to hold down production costs. The shorter wheelbase actually shaved 300 pounds and therefore increased performance. Curb weight fell to 4.050 lbs for the hardtop and 4,105 pounds for the convertible. Both 413 cid V8s were boosted by 5 bhp, to 380 bhp and 405 bhp respectively. The lighter weight and higher horsepower resulted in the best power to weight ratio (10.6 lbs per horsepower) of any 300 Letter car. Its 0-60 time of 7.7 seconds matched the 1957 Hemi powered 300 C while its quarter-mile time of 16 seconds matched the Ram Tuned 300 F. Meanwhile, the 300 H continued to offer an interior with four bucket seats done in tan leather (other colors of leather were available as special order).
Although an outstanding performer, the 300 H lacked the exclusivity of previous 300 Letter cars. Its smaller size and similar body style to the cheaper Sport 300 as well as the availability of most 300 H features as optional equipment on the Sport 300 hurt sales. To add insult to injury, its trademark tailfins were shaved off, the result of a management shake-up that wanted to remove away from the design influences of stylist Virgil Exner, a big fan of fins. The base prices of the 300 H also hurt sales, with the hardtop coupe at a lofty $5,090 and the convertible a whooping $5,461. All these factors combined to make 1962 the worst selling year for the 300 Letter cars with only 435 coupes and a mere 135 convertibles sold.
Production: Coupes: 435, Convertibles: 135
Engines: 413 V8 Wedge "long" ram 380 bhp. 413 V8 Wedge "short" ram 405 bhp.
Performance: 413/380: 0-60 in 7.7 seconds, 1/4 mile in 16.00 seconds @ 85.0 mph.
1963 Chrysler 300 J
Comments: Chrysler simplified its lineup for the new 300 J (there was no 300 I – perhaps they felt the "I" would be confused with "1"). The convertible version was dropped, as well as the "short" ram Wedge V8. The only engine offered was the 413 cid Wedge head V8 with "long" rams which was now rated at 390 bhp. The 300 J was available in five colors: Formal Black, Alabaster, Madison Grey, Oyster White, and Claret. Two pinstripes (in a contrasting color) ran the length of the body and 300 J medallions were placed on the C-pillar and the rear deck. The interior featured a controversial square steering wheel that many drivers found uncomfortable, but the excellent design of the front seats (finished in claret red leather) as well as quality interior appointments made up some of that. The exterior even featured unique windshield wiper blades with airfoils designed to press the blade against the windshield at high speeds, important because the 300 J could reach 142 mph.
Production: Coupes: 400
Engines: 413 V8 Wedge "long" ram 390 bhp @ 4800 rpm, 485 lb-ft @ 3600 rpm.
Performance: 413/390: 0-60 in 8.0 seconds, 1/4 mile in 15.8 seconds @ 89 mph.
1964 Chrysler 300 K
Comments: Chrysler reacted to the minimal sales of the 300 J with changes that would make the 1964 300 K the best selling 300 Letter car ever. The biggest news was the return of the convertible version after a one year hiatus and the introduction of a new base engine, a 413 cid V8 with 360 bhp. For an extra $375, a buyer could order the previous year's standard engine, a 413 V8 with 390 bhp. Leather trim was now a $93 option. This decontenting resulted in a massive price drop, from $5,260 to $4,056 for the two-door coupe and a $4,522 for the convertible. Both prices were about $600 more than the lesser Sport 300 models which shared the same body and platform as the 300 K. Nevertheless, the price reduction resulted in record sales for the 300 J.
Production: Coupes: 3,022, Convertibles: 625
Engines: 413 V8 Wedge 360 bhp. 413 V8 Wedge "long" ram 390 bhp @ 4800 rpm, 485 lb-ft @ 3600 rpm
1965 Chrysler 300 L
Comments: The 1965 300 L represented the last of the Chrysler 300 Letter cars. Nearly every feature of the 300 L either standard or optional on the non-letter 300s, there was little need to justify a separate model line. Nevertheless, the standard 413 cid V8 with 390 bhp in the 300 L resulted in good performance. The only truly unique feature of the 300 L was a medallion at the center of its silver crossbar grille which glowed softly at night when the headlights were turned on. Despite its lack of uniqueness, the 300 L enjoyed the second highest sales of any 300 Letter car. But this wasn't enough as Chrysler decided to cancel plans for a 300 M (although they would use the name on a completely different car almost 35 years later). The proud tradition of the 300 Letter cars officially ended after 1965.
Poduction: Coupes: 2,405, Convertibles: 440
Engines: 413 V8 Wedge "long" ram 390 bhp @ 4800 rpm, 485 lb-ft @ 3600 rpm.