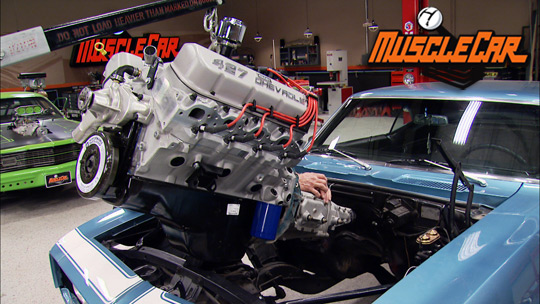 There have been many arguments over the greatest engines of the muscle car era. Some were tuned for horsepower (top speed) while others were tuned for torque (acceleration). Still others were seriously under-rated to keep a low profile (imagine that today) and keep insurance agents guessing. I have included a profile on some of the greatest engines ever installed in a muscle car. Some were mass production engines, others were true race engines quietly slipped into street cars. For simplicity sake, they are listed by manufacturer, and in roughly chronological order.
Ford/Mercury
427 Cammer
1965
Comments: Without a doubt the most powerful engine ever made, the Ford 427 Cammer was developed with the intention of taking on Chrysler's Hemis. Ford gave the 427 block new heads with hemispherical combustion chambers. To cap that, they fitted overhead camshafts — one per cylinder bank — which gave the engine its name and allowed it to rev to an unheard of 7,500 rpm. With the regular single four barrel carb, the "cammer" put out 616 bhp, but with dual four-barrels, it produced a massive 657 bhp. With this kind of power, the "cammer" 427 was totally unsuitable for street use.
These engines were not sold to the general public, but about 50 examples were built, mostly for professional drag racers. Because of the low production volumes, NASCAR refused to accept the engine as a regular production option, and thus Ford couldn't use the engine to combat the Hemi's. This sealed this engine's fate and Ford discontinued it after 1965.
Ratings:
1x4bbl: 616bhp @ 7500rpm. 2x4bbl: 657 bhp @ 7500rpm, 550 lb-ft.
Muscle Car Engines – 428/429 Cobra Jet
1968-1971
On April 1, 1968, Ford unveiled perhaps its most famous line of engines, the 428 Cobra Jet. It was based on the regular 428 but included larger valve heads, the race 427's intake manifold, and an oil-pan windage tray. It had ram-air induction and breathed through a functional hood scoop. Output was listed at 335bhp but was rumoured to be around 410bhp. In fact, after Hot Rod magazine tested a 1968 Cobra Jet Mustang and achieved times of 0-60 in 5.9 seconds, and a 1/4 mile time of 13.56 seconds @ 106.64 mph, they declared it "the fastest running Pure Stock in the history of man." This was somewhat exaggerated, but it helped boost the Cobra Jet's popularity with the buying public.
In 1969, the 428 Cobra Jet, was offered in three states of tune. The first was a non-Ram Air version, followed by the Ram-Air version which breathed through a shaker hood scoop. Topping the list was the new Super Cobra Jet which came with the Drag Pack option. The Super Cobra Jet used the shaker hood scoop, a modified crankshaft and stronger connecting rods. The Drag Pack also came with limited-slip 3.91:1 or 4.30:1 rear axles, an external oil cooler, and no air conditioning. Ford under-rated all three engines at 335bhp.
The 428 Cobra Jet engines were replaced in 1970 by new 429 Cobra Jet engines. The 429 Cobra Jet was rated at 370bhp while the Super Cobra Jet had 11.3:1 compression and was rated at 375bhp.
The 429 Cobra Jet and Super Cobra Jet engines continued in 1971 unchanged. But the decade of Ford's Total Performance officially ended and this would be the last year for the Cobra Jet engines.
Ratings:
1968-1969: 428 Cobra Jet V8 335bhp@5400rpm (est. 410bhp), 440lb-ft@3400rpm.
1970: 429 Cobra Jet V8 370bhp. 429 Super Cobra Jet V8 375bhp.
1971: 429 Cobra Jet V8 370bhp. 429 Super Cobra Jet V8 375bhp, 450lb-ft.
Installation:
1968-1971 Ford Mustang
General Motors
Muscle Car Engines – Buick 400/455 Stage 1
1968-1973
In a nod to the performance market that was driving muscle car sales, Buick quietly introduced a rare dealer installed option in 1968 which treated the 400 cid engine with a hotter cam, 11.0:1 compression, stronger valve springs and a reworked transmission. Officially pegged at a mere 345bhp, or just a 5 bhp increase over the base 400 cid engine, experts believe that it was more like 390bhp and it dropped 1/4 mile times by 1 second or more. It was called the "Stage 1 Special Package" and was an indicator of great things to come.
Buick got more involved in the performance market by giving its high output engines greater publicity in 1969. The Stage 1 version of the 400 cid V8 boosted output to 345bhp while the even rarer Stage 2 boosted output to 360bhp.
Buick 455
1970 saw the greatest Buick engine of all time. GM finally lifted its corporate ban of engines larger than 400 cubic inches in an intermediate body and Buick responded by stuffing a brand new 455 cubic inch engine into its restyled GS. The 455 boosted more displacement, bigger valves, and a hotter cam than the 400 and was also mated to standard cold air induction through functional hood scoops. Buick rated the 455 at 350bhp and a stump-pulling 510lb-ft of torque.
This was the highest torque rating of any production engine besides Cadillac's 472 and 500 cid V-8s, and no engine achieved it at a lower rpm (2800rpm). If that wasn't enough, a Stage 1 package brought a hotter cam, bigger valves, and a revised carburetor. Buick said this amounted to 360bhp but most testers believed that it was more than 400bhp. This would be the most powerful engine Buick ever built.
1971 was the official beginning of the end of the muscle car era. Pressured by increasing government regulations and increasing insurance premiums and gasoline prices, GM decreed that all its engines must run on low-lead gasoline, leading to a drop in compression ratios and a corresponding drop in power ratings. The 455 Stage 1 lost 15bhp to 345bhp.
The power drop continued in 1972 as government regulations now required engines to be rated with all accessories in place, a "net" rating. Although the actual engine output hadn't changed from 1971, the power ratings dropped considerably. The 455 Stage 1 dropped to 270bhp.
GM continued the 455 Stage 1 for one more year and with 270 bhp (net), was one of the most powerful engines available in 1973. The 455 Stage 1 engine had camshaft, carburation, and air cleaner changes and came standard with a Posi-Traction limited slip rear end. However, this would be its last year as the performance market officially collapsed.
Ratings:
1968-1969: 400 Stage 1 V8 345bhp@5800rpm, 440lb-ft@3200rpm.
1970: 455 Stage 1 V8 360bhp@4600rpm, 510lb-ft@2800rpm.
1971: 455 Stage 1 V8 345bhp@5000rpm, 460lb-ft@3000rpm.
1972: 455 Stage 1 V8 270 bhp@4400rpm, 390 lb-ft@3000rpm (net).
1973: 455 Stage 1 V8 270 bhp@4400rpm, 390 lb-ft@3000rpm (net).
Installation:
1968-1973 Buick GS
Muscle Car Engines – Chevrolet 409
1961-1963
In 1961, Chevrolet introduced its 409 cubic inch V8, the engine that would launch the Big Three auto manufacturers into the horsepower race that would last well into the 1970s. The 409 was actually a response to Ford's new 390 cid engine, which was outperforming Chevy's on the dragstrip. Although it put out "only" 360 bhp compared to Ford's top 375 bhp, those extra 19 cid gave it respect on the street and immortalized in song ("She's really fine, my 409"). Unfortunately, the 409 already came with 11.25 compression and a four barrel carburetor, and due to its wedge shaped combustion chambers was not very easy for the average owner to improve performance further.
Chevy improved the 409 in 1962 by adding new cylinder heads and a revised camshaft. With the standard 4 bbl carb, the 409 produced 380 bhp. But the real news was the improved top of the line 409 which added a pair of Carter AFB four barrel carbs and a lightweight valve train, and produced an astonishing 409 bhp, or a magical 1 bhp per cid. The 409 legend grew.
In 1963, For the serious enthusiasts, Chevrolet offered the 409 with solid lifters and a single four bbl carb good for 400 bhp and a solid lifter 409 with two four barrel carbs good for a whooping 425 bhp. But the 409 would eventually be phased out in the middle of the 1965 model year to make way for the versatile 396 engine.
Ratings:
1961: 360 bhp @ 5800 rpm, 409 lb-ft @ 3600 rpm.
1962: (1x4bbl): 380 bhp. (2×4 bbl): 409 bhp.
1963: 340 bhp, 430 lb-ft @ 3200 rpm. 400 bhp. (2×4 bbl): 425 bhp.
Installation:
1961 Chevrolet Impala SS.
1962-1965 Chevrolet Impala, Bel Air.
Muscle Car Engines – Chevrolet 427 ZL1
1969
The ZL1 engine was based on the regular Chevrolet 427 engine. However, instead of the regular iron-block and head L72 found in the regular 427 engine, the ZL1 sported aluminum heads and the first aluminum block ever made by Chevrolet. It shared the L88 aluminum head/iron block's engine rating of 430bhp but made closer to 500bhp — making it probably the most powerful engine Chevrolet ever offered to the public. And the engine weighed just 500 pounds, the same as Chevy's 327 small block. The ZL-1 was made available only for 1969 under COPO 9560 and Chevrolet needed to install 50 copies to qualify the ZL1 Camaro for racing. Chevrolet eventually built 69 Camaros and 2 Corvettes with the ZL1 engine.
ZL1 cars were blessed with a 5 year/50,000 mile warranty and were fully street legal. With factory exhausts and tires, ZL1 Camaros could turn low 13s; with headers and slicks, they could turn 11.6s @ 122mph. The Camaro ZL1 was the fastest car Chevrolet had ever produced. Performance had its price – $4,160 for the ZL1 engine alone pushing the price of the Camaro ZL1 to an unbelieveable $7,200 (about double the price for a SS396 Camaro).
Ratings:
427 V8 430bhp@5200rpm, 450lb-ft@4400rpm
Installation:
1969 Chevrolet Camaros: 69.
1969 Chevrolet Corvettes: 2
Total Production: 71.
Muscle Car Engines – Chevrolet 302
1967-1969
In 1967, Chevrolet quietly created a Z/28 option for its new Camaro. Specificaly designed to compete in the Club of America Trans Am racing series which placed a 305 cid limit on its entries, the Z-28 was available to the public solely to qualify the car for racing. What you got was a unique 302 cid small block that was created by taking the 327 block and installing the short-stroke 283 crank. Advertised horsepower was listed at just 290bhp, which was not very impressive until one hooked it up to a dyno and got actual readings of 360-400bhp. The Z/28 Camaro proved to be difficult to launch on the street because its high reving engine was lethargic under 4000rpm and worked best when it was shifted at 7500rpm (!).
Ratings:
427 V8 430bhp@5200rpm, 450lb-ft@4400rpm
Installation:
1967 Chevrolet Camaro Z/28: 602.
1968 Chevrolet Camaro Z/28: 7,199.
1969 Chevrolet Camaro Z/28: 19,014.
Total Production: 26,815.
Muscle Car Engines – Chevrolet 454 LS6
1970
General Motors finally lifted the ban on engines larger than 400 cid in intermediate cars in 1970 and Chevrolet responded by creating two new 454 cid V8s, the LS5 and LS6, and stuffed them into their Chevelle and El Camino. The LS6 used the same block as the LS5 but added on a 800-cfm Holley four barrel on an aluminum manifold, 11.25:1 compression, solid lifters, four-bolt mains, forged steel crank and connecting rods, forged aluminum pistons, and deep-groove accessory pullies. No production engine ever had a higher factory horsepower rating. The LS6 would be a one year only engine as the GM mandated switch to Regular Unleaded in 1971 sealed its doom.
Ratings:
450bhp@5600rpm, 500lb-ft@3600rpm.
Installation:
1970 Chevrolet Chevelle SS454
1970 Chevrolet El Camino SS454
Muscle Car Engines – Pontiac 421 Super Duty
1962-1963
In the early 1960s, auto racing was hot and Pontiac offered a tremendous selection of performance parts and options under the name "Super Duty." At the top of the Super Duty option list was a special line of Super Duty engines, based on its 421 V8, which Pontiac offered to the public inorder to meet new NHRA rules changes which required engines and body parts for the stock classes to be production options on retail vehicles. Therefore, the very limited Super Duty 421 was officially listed as an expensive, limited option on fullsize Pontiacs. Fewer than 180 were built for 1962, with the majority installed in Catalinas, although about 16 were installed in Pontiac's new personal luxury coupe, the Grand Prix.
The 1962 Super Duty 421 was officially rated at 405 bhp, but true output was rumored to be around 460 bhp. Although street legal, these engines were truly race ready with four-bolt mains, forged rods and crank, solid lifters, and NASCAR heads. Stock car racing versions used a single four barrel carb, but street versions had twin Carter 500 cfm four barrel carbs and an aluminum intake manifold. Super Duty Catalinas also had free-flow cast iron headers with easily removable exhaust dumps that could be unbolted for even more power.
1963+ SuperDuty
Pontiac increased SuperDuty performance for 1963, when buyers could order the Super Duty 421 in three states of tune which all benefited from an increase in the compression ratio from 11.0:1 to 12.0:1 and an increase in the maximum shift point from 5900 rpm to a screaming 6400 rpm. The mildest Super Duty 421, designed for high speed use, used a single four barrel carb and was rated at 390 bhp.
Next up was the drag strip version which used a dual four barrel and was again underrated at 405 bhp. This engine came with aluminum exhaust manifolds standard and steel manifolds optional. At the top was a second drag strip version with a dual four barrel carb version and a 13.0:1 compression ratio which Pontiac timidly rated at 410 bhp. All this performance was too much for General Motors and it banned racing (and thus killed the Super Duty engines) at the end of 1963.
Ratings:
1962: SD 421 405 bhp @ 5600 rpm, 425 lb-ft @ 4400 rpm.
1963: SD 421 390 bhp. SD 421 405 bhp. SD 421 410 bhp.
Installation:
1962 Pontiac Catalina: Less than 180. 1962 Pontiac Grand Prix: 16
1963 Pontiac Catalina
Muscle Car Engines – Pontiac 455 Super Duty
1973-1974
The Super Duty 455 V8 (SD-455) was introduced in the Pontiac Firebird in 1973. "Super Duty" was the name Pontiac used on its high performance (i.e. race ready) engines in the early 1960's, and the Super Duty 455 was a street legal race prepped engine. All SD-455's were hand assembled, and had a reinforced block, special cam shaft, aluminum pistons, oversize valves and header-like exhaust manifolds. Pontiac rated the SD-455 engines at a stout 310 bhp and 390 lb-ft, but experts agreed that it was closer to 370 bhp.
This level of engine ratings were unheard of in an era when other manufacturer's engines' output were falling dramatically, and the Firebird became the only true performance car remaining in the market. Unfortunately, Super Duty engines were expensive and therefore rare; only 252 Trans Am's and 43 Formula 455's received the SD-455 engine. The Super Duty 455 was dropped in 1974.
Ratings:
1973: 455 (SD) V8 310 bhp @ 4000 rpm, 390 lb-ft @ 3600 rpm.
Installation:
1973 Pontiac Firebird Formula 455: 43. 1973 Pontiac Firebird Trans Am: 252
1974 Pontiac Firebird: 943
Total Production: 1238
Muscle Car Engines – MOPAR
413 Wedge
1965
The 413 was really Chrysler Corporation's first drag racing engine, putting Dodge and Plymouth on the performance map and capturing the attention and interest of all enthusiasts. This engine has a special place in the hearts and minds of Chrysler engineers and executives as well as Mopar fans.
With the introduction of the 426 Max Wedge in 1963, the 413 Max Wedge was dropped from the Dodge and Plymouth lines, but the 413 in milder states-of-tune remained available in Chrysler cars. For 1963, you could order a single four-barrel 413 developing 340 hp at 4600 rpm and 470 pounds-feet of torque at 2800 rpm. Compression ratio was 10.0:1. There was also a dual four-barrel setup that developed 390 hp at 4800 rpm and 485 pounds-feet of torque at 3600 rpm.
There were three 413's to choose from in 1964. The single four-barrel unit had the same specs as the year before, except for a slightly higher compression ratio of 10.10:1 There was also another four-barrel 413 with 360 hp at 4800 rpm and 470 pounds-feet of torque at 3200 rpm. The dual four-barrel 413 suffered a drop in compression to 9.6:1, but it still pumped out 390 hp and had a higher torque rating than even the 426 Max Wedge.
The dual four-barrel 413 was dropped in 1965, leaving two 413'S with single four-barrel carburetion. Horsepower and torque readings were the same as the year before, but Chrysler fiddled with the compression ratio again, returning to 10.0:1. This was the last year of the 413's production.
Ratings:
1963: (1×4) 340 bhp @ 4600 rpm, 470 lb-ft @ 2800 rpm. (2×4) 390 bhp @ 4800 rpm, 485 lb-ft @ 3600 rpm.
1964: (1×4) 340 bhp @ 4600 rpm, 470 lb-ft @ 2800 rpm. (1×4) 360 bhp @ 4800 rpm, 470 lb-ft @ 3200 rpm. (2×4) 390 bhp @ 4800 rpm, 485 lb-ft @ 3600 rpm.
1965: (1×4) 340 bhp @ 4600 rpm, 470 lb-ft @ 2800 rpm. (1×4) 360 bhp @ 4800 rpm, 470 lb-ft @ 3200 rpm.
Muscle Car Engines – 426 Max Wedge
1962-1965
The 426 Wedge engine, also with a wedge cylinder head design, first appeared in 1962, installed only in top-of-the-line Chryslers. It was not available in Dodges or Plymouths. This engine was not a high-performance powerplant in the drag racing sense. But this changed in 1963, when Chrysler introduced the 426 Max Wedge Stage II engine. The primary difference between this engine and the 413 Max Wedge, of course, was the larger bore of 4.25 inches, resulting in 426 ci.
The 426 Max Wedge was strictly designed for racing, and was offered in Plymouths as the Super Stock 426 and in Dodges as the 426 Ramcharger (the spelling was changed). Aside from the displacement, the visual differences between the 426 and 413 Max Wedge engines were slight. A Plymouth brochure showed its Super Stock 426 with a black, seven-blade fan. A Dodge brochure showed its 426 Ramcharger with a chrome, fourblade fan. In every other respect, the two were identical.
Like the 413 Max Wedge, the 426 Max Wedge was available with a choice of two compression ratios. The 11.0:1 engine developed 415 hp at 5600 rpm with 470 pounds-feet of torque at 4400 rpm. The 13.5:1 engine developed 425 hp at 5600 rpm and 480 pounds-feet of torque at 4400 rpm. Based on these figures, the 426 Max Wedge developed only five more horsepower and five pounds-feet more torque than the 413 Max Wedge. The elapsed times and trap speeds of Mopars running the 426 Max Wedge were no better than those for the 413 Max Wedge.
426 Max Wedge Stage III
In 1964, Chrysler introduced the 426 Max Wedge Stage III. Improvements included larger-capacity Carter carburetors and larger air cleaners to accommodate them: a new camshaft with 320 deg rees of overlap: modified combustion chambers with deeper clearance notches around the valves; 13.0:1 pistons replaced by 12.5:1 pistons in the higher-compression engine: and new exhaust manifolds designed for NASCAR racing with tuned, equal-length twenty-one-inch passages, which dumped into two large steel tubes and then funneled into a 3'/2-inch-diameter head pipe on each side. Chrysler referred to this exhaust manifold system as Tri-Y headers.
With the introduction of the 426 race Hemi in 1964, racers had an even more powerful engine to use. The Hemi was designed to surpass the 426 Max Wedge, but the Hemi's production was limited. Even so, the 426 Max Wedge remained a viable and affordable alternative. The 426 Max Wedge stayed in production through 1964.
There also was a street version of the 426 in 1964, but it lacked virtually all the Max Wedge components–with good reason. While you could walk into any Dodge or Plymouth dealer and order your Mopar with a 426 Max Wedge, the trouble started when you took delivery and tried to drive it home. The engine was almost undrivable on the street: the 426 MaxWedge was a racing engine, pure and simple. The 426 street wedge, while lacking the power of its snarling brother, also had none of the headaches.
The 426 street wedge had one four-barrel carburetor mounted on a cast iron intake manifold. It also had provision for crossover heat to the manifold to aid warmup. The exhaust manifolds were conventional – not the wildly shaped units used on the Max Wedge. Compression was a healthy 10.3:1. Horsepower was 365 at 4800 rpm with 470 pounds-feet of torque at 3200 rpm.
The last year for the 365-hp 426 street wedge was 1965. Mopar fans who dreamed of having a 426 Street Hemi derived from the 426 Race Hemi would not have to dream much longer.
Ratings:
1963: (Max Wedge – 11.0:1) 415 bhp @ 5600 rpm, 470 lb-ft @ 4400 rpm. (Max Wedge – 13.5:1) 425 bhp @ 5600 rpm, 480 lb-ft @ 4400 rpm.
1964: (Street Wedge) 365 bhp @ 4800 rpm, 470 lb-ft @ 3200 rpm.
Muscle Car Engines – 426 Hemi
1964-1971
On February 23, 1964, three Hemi-powered Plymouths and a Hemi-powered Dodge swept the Daytona 500, 1-2-3-4. It was a stunning victory which set the world of NASCAR racing on its ear. News of this awesome engine spread like wildfire.
As most Mopar enthusiasts know, the 426 Hemi was not the first Chrysler Hemi, but it was the best. Whereas the Hemis of the fifties were passenger-car engines, the 426 Hemi of 1964 was conceived strictly as a race engine, from the oil pan up. Its purpose was to win big on the NASCAR circuit and dominate organized drag racing.
Chrysler met the letter of the law in the NASCAR rule book with regard to the minimum production run of engines. However, the 426 Hemi was too successful for its own good. It was making a mockery of the competition, and NASCAR put its foot down. Instead of building several hundred blue-printed Hemis a year, Chrysler had to build several thousand and offer them in production vehicles. Chrysler had invested too much time and money developing the Hemi to walk away from NASCAR permanently. Chrysler turned a liability into an asset and detuned the Hemi for the street.
Mopar introduced the street Hemi in 1966.  Plymouth and Dodge planted the engine in the Plymouth Belvedere and Dodge Coronet and Charger. Both engines were very similar. The street and race Hemi had the same cast iron, stress-relieved block with a bore and stroke of 4.25×3.75 inches. The forged, shot-peened and Nitride-hardened crankshaft was the same for both street and race Hemi. Both also used impact-extruded pistons, crossbolt main bearing caps, forged connecting rods, iron cylinder heads and mechanical lifters.
Street Hemi vs Race Hemi
The biggest differences between the street and race Hemi were the intake and exhaust manifolds. The intake manifold on the Race Hemi in 1964 and 1965 was a conventional aluminum dual-plane, single four barrel manifold. The track Hemi of 1966 used an aluminum plenum-ram single four-barrel manifold. For drag racing, the 1964 Hemi used an aluminum dual four-barrel plenum-ram manifold. The 1965 drag Hemi used the same manifold, but it was cast in magnesium. To reduce weight even further, it used aluminum cylinder heads. The exhaust manifolds on the race Hemi were naturally of the header type. Plymouth and Dodge used 2 1/2-inch-outside-diameter tubing with steel castings or plates bolted to the cylinder heads. Length varied from thirty to forty inches.
Whereas the Race Hemi's used a single four barrel carburetor, the Street Hemi came with dual Carter 4-barrel carbs. The 4-barrels were mounted on an aluminum dual-plane intake manifold. The compression ratio was reduced to 10.25:1 and cast iron heads were used instead of aluminum. The camshaft had both intake and exhaust durations of 276 degrees, compared to the 1966 track Hemi's 328 degrees. Valve overlap was fifty-two degrees on the street engine and 112 degrees on the track engine. Intake and exhaust valve lifts were 0.48 inch and 0.46 inch, respectively, while the track Hemi had 0.565-inch lift for both intake and exhaust. The valve springs were softer on the street Hemi to reduce camshaft wear. Racing valves were used in the street Hemi with an intake valve diameter of 2.25 inches and exhaust valve diameter of 1.94 inches.
426 Hemi Power Figures and Upgrades
Despite all these modifications, the Street Hemi's advertised horsepower and torque ratings stayed at 425 hp at 5000 rpm and 490 foot-pounds of torque at 4000 rpm. Many people claim the output was closer to 500 hp. The 426 Hemi was a $1,100 option on many models and came with either a 4-speed manual or a Torque Flite automatic transmission. In addition, Hemis came only with a 1 year/12,000 mile warranty instead of the standard 5 year/50,000 mile warranty. Furthermore, that warranty was void if the car was "subjected to any extreme operation" (i.e. drag racing). Heaven forbid.
The 426 Hemi received several changes over its lifetime. Mopar strengthened the 426 Hemi in 1968 with a longer duration cam, new valve springs, and oil consumption fixes. The 426 Hemi retained 425 hp. 1970 saw the addition of hydraulic lifters, instead of the previous solid tappets. The Hemi stayed fast in 1971, when MOPAR detuned several of its other engines, but that would be its last year.
Ratings:
1966 – 1971: 425bhp @ 5000rpm, 490 lb-ft @ 4000 rpm.
Installation:
1966 – 1971 Dodge Charger
1968 – 1971 Dodge Super Bee
1968 – 1971 Plymouth GTX
1968 – 1971 Plymouth Road Runner
1969 Dodge Daytona
1970 Plymouth Superbird
1970 – 1971 Dodge Challenger
1970 – 1971 Plymouth 'Cuda
Special Order:
1968 Dodge Dart
1967 – 1969 Plymouth 'Cuda
Total Production:
Approximately 10,000.