Best Modern Muscle Cars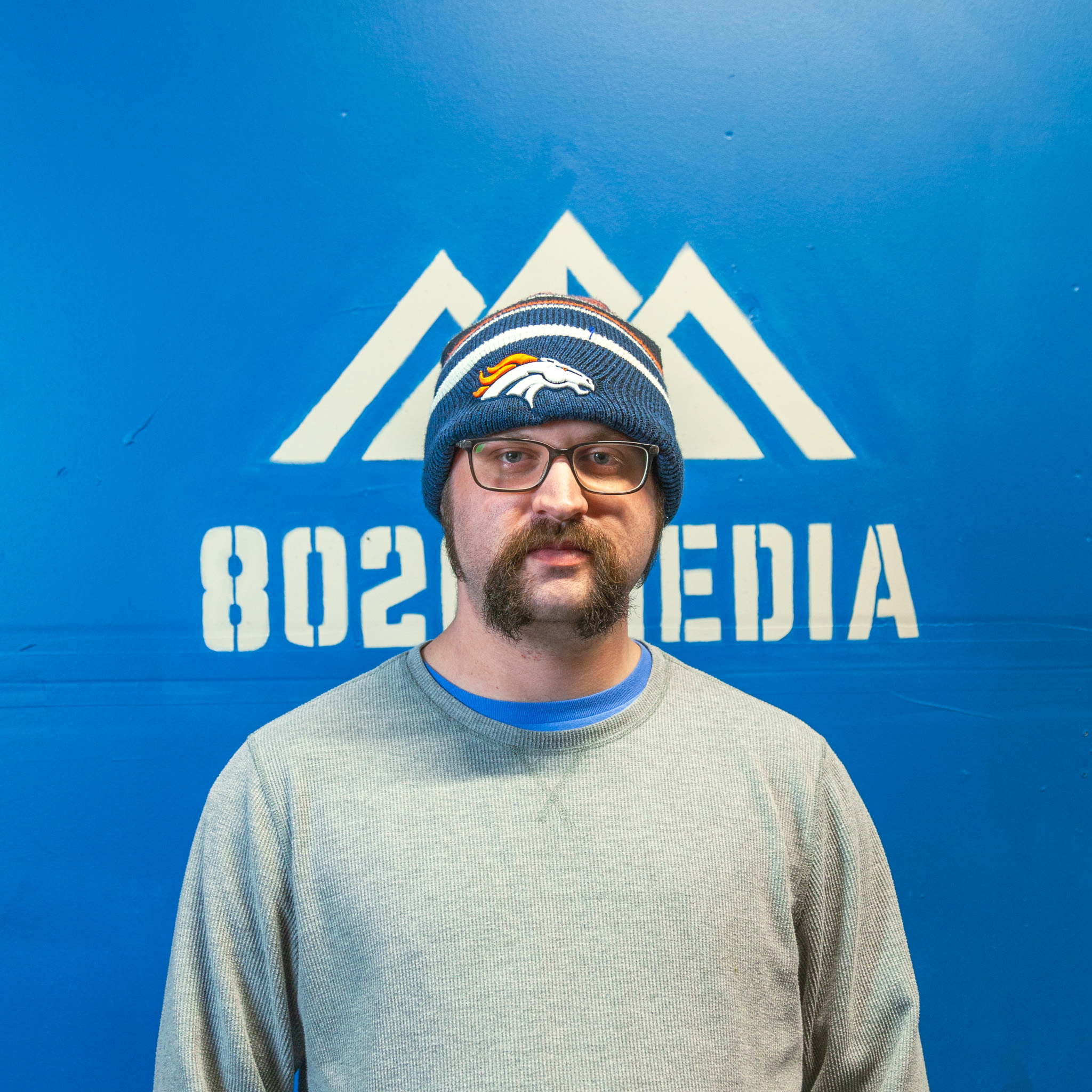 Meet Chandler
Chandler has a bachelors and masters degree in history as well as a passion for classics and muscle cars. His education and historical knowledge makes him skilled at crafting highly detailed articles about America's muscle cars and automotive history. His love of muscle cars is undeniable, with him seeking them out at every opportunity during his visits to auto shows and car meets. Chandler's knowledge and enthusiasm towards automotive history make him a great asset to the Muscle Car Club community.
Since the 1950s, few things have been associated as closely with Americana as muscle car culture. Muscle cars have been making their mark in America for roughly seven decades, originally powered by big-block V8 engines sending massive amounts of raw horsepower to only the rear wheel drive. There was an unfortunate lull from the mid-'70s to the '90s while manufacturers figured out how to make power with restricted emissions. But, they have come back with a vengeance in recent decades with some of the best modern muscle cars in history.
Today, we're going to explore some of the best modern muscle cars of the last decade. Even though the days of big-block V8s are largely by the wayside, the engines of today are actually much more powerful than they were in the '60s and '70s by a significant margin. Let's take a look at the top 6 modern muscle cars of today. 
(Above picture credit: Dodge promotional photos)
Modern Muscle Cars
The term "muscle car" can be polarizing and loaded. There are so many competing definitions it's hard to determine exactly what is and is not a muscle car. Here at Muscle Car Club, we're not overly strict about classifications. Generally, we consider a muscle car to be a midsize or full-sized coupe (and occasionally sedan), powered by a large displacement V8 engine (usually a big-block), with an emphasis on high performance.
That means we include pony cars like the Ford Mustang, Chevrolet Camaro, and AMC AMX. Yet, we draw the line at sports cars like the Chevrolet Corvette or Pontiac Grand Prix. With modern cars, classifications become even more overlapping. Many cars straddle the edge between sports car, muscle car, and even supercar, sometimes depending on trim level. Some people only consider those with big-blocks to be muscle cars, effectively ruling out most production vehicles since the 1970s.
We like to think there are still many modern muscle cars that still fit the bill. While you won't see the same big-block V8 massive displacement engines anymore, the supercharged and turbocharged engines of today can as much as double or almost even triple the horsepower output.
So, with everything so different now, what truly makes the best modern muscle cars?
What makes the best modern muscle car?
Modern muscle cars have come an extremely long way since their birth in the 1950s. Back in the early days, you couldn't consider a car to be true American muscle if the engine had a displacement below 400 cid (6.55 L). Nowadays, there isn't a single American-made production gasoline engine that is more than 400 cid. Most of this is due to emissions restrictions that initially forced most manufacturers to abandon big-blocks altogether. Yet, it also shows how much technology has improved. Today's smaller engines are far more powerful than the big-blocks of muscle's golden age.
Back in their heyday, you also often had to sacrifice some of the creature comforts like air-conditioning or power windows. But modern muscle cars are known for having comparatively nice interiors, often featuring huge touch screens and high-output speaker systems.
In addition, the improvements to suspension and handling of modern cars is nothing short of astronomical. Gone are the days of outdated positraction, and in are limited-slip differentials and independent rear suspensions as standard. Even the transmission options have completely flipped,as before, manual transmission absolutely destroyed automatics. Now, 10-speed double-clutch automatic transmissions routinely beat the best standard transmissions with ease.
So what makes the best muscle cars of today?
The best modern muscle cars of today have a perfect blend of power, performance, aesthetics, and luxury. Whether naturally aspirated or supercharged, muscle cars of today also routinely pump out over 500 horsepower. And they don't just make raw numbers, they are performance machines that have torque on demand whenever you want. Yet, they also have incredible driveability and handling.
Finally, they still have to look good. Nobody wants to drive an ugly design or beaten down junker. Today's cars have to be appealing but aggressive, engaging but rapacious.
European and Asian muscle cars
Traditionally, the term muscle car is almost exclusively reserved for American made vehicles. Yet, in recent years people have begun to rethink that. Comparatively, European and Asian manufacturers have come out with what are essentially their own kind of muscle cars. Midsize coupes with massively powerful engines meant for huge burnouts and scary performance. Sound familiar?
We thought so. The last two entries on our list are reserved for the European and Japanese market. While not muscle cars in the classic or conventional sense, they are non-American takes on the muscle car aesthetic.
Top 6 best modern muscle cars
The top 6 best modern muscle cars are:
Dodge Challenger SRT Hellcat
Chevrolet Camaro ZL1
Ford Shelby Mustang GT500
Cadillac CT5-V Blackwing
Lexus RC F
Mercedes-Benz AMG S65
We blended together the top selections from all of the Big 3 American manufacturers, with a European and a Japanese choice for our list, too. Now, let's find out a little bit about each one of the best modern muscle cars.
1) Dodge Challenger SRT Hellcat
First on our list is the car that has come to define modern American muscle, the Dodge Challenger SRT Hellcat. Since it first debuted in 2015, the SRT Hellcat has roared its way into the hearts of millions with its absolutely jaw dropping performance numbers. Powering the Hellcat has always been the same supercharged 6.2L V8 HEMI. It makes anywhere from 707–807 horsepower and 650–707 lb-ft of torque. The Hellcat is capable of doing zero to 60 mph in just 3.7 seconds with a quarter mile time of 11.8 seconds @ 125 mph.
We're not gonna pretend the Hellcats are meant for road courses. They are built to dominate the drag strip, and as we've seen over the years that is exactly what they specialize in. Few modern cars can deliver the exhilarating power and thrill the SRT Hellcat does in a straight line. The huge 12" wide rear tires are begging for cloudy burnouts, and the supercharged HEMI happily obliges whenever it's asked. There really is no competition for the best modern muscle car, it has to be the Challenger SRT Hellcat. No question.
2) Chevrolet Camaro ZL1
Hot on the tail of the Challenger SRT Hellcat for best modern muscle car is the Chevrolet Camaro ZL1. Chevy first introduced the high performance ZL1 variant of the standard Camaro in 2017. Giving the ZL1 650 horsepower and 650 lb-ft of torque is the supercharged 6.2L LT-4 V8. It's the same engine as inside the C7 Corvette Z06, and it absolutely rips. The reduced weight of the Camaro gives it an edge over the more powerful Hellcat in terms of acceleration. It hits zero to 60 mph in just 3.4 seconds and does the quarter mile in 11.5 seconds @ 124 mph.
The Camaro was built for the drag strip, but it can still hold its own on road courses too, making it a very complete modern muscle car. The lack of manual transmission is frustrating, but the 10-speed automatic is no slouch and delivers quick and crisp upshifts and downshifts. While it will never have the prestige and iconic reputation of the Hellcat, the ZL1 is still a very powerful and well built modern muscle car.
3) Ford Mustang Shelby GT500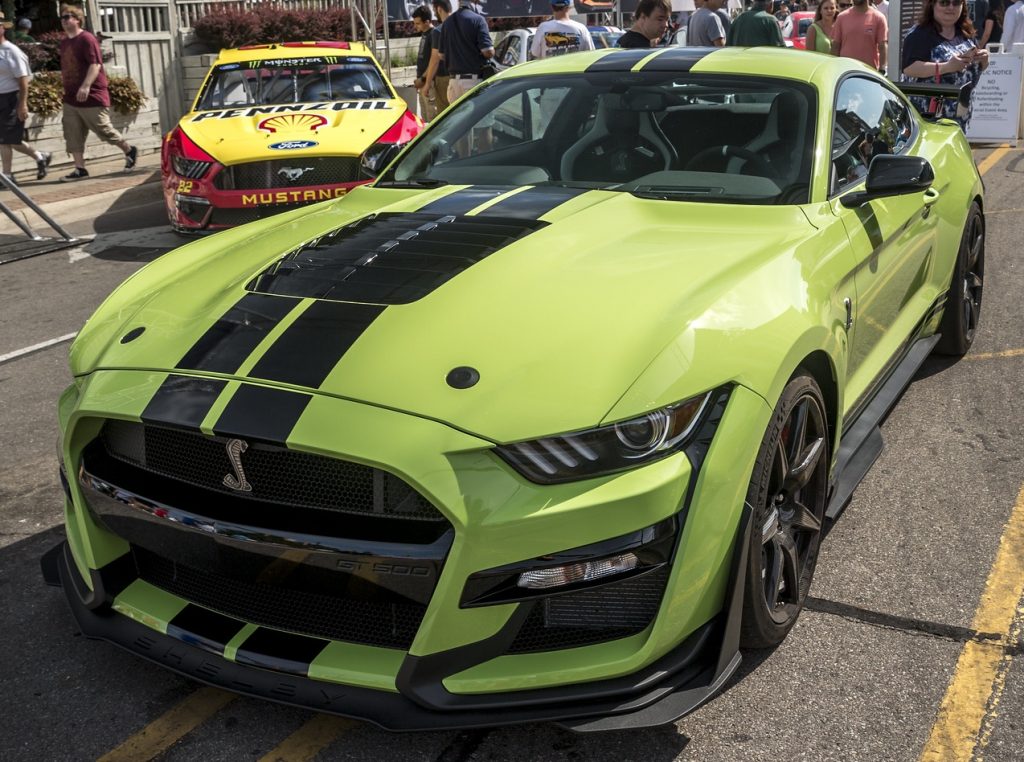 Following the entries from Chrysler (Stellantis North America) and General Motors, the last of the Big 3 of American manufacturers comes in third on the list with the Ford Mustang Shelby GT500. While some may complain this is more of a sports car than a muscle car, we think it fits in perfectly with the other entries on the list. Powering the GT500 is a supercharged 5.2L Predator V8 making 760 horsepower and 625 lb-ft of torque. It goes from zero to 60 mph in 3.4 seconds and has a quarter mile time of 11.3 seconds @ 132 mph – tops for our list.
For 2022 Ford introduced the GT500KR (King of the Road), an homage to the former late-'60s namesake. This features an upgraded 5.2L Predator V8 pumping out an astonishing 900 ponies, aided by a 3.8L supercharger. The GT500KR is a highly limited edition, but has other goodies like upgraded suspension and carbon-fiber hood. The GT500 rips at the drag ship, like any muscle car should, and it also excels on the course, too.
The Mustang has always been more pony car than true muscle car, but it's hard to ignore the newest GT500. We definitely think it deserves inclusion on this list as one of the best modern muscle cars.
4) Cadillac CT5-V Blackwing
Our final American entry on our list is the Cadillac CT5-V Blackwing. Cadillac introduced the CT5-V Blackwing in 2022 as the successor to the CTS-V which was retired in 2019. They gave it the same supercharged 6.2L LT-4 V8, making 668 horsepower and 659 lb-ft of torque. This is the same engine as in the Camaro ZL1, but makes 18 horsepower and 9 lb-ft of torque more. This equates to a slightly faster zero to 60 mph time of 3.6 seconds, and a nearly identical quarter mile time of 11.6 seconds @ 125 mph.
There is also the slightly smaller CT4-V Blackwing, utilizing a 472 horsepower twin-turbo V6. But the CT5-V is the true beast of the two, knocking it out of the park in terms of power and performance. Not only will the Blackwing destroy the drag strip, but it's also very capable on the course, too. Cadillac also gave the Blackwing by far the best interior of our American entries on the list. Not your traditional muscle car in most senses, the CT5-V Blackwing still slays the competition. It's massive horsepower V8 and modern muscle aesthetics make it ripe for inclusion on our list.
5) Lexus RC F
Starting off our non-American section of the list is the Japanese created Lexus RC F. Lexus introduced the RC F for the 2015 model year as a high performance variant of the standard RC. Lexus gave the RC F a naturally aspirated 5.0L V8 engine as a power plant, which pumps out a respectable 472 horsepower and 395 lb-ft of torque. The RC F makes the zero to 60 mph sprint in just 4 seconds, and hits the quarter mile in 12.4 seconds @ 115 mph.
While you probably don't think of the Lexus RC F as a traditional muscle car, it really is a Japanese take on one. The 5 liter naturally aspirated engine is basically a big-block by Japanese standards, and its rear wheel drive train fits right in. The 5.0 V8 differentiates from the traditional Japanese sports cars like the Mazda RX-7 or Nissan Skyline. Substituting small-displacement and forced induction for raw naturally aspirated power, the Lexus RC F has all the character of a true modern Japanese muscle car.
6) Mercedes-Benz AMG C63/S (through 2021)
The final entry on our list hails from the European market, and it's the Mercedes-Benz AMG C63 and C63S. Mercedes-Benz AMG initially brought out the C63 in 2008, and it lasted until 2021 initially. Originally, the naturally aspirated 6.2L M156 V8 engine, producing 451 horsepower and 443 lb-ft of torque, powered the C63/S through 2014. In 2015, AMG upgraded to the smaller Biturbo 4.0L M177 DE 40 LA V8. In the standard C63 the M177 makes 469 horsepower and 479 lb-ft of torque. Yet, in the high performance C63 S, the M177 makes 503 horsepower and 516 lb-ft of torque.
As of the 2023 there is a new C63 utilizing a 2.0L electric-turbocharged four-cylinder with a supplemental electric motor. It does make 671 horsepower, but also firmly destroys any muscle car credibility with the electric motor, so we'll pretend the model line ended in 2021. The former M177 V8 for 2021, the last year you could really call the C63S a muscle car, could go from zero to 60 mph in just 3.7 seconds. The C63S could also make the quarter mile in 11.9 seconds @ 122 mph.
We know the phrase European muscle sounds like an oxymoron, but in this case it actually applies. The C63 and C63S are two of the closest things Europe will ever get to a true muscle car, and they were both fantastic. Available as a coupe and with only rear wheel drive as an option, the Mercedes-Benz C63/S is right at home on our list.
Best Modern Muscle Cars Summary
While it's tough to compare any modern muscle car with those of muscle's heyday, there are still some great examples. Both from the United States and abroad, the muscle heritage is still alive and well in 2023.
The Dodge Challenger SRT Hellcat is the quintessential modern muscle car, boasting a huge 6.2L supercharged V8 making north of 800 horsepower. The LT-4 powered Camaro ZL1 and CT5-V Blackwing are also excellent modern examples. They have all the muscle car aesthetics you could want and are capable of terrorizing the drag strip. Our final modern American muscle car is the Mustang GT500, the most powerful production Mustang ever made. Call it a sports car if you must, it has all the essence, character, and heart of American muscle spirit.
In terms of international muscle, the Mercedes-Benz AMG C63/S and Lexus RC F are fantastic modern icons. The AMG C63/S pumps out a more than capable 503 horsepower from either a naturally aspirated 6.2L V8 or biturbo 4.0L V8, and the RC F produces 472 horsepower from a naturally aspirated 5.0L V8. These are the closest modern examples to European and Japanese muscle out there today, and they certainly do the culture justice.