Ultimate AMC 360 Engine Guide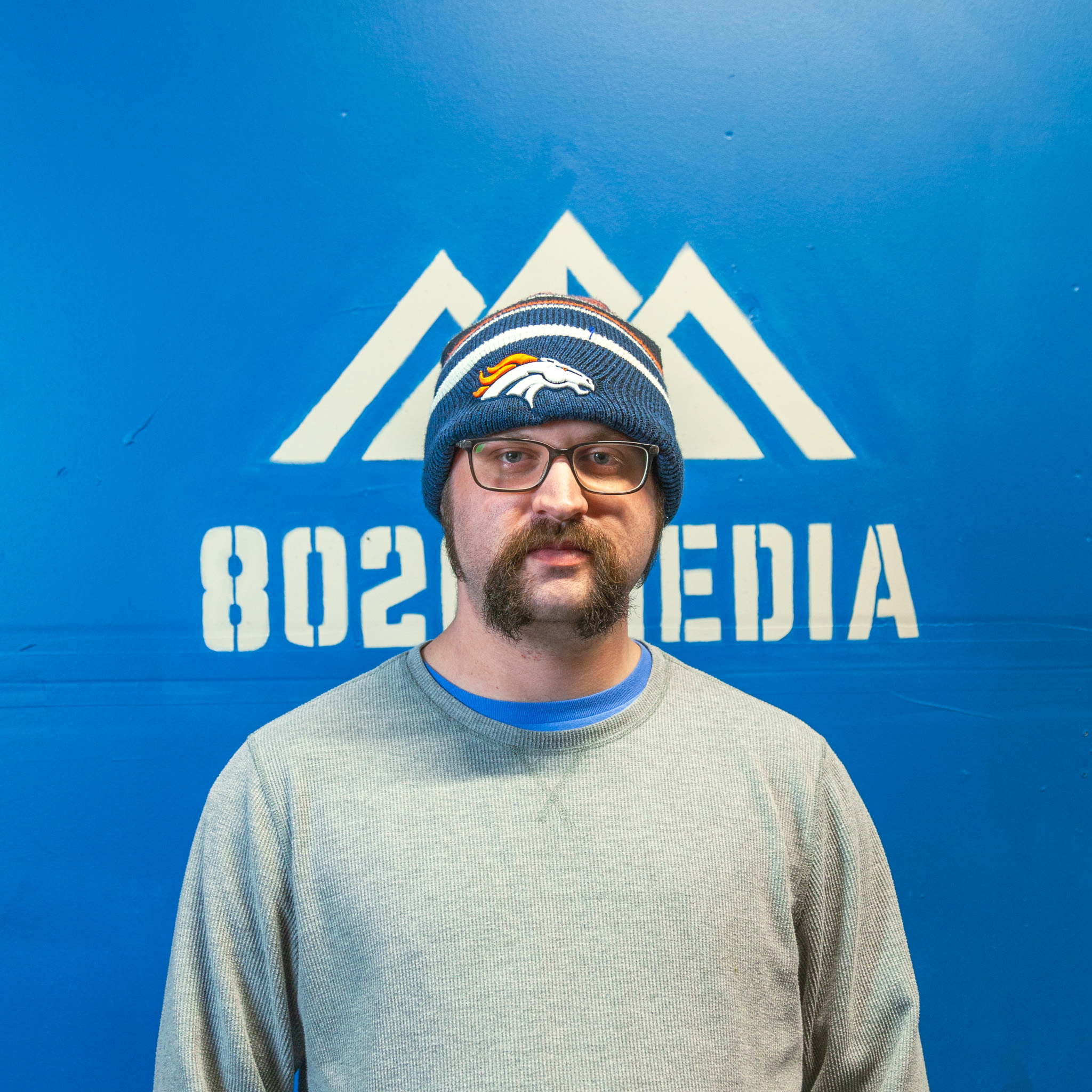 Meet Chandler
Chandler has a bachelors and masters degree in history as well as a passion for classics and muscle cars. His education and historical knowledge makes him skilled at crafting highly detailed articles about America's muscle cars and automotive history. His love of muscle cars is undeniable, with him seeking them out at every opportunity during his visits to auto shows and car meets. Chandler's knowledge and enthusiasm towards automotive history make him a great asset to the Muscle Car Club community.
For more than two-decades, the AMC 360 V8 was one of the top engines in the AMC lineup. It lasted from 1970–1991, and has the longest production span of any AMC V8 engine. Primarily used in 1970s AMC cars and 1970s–1980s Jeep trucks and SUVs, it was a dependable performer that produced as much as 290 horsepower and 395 lb-ft of torque. While it's not quite a 5.0 Coyote V8, the AMC 360 engine is still popular today, and many use them in swaps and often build them up to more than 400 horsepower. 
AMC Engine History
The AMC 360 V8 is part of the line of original AMC V8s that date back to 1956. The first generation had 250, 287, and 327 cid V8 engines, and lasted until 1965–1967. The second generation AMC V8 lasted from 1966–1969, and featured a brand new block with thin-wall casting to reduce weight. These ranged in displacement from 290, to 343, to the ultimate 390 cid V8.
Finally, from 1970–1991, AMC built their third and final generation of the AMC V8, which included the 304 and 360, in addition to the 390. AMC accomplished building the new 360 by stroking the old 343 out to 3.44 inches. From 1970–1978, AMC used it in a number of vehicles, including the AMC AMX, AMC Javelin AMX, AMC Hornet S/C 360, and AMC Rebel.
Jeep also used the engine in a few different models. From 1971–1987, they used it in the J-Series ½ and ¾ ton trucks, where it was the most dependable power plant. From 1976–1983, it appeared in the Jeep Wagoneer SJ, and from 1984–1991 in the Jeep Grand Wagoneer SJ.
The 360's Decline
Initially, the AMC 360 engine was quite powerful, producing 290 horsepower and 395 lb-ft of torque (SAE Gross) with a four-barrel Motorcraft carburetor for the 1970 model year. Horsepower dropped by 5 in 1971, and then started to fall off a cliff for the rest of its production span. Part of this had to do with emissions restrictions, which dropped compression from 10.0:1 all the way down to 8.25:1 within just a few years.
However, the bigger culprit was the mandated switch from SAE Gross to SAE Net engine horsepower ratings. This meant that engines had to be tested with accessories that account for parasitic loss, in order to give a more accurate rating for what the car made once installed and driven on the street. While it didn't change the car's performance on the street, it did on paper, sometimes dropping as much as 70 horsepower and 100 lb-ft of torque overnight.
By the late-1970s, the engine was barely squeezing out 125 horsepower, which would only increase to 144 horsepower from 1984 until production ended after 1991. It might not have been winning any horsepower wars, but it was still a dependable engine that made solid torque down low.
By the 1990s, the AMC 360 was outdated and out of time. For example, it was still carbureted and not fuel injected, and AMC itself went defunct after 1987 when Chrysler (now Stellantis) bought it out. The last AMC 360 rolled off the production line in 1991, a relic of a time past. Today, there are still many 360s still powering countless Jeep trucks and SUVs, and they are popular for cheap swaps into older AMCs and Jeeps.
AMC 360 Specs
| | |
| --- | --- |
| Engine | AMC 360 |
| Engine Family | AMC V8 Gen III |
| Model Years | 1970-1991 |
| Displacement | 5.9 liters (360 cid) |
| Aspiration | Naturally Aspirated |
| Configuration | 90° V8 |
| Compression Ratio | 8.25:1 – 10.0:1 |
| Bore and Stroke | 103.6 mm x 87.4 mm (4.08 in x 3.44 in) |
| Valve Train | Overhead Valve (OHV), 16-valve (2 val/cyl) |
| Variable Valve Timing | No |
| Fuel System | Carbureted |
| Head Material | Cast Iron |
| Block Material | Cast Iron |
| Horsepower Output | 127–290 horsepower |
| Torque Output | 228–395 lb-ft |
AMC 5.9L Equipped Vehicles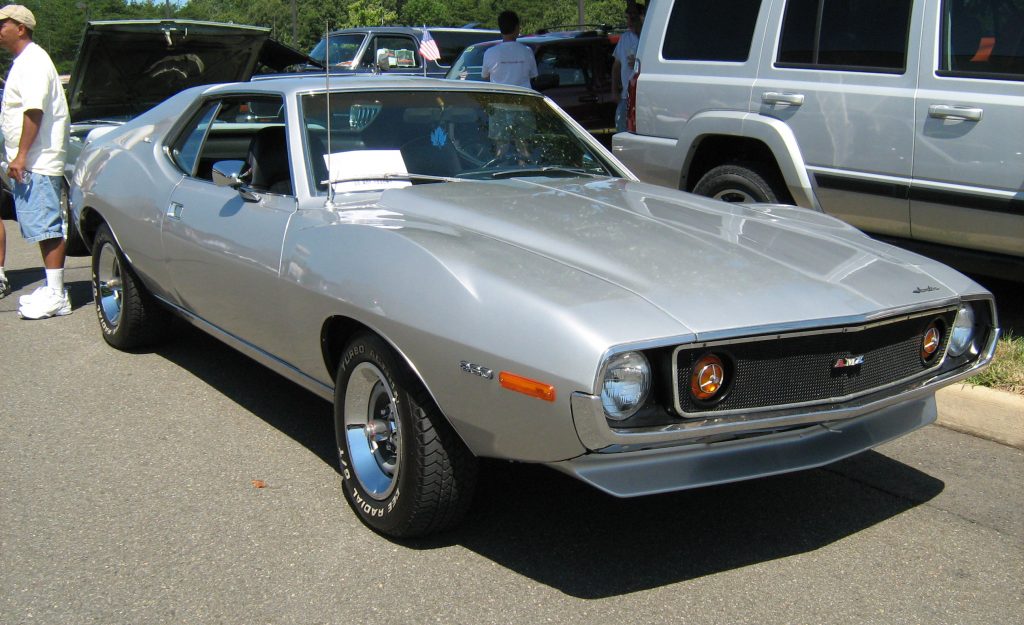 The AMC 360 V8 appeared in the following vehicles:
AMC
1970–1974 AMC Ambassador
1970 AMC AMX
1970–1974 AMC Javelin
1970 AMC Rebel
1971–1974 AMC Hornet
1971 AMC Hornet SC/360
1971–1974 AMC Javelin AMX & SST
1971–1978 AMC Matador
Bricklin
Jeep
1971–1987 Jeep J-Series ½ & ¼ ton trucks
1976–1983 Jeep Wagoneer SJ
1984–1991 Grand Wagoneer SJ
AMC 360 V8 Design Basics
The AMC 360 engine is a 360 cid (5.9 liter) naturally aspirated V8. Both the block and heads are cast iron and quite durable (and heavy). It has a bore and stroke of 103.6 mm x 87.4 mm (4.08 in x 3.44 in), and is a stroked version of the second generation AMC V8 343 cid motor. Bore spacing is 4.75 inches center-to-center, and oil pressure is around 46 PSI. From 1970–1979, AMC referred to the engine as the AMC 360, changing its designation to the metric AMC 5.9L from 1980–1991.
The crankshaft and connecting rods are nodular iron, and it uses a 90° V8 setup. It also has an overhead valve (OHV) setup with 2-valves/cylinders, for 16-valves total. There is a single in-block camshaft, which varies in spec depending on the year and model. High performance versions had hydraulic lifters, while others had solid lifters.
Compression and carburetion varied over the years. AMC gave the 360 both dual and quad-carburetor setups, all of them of the Motorcraft brand. Usually, dual-carb setups had single-exhaust outlets, and quad-barrels had dual-exhaust outlets.
Compression varied from a high of 10.0:1 to 8.25:1. The only 360 to have 10.0:1 compression was the 290 horsepower version from 1970–1971 with a quad-barrel carb. All other 360 engines had 8.5:1 compression through 1972, when it dropped to 8.25:1 from 1973-on.
By far, the best part of the engine was the cylinder heads. Known as the "dogleg" cylinder heads, they are considered some of the best flowing V8 heads of the entire decade. Compared with the previous generation AMC V8 heads, they outflow them by as much 25%, which is substantial.
AMC 360 V8 Reliability and Problems
Overall, the AMC 360 is above-average in terms of reliability. They are capable of some serious mileage with only minimal maintenance, and it's the reason they are so common for swaps into older AMCs and Jeeps. However, there are a few endemic problems to the AMC 360 that have crept up over the years.
The most obvious is the weak oiling system. The passages are a bit cramped and the oil pump is also weak and prone to failure. The biggest issue comes with a seized distributor due to lack of oil flow. However, many people rectify this with the "valley oil line" fix, which routes another oil line under the intake manifold to ensure a constant flow. However, this is really only necessary for those looking to build their AMC 360 for decent horsepower, and doesn't really need to be done on pure stock vehicles.
In addition, the lack of oiling and weak pump can lead to rear main seals failing, which is probably the most common AMC 360 engine issue. They frequently need to be replaced on many engines, and it's definitely a widespread and notorious issue.
Besides that, the engine is relatively stable, except the weak aluminum valve cover and its use of two vs four-bolt mains. This really only comes into play when building and racing the engine, as it can lead to problems after sustained use. Overall, we consider the AMC 360 to be an above-average V8 engine for its production period, and a relatively reliable engine for the most part.
AMC 360 V8 Performance and Modding
Now let's talk about performance. The most powerful AMC 360 engine was the 1970–1971 quad-barrel version, which had 10.0:1 compression and made 290 horsepower and 395 lb-ft of torque. There was also a double-barrel, 8.5:1, 245 horsepower version, too. From 1972–1975, three versions were available, making 175, 195, and 220 horsepower.
By 1979, power bottomed out at just 127 horsepower and 245 lb-ft of torque. Things would recover a little bit, and for most of the '80s until it ended production in 1991, the AMC 360 pumped out 144 horsepower and 280 lb-ft of torque with a double-barrel carb.
For those with lower horsepower 360 V8s, there are a lot of options for upgrading the output. We'll just stick with basic bolt-on upgrades that won't break the bank too much for now. For those really looking to make some power, you'll want to look at forged pistons, as the stock ones aren't known to hold up past 350 horsepower. 
Best Mods
One of the most basic AMC 360 performance upgrades is replacing the mechanical fan with an electric one, which can add as much as 10 horsepower and 2 mpg in fuel economy. Next, you'll want to upgrade the snorkel-style intake to something open and freer flowing. Another basic upgrade is to add a MSD or HEI distributor for the ignition. This will increase spark and add as much as 25 horsepower over a worn-out unit.
Now, you'll want to look at sucking more air into the engine through an intake manifold and carburetor upgrade. The Edelbrock dual-plane, Performer RPM is very popular and flows very well over stock. After the intake manifold, especially if you have one of the wimpier double-barrels, you'll want to go with a 600–650-cfm flowing carburetor. A QuadraJet is also a popular option. In addition, you'll want a phenolic carb spacer with an upgraded carb.
The final two basic mods are upgrading the camshaft and the exhaust system. For the camshaft, you want to prioritize low-end torque, and some of the most popular are the Comp Cams XE256H, XE260H, or XE262H; Howards CL312481-11 or CL-310101-12, Edelbrock's Performer cam, Summit Racing K-8600, and the Engle K52. For the exhaust, the real reason to upgrade the headers is that the stock cast-iron ones are prone to cracking, as they actually flow decently. Still, adding long-tube headers of 2.5 inch in diameter are a good start, and you will definitely want true dual outlets.
All of these mods together should easily put your 1980s AMC 360 V8 over 300 horsepower on pump gas. You'll also be making more than 350 lb-ft of torque, and the engine will feel like a freight train. Not bad from 1970s engineering.
AMC 360 FAQ
What Jeep came with AMC 360?
Several Jeeps came with the AMC 360. This included the 1971–1987 Jeep J-Series ½ and ¾ ton trucks, the 1976–1983 Jeep Wagoneer SJ, and the 1984–1991 Jeep Grand Wagoneer SJ.
Who makes an AMC 360 engine?
American Motors Corporation, or AMC, were the builders of the AMC 360 engine. They built the engine for more than 20 years, and it was their most used V8 in history.
What cars came with the AMC 360?
Several AMC and Jeep cars, trucks, and SUVs came with the AMC 360 V8 engine. This included the AMC AMX, AMC Javelin AMX, AMC S/C 360 Hornet, and others. It also came in the 1971–1987 Jeep J-Series ½ and ¾ ton trucks, the 1976–1983 Jeep Wagoneer SJ, and the 1984–1991 Jeep Grand Wagoneer SJ.
What are the best AMC 360 mods for horsepower and torque?
The best AMC 360 upgrades for horsepower are dual-plane intake manifold, HEI or MSD distributor, high-flow air filter, bigger 650-cfm carburetor, upgraded camshaft, and long-tube headers. You can easily push the AMC 360 past 300 horsepower with just these mods alone.