Ultimate Chrysler 340 Engine Guide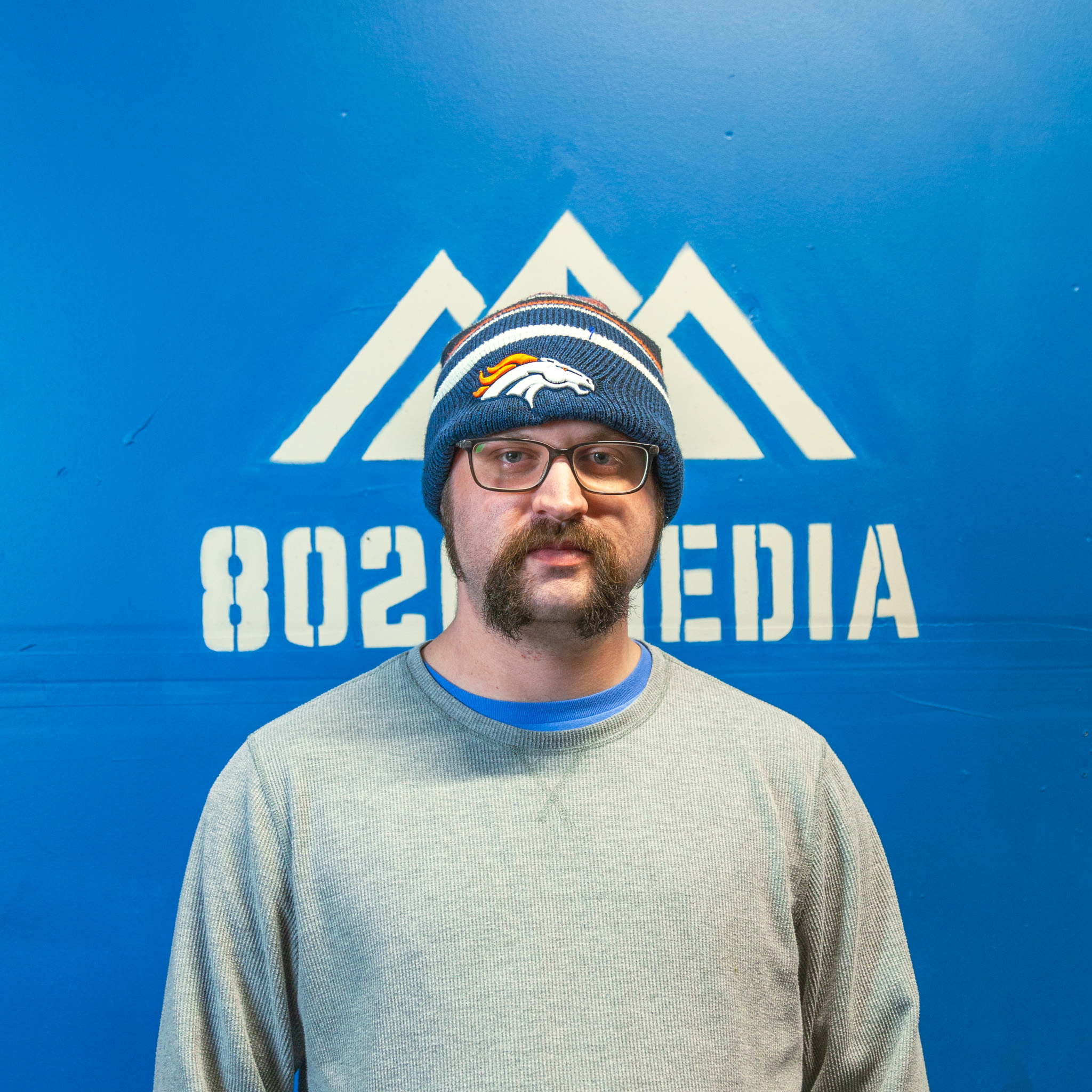 Meet Chandler
Chandler has a bachelors and masters degree in history as well as a passion for classics and muscle cars. His education and historical knowledge makes him skilled at crafting highly detailed articles about America's muscle cars and automotive history. His love of muscle cars is undeniable, with him seeking them out at every opportunity during his visits to auto shows and car meets. Chandler's knowledge and enthusiasm towards automotive history make him a great asset to the Muscle Car Club community.
Known by many as the "Giant Killer," the Chrysler 340 V8 engine is one of the most iconic and legendary muscle car engines ever. Even though it was a small-block only displacing 340 cid, it would take down 400+ cubic inch big-blocks with ease. This was especially true for the 1970 "Six-Pack" 340 inside the Plymouth 'AAR Cuda and Dodge Challenger T/A. These used three Holley double-barrel carbs to produce a factory stated 290 horsepower — though real enthusiasts knew that was just a line for insurance. The real rating was well over 300 horsepower.
Let's take a look back at the Chrysler 340 V8, and see how it powered some of the top Dodge and Plymouths of the late-'60s and early-'70s.
Chrysler 340 History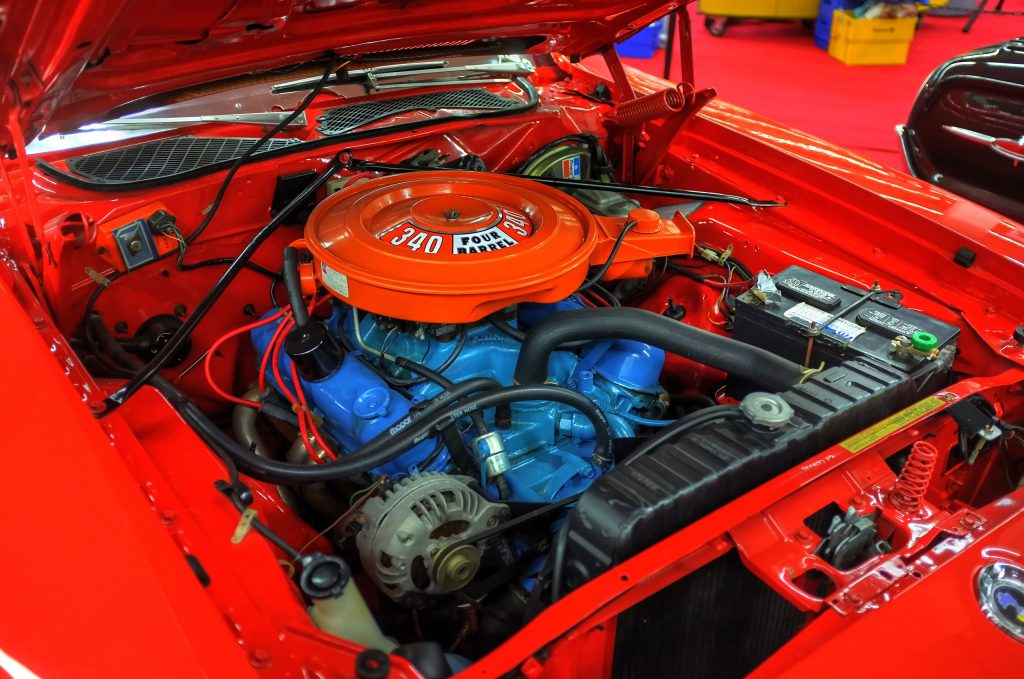 The Chrysler 340 is part of the larger Chrysler LA-series of V8 engines, which Chrysler initially brought out in 1964. The LA designation stood for "Lower A," which meant it was a lower-deck-height version of the A-series dating from 1958. The LA-series used thinner wall-casting compared with the A-series, and it also had wedge instead of polyspherical combustion chambers to go with different heads and internals. The thinner wall-casting allowed for a drop of 55 pounds of unnecessary weight, though it was still cast iron.
The first LA-series engine to debut was the 273 in 1964. Chrysler followed this with the 318 in 1967 and 340 in 1968. Most of the LA-series engines were about economy and high-production, but the 340 was different. It was about performance. Dodge put it inside their Dart GTS and Dart Swinger 340, while Plymouth stuck it inside the Barracuda Formula S. Later, Chrysler powered the Dodge Challenger Rallye and Super Bee, Charger Rallye, Dart Demon, and Plymouth Duster 340 and RoadRunner with the 340.
When Chrysler first released the 340 in 1968, they rated it at 275 horsepower and 340 lb-ft of torque. However, most enthusiasts consider that to be a wild underestimation. Many argue it really makes more than 320 horsepower and 360 lb-ft of torque, which dynos haven proven. The 340 achieved these numbers with a quad-barrel carb.
In 1970 only, Chrysler came out with a special version of the 340 called the "Six-Pack." The "Six-Pack" 340 utilized three Holley double-barrels for a massive six-venturi unit. In GM guise, they called it the Tri-Power. This version made a stated 290 horsepower and 345 lb-ft of torque, and was only in the Plymouth 'AAR Cuda and Dodge Challenger T/A. Massively underrated, it shows more than 350 horsepower on the dyno.
The Decline of the 340
From 1968–1970, Chrysler rated the engine the same, but power dropped beginning in 1971. This was due to multiple factors, which included a reduction in compression ratio and new measuring system for horsepower. Previously, Chrysler (and all American manufacturers) had been using SAE Gross calculations. In 1972, new federal regulations forced the switch to SAE Net ratings on all public ads for car engines.
Typically, SAE Gross numbers read higher than SAE Net numbers, because SAE Net takes into account accessories like an air cleaner and exhaust system. Those additions reduce total output of the engine, but provide a more realistic picture of what they actually produce on the street. Needless to say, this made engines from 1972 appear to be much slower and less powerful than their 1971 predecessors.
In 1971, Chrysler published both figures for the 340, with it making 235 horsepower Net and 275 horsepower Gross. The next year, they only published Net, which meant the 340 was now 240 horsepower and 290 lb-ft of torque. It remained at this output through 1973, which was the last model year they produced the 340.
Importantly, diminished compression ratios also played a part in lower performance numbers. The Chrysler 340's compression dropped from 10.5:1 from 1968–1970, to 10.25:1 in 1971, and finally to 8.5:1 from 1972–1973. The drop in compression was related to more stringent emissions restrictions and the shift from leaded to unleaded gas. The reduced compression along with the change from Gross to Net ratings effectively killed the 340, and Chrysler dropped it for 1974-on.
Chrysler 340 Specs
| | |
| --- | --- |
| Engine | Chrysler 340 V8 |
| Engine Family | Chrysler LA-Series V8 |
| Model Years | 1968-1973 |
| Displacement | 340 cid (5.56 liters) |
| Aspiration | Naturally Aspirated |
| Configuration | 90° V8 |
| Compression Ratio | 8.5:1 – 10.5:1 |
| Bore and Stroke | 4.04 in x 3.31 in |
| Valve Train | Overhead Valve, 16-valve (2 val/cyl) |
| Variable Valve Timing | No |
| Fuel System | Carburetor (Four & Six barrel) |
| Head Material | Cast Iron |
| Block Material | Cast Iron |
| Horsepower Output | 235-290 horsepower |
| Torque Output | 290-345 lb-ft |
Chrysler 340 Equipped Vehicles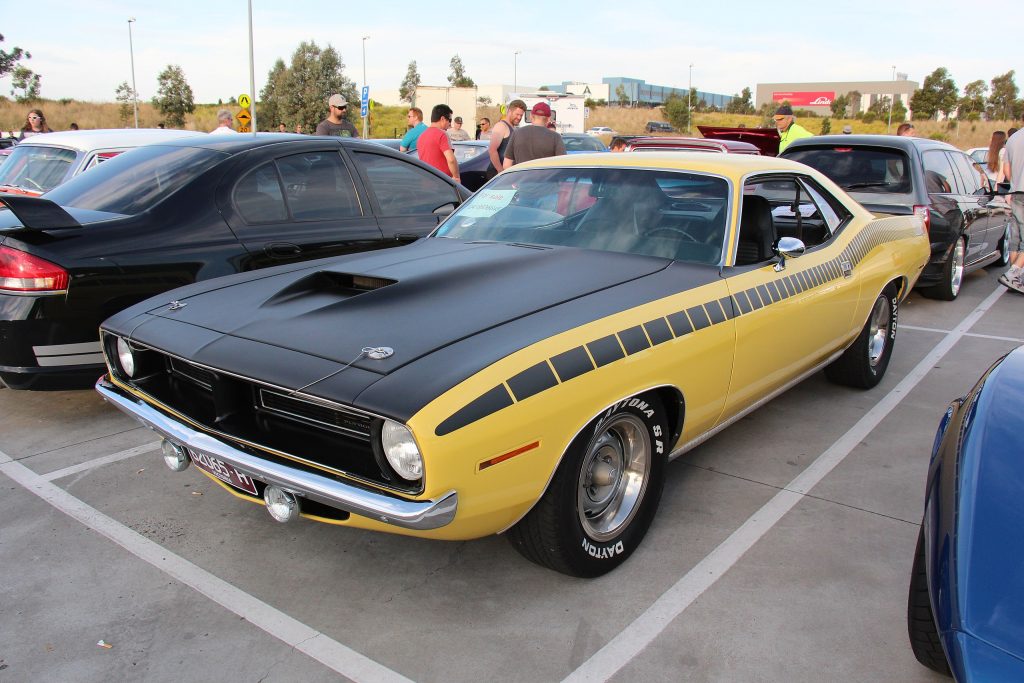 The Chrysler 340 engine appeared in the following vehicles:
Dodge 340 Vehicles
Plymouth 340 Vehicles
Chrysler 340 Design Basics
The Chrysler 340 V8 is from the Chrysler LA-series of engines, which Chrysler bored out from the 318. The 340 uses a cast iron block and heads, and has a bore and stroke of 4.04 inches x 3.31 inches. Though only coming in at 340 cubic inches (5.56 liters) of displacement, the engine was seen as a solid rival to the much larger Chrysler 383 and 440 big-block V8s.
Compared with other LA-series engines, which were built for economy, Chrysler created the 340 for some serious performance. They gave the 340 high-flow "X" style cylinder heads, larger valves, and massive quad or six-barrel carburetors. It weighed less than the 383 and 440, but still made exceptional power. Dodge even put it alongside the big-block 426 HEMI and 440 Magnum in their "Scat Pack" package.
Compared with the 318 Chrysler bored it from, the 340 had larger exhaust manifolds, a dual-plane intake, dual timing chains, a more aggressive hydraulic camshaft, larger Carter carburetor, bigger valves, higher-flow cylinder heads, and stronger internals. Compression sat at 10.5:1 instead of 9.2:1, and it required premium instead of regular fuel.
Camshaft Specs
For the valve train, the Chrysler 340 is an overhead-valve engine (OHV) with a single in-block camshaft with hydraulic lifters. There are 2 valves per cylinder for 16-valves total, and it had oversized exhaust and intake valves to maximize airflow. They measure 2.02 inches (intake, 1.91" 1972+) and 1.60 inches (exhaust, 1.88" 1971+).
For the 1968–1970 camshaft, the specs were 0.508 inches of lift and 292°/292° duration, making it extremely aggressive. When compression dropped and the exhaust valves got smaller, the cam also got less aggressive. The 1971+ camshaft in the automatic had 0.430 inches of lift and a 276°/284° duration and 44° of overlap. The manual had 0.445 inches of lift and 268°/276° duration and 52° of overlap.
Engine Internals, Manifolds, and Carburetors
For the internals, the 340 crankshaft was forged steel and balanced with full counterweights. Chrysler also used shot-peening to help increase fatigue strength by 20%. From 1972 on, Chrysler changed the crank to cast iron to reduce costs. The pistons were cast aluminum and flat-topped with valve reliefs. They were also forged steel like the crankshaft, and had an increased I-beam section for better strength.
For the intake manifold, Chrysler used cast iron, but it was a high-flow version that worked well with the high-flow cylinder heads. It was a dual-plane design, and the exhaust manifold was also a low-restriction design.
For the carburetor, the 340 used a variety of different units. Initially, from 1968–1970, it was a Carter AVS four-barrel. In 1971, this was upgraded to a Carter Thermoquad, which flowed an incredible 850-cfm. The only exception was the "six-pack" options, which used three Holley double-barrels.
Initially, the 340 had a high compression ratio of 10.5:1. However, emissions restrictions pushed Chrysler to reduce compression beginning in 1971. It was modest, just dropping down to 10.25:1, but even more changes were on the horizon. For 1972–1973, compression dropped all the way to 8.5:1, which was partly reflected in the loss of horsepower.
The 340 Six-Pack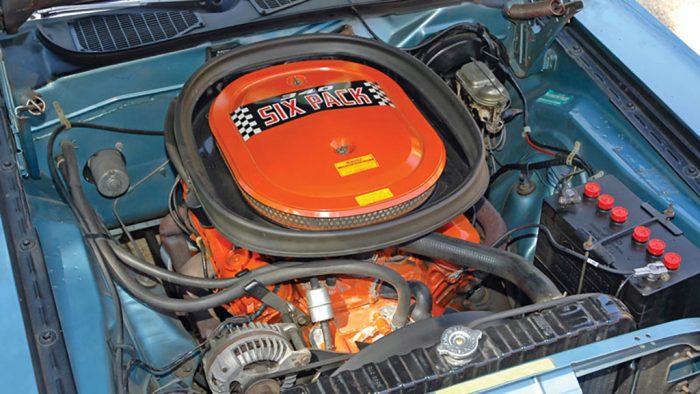 For the 1970 model year only, Chrysler made an even more high-performance version of the 340, the "Six-Pack" 340. This version made 290 horsepower and 345 lb-ft of torque, and used a six-pack carburetor setup. This was three Holley double-barrel carbs strapped together to make a huge six-barrel unit. The six-pack well outflowed the Carter AVS on the standard 340, but that wasn't the only addition to the engine.
In addition to the new carb setup, Chrysler strengthened the block with a higher nickel content, and there were stronger bulkheads, thickened webbing, and four-bolt main bearing caps. The intake was an Edelbrock aluminum intake manifold. The cylinder heads had porting and the air cleaner had the silencer deleted, moving to a large single snorkel unit instead of smaller duals. Even the fuel lines were bigger (⅜ inch) for better fuel delivery.
Chrysler 340 Reliability
Overall, during its six years in production — and its decades of use on the aftermarket — the Chrysler 340 has gained a reputation for being extremely reliable. Even though it is relatively small displacement for a performance muscle car engine, the 340 has proved its mettle time and again. The block is very strong, due to the cast iron construction, and has been shown to support builds of well over 600 horsepower without issue.
Really, the only weak link in the 340 is the subpar oiling and the cast aluminum pistons. The oil pump is a good candidate for replacement due to premature failure, and the engine has been known to run hot at times. As for the pistons, the cast aluminum is not as desirable as a fully forged piston. The connecting rods are forged steel, but not the pistons, so usually it's the pistons that will fail first on builds.
Overall, the Chrysler 340 is an extremely good candidate for a muscle car build. It's not going to produce the crazy amount of low-end torque as a larger displacement engine, unless you get a stroker kit, but it excels on the top-end.
Chrysler 340 Performance and Top Mods
From the factory, Chrysler rated the standard 340 from 1968–1970 at 275 horsepower and 340 lb-ft of torque. In the 1970 340 six-pack, that jumped to 290 horsepower and 345 lb-ft of torque. Power dropped starting in 1972, when Chrysler began using SAE Net power ratings. However, the engine still performed relatively similarly on the street, even with the drop in compression. SAE Net ratings put the 1972+ 340 at just 240 horsepower and 290 lb-ft of torque.
The fastest Chrysler 340 powered car was undoubtedly the 1970 AAR 'Cuda, which used the six-pack carb. It laid down a zero to 60 mph time of just 4.8 seconds, and did the ¼ mile in 14.4 seconds @ 100 mph. That was better than many big-blocks of the era, and made the 'Cuda fly down the drag strip and track.
Today, the 340 is still one of the most popular muscle car engines to build, and they are widely available as crates. For those of you looking to build your 340 muscle car, we've got the perfect guide for you. Read on to learn how to pump out more than 350 horsepower from a slightly modified 340 V8.
Chrysler 340 Bolt-on Mods
For a basic build on the Chrysler 340, the main things you are going to want to improve upon are the intake and the exhaust. By simply opening up the air flow and letting the engine breathe better, you'll be surprised at how much extra power you can make.
For many people, one of the first 340 mods they make is upgrading the intake manifold. If you have a six-pack 340, you already have a high-flow aluminum manifold, but all others got a heavier cast iron version. Shedding weight and opening up flow through an aluminum intake is a great way to add some easy horsepower to the 340. Some of the most popular options are the Edelbrock Performer and RPM Air-gap.
Next up, you'll want to open up the exhaust just like the intake. Usually, the easiest way to do this is to fit a set of stainless steel long-tube headers on the engine. This will reduce back pressure and ease restriction, allowing for much better airflow in and out of the engine.
Now, you'll want to look at upgrading the camshaft if you want to make some real power. The 340 already used a somewhat aggressive cam compared with the 318, but you can add even more top end with a lumper stick, too. Keep in mind, with a small-block like the 340, you'll be giving up some low-end torque, so it's a better mod for draggers than street cars. Some of the most popular 340 cams are the Comp Cams XE274H and the XE268H.
Finally, getting a bigger carburetor will add some more horsepower. If you already have the six-barrel setup you're in luck, but other setups will benefit from a larger quad-barrel in the 650–750 cfm range.
Chrysler 340 Summary
Overall, the Chrysler 340 is one of the most iconic small-block muscle car engines of all time. It was dead reliable, shed lots of weight compared with the big-blocks, and could even outrun most of them. There was a reason many referred to it as the "Giant Killer," and it embarrassed more than a few 440 V8s in its heyday. If you're lucky enough to find yourself behind the wheel of a Chrysler 340 make sure you cherish it, as that's some of the finest Mopar construction ever made.
Chrysler 340 FAQ
How much horsepower does a stock 340 Mopar have?
Depending on the year, the Chrysler 340 V8 made 235-290 horsepower and 290-345 lb-ft of torque. The most powerful version was the 340 six-pack inside the Challenger T/A and AAR 'Cuda, which made 290 horsepower and 345 lb-ft of torque with a six-barrel carburetor. 
Is the 340 a good engine?
Many people regard the Chrysler/Mopar 340 V8 engine as one of the best muscle car engines of all time. It made gobs of horsepower and could outrun even its larger big-block competitors.