Chevy 6.2L LT1 Engine Guide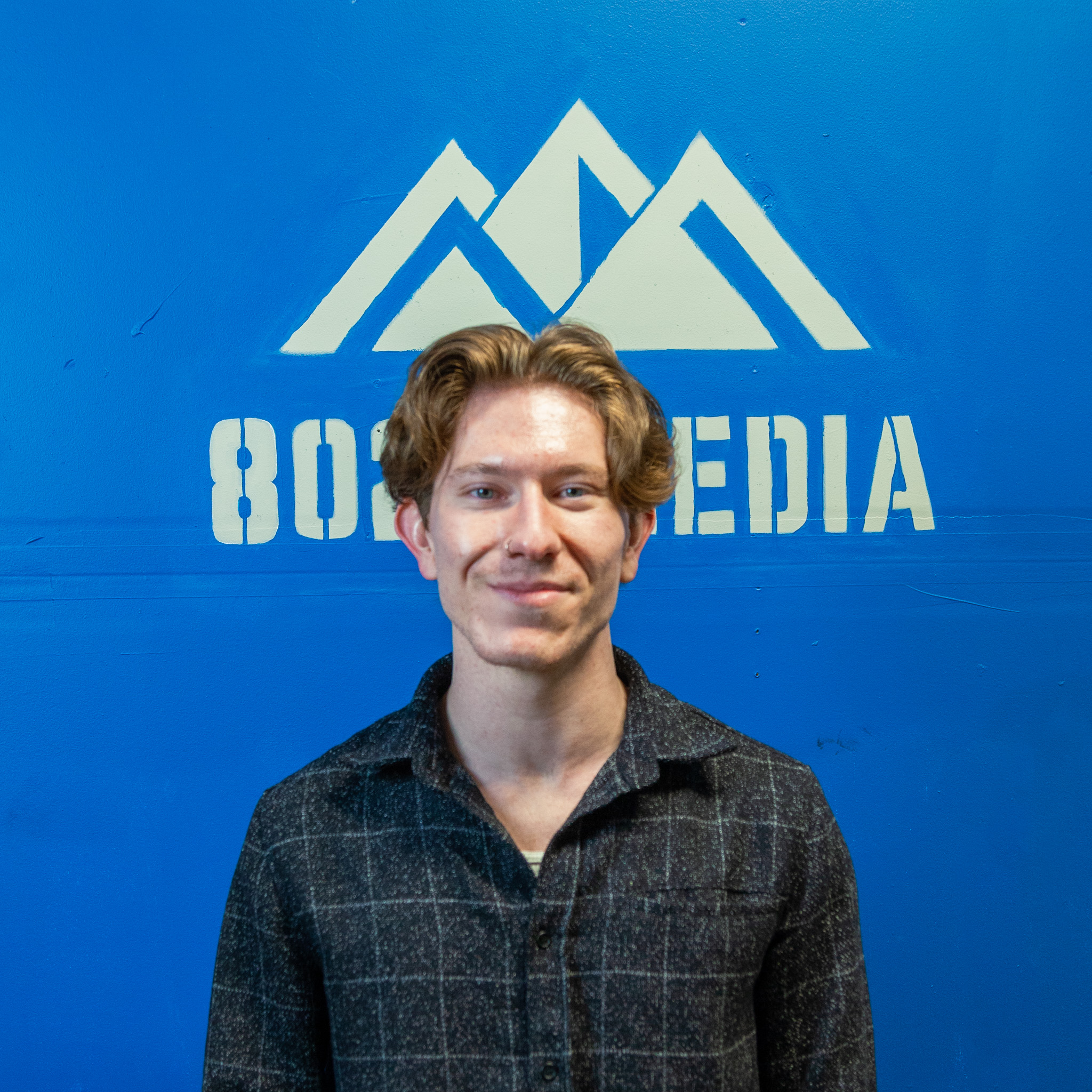 Meet Austin
Austin has been a muscle car enthusiast since an early age with his Dad having a collection including a 1965 Mustang, 1968 Mercury Cougar, and a 1969 Mustang Mach 1 among many others. Austin received a technical writing degree from University of Colorado Denver with the intentions of becoming an automotive journalist. His automotive knowledge, enthusiasm, and hands on experience allow him to craft detailed, accurate, and high-quality articles for the passionate Muscle Car Club audience.
It goes without saying that Chevy has one of the most celebrated engine catalogs of any automotive manufacturer around the world, and their small-block V8s are a big part of that legacy. While the basic recipe has remained the same for nearly half a century, the Chevy LT1 threw some new in with the old when it arrived in 2013. 
The 6.2L Chevy LT1 V8 was the first engine in the heavily redesigned 5th generation small block engine family and was immediately put to good use under the hood of the 2014 Corvette Stingray and 2016 Camaro SS. With a stock output of 455 horsepower and 460 lb-ft of torque, the Chevy LT1 marked a notable performance increase over the previous generation's Chevy LS3 V8. Despite some key similarities that have remained the same since 1954, the LS and LT engines are very different. 
The LT1 introduced some notable technological advancements to the Chevy small block formula and improved on existing ones. Some of the most notable additions include direct injection, continuous variable valve timing, and a revised version of Chevy's active fuel management system. In this guide, we'll cover the Chevy 6.2L LT1 in detail including the engine's history, specs, reliability, and common modifications. 
6.2L LT1 Engine Guide Contents
Chevy 6.2 LT1 Engine History/Variants
To add a bit of confusion to the mix, there have technically been three engines designated "LT1" in Chevy's history. The first Chevy LT-1 (the hyphen is important here) was a high-performance 5.7 V8 found under the hood of the 1970 Corvette as an option. The original 350 LT-1 was truly race-inspired, featuring four-bolt main caps, forged aluminum pistons, and a high-rise aluminum intake manifold. That first engine was good for 370 horsepower and was an extremely rare option for the C3 Corvette. 
After a gap of 22 years, the LT1 made a reappearance in the Corvette lineup, this time without a hyphen. The 1992 variant of the LT1 launched the introduction of the Gen II small block. Like the first variant of the LT1, the Gen II was also a 5.7L V8. The Gen II LT1 added some new innovations to the small block recipe including a reverse flow cooling system and port injection. The Gen II Chevy LT1 was rated at 300 horsepower and 330 lb-ft of torque. The LT1 fit the C4 Corvette like a glove, propelling it to a top speed of over 160 mph. The Gen II LT1 only remained in production for 6 years, fading out in 1998.
The most recent version of the Chevy LT1 was released in 2014, separated by three generations from the previous 5.7L LT1. Obviously, there were some very significant advances in engine technology between 1992 and 2014. That certainly shows when you look at the earlier 5.7L engines alongside the newer Gen V 6.2L LT1.
Chevy LT1 vs LS3
The Chevy LT1 engine replaced the Chevy LS3 V8 as the base engine for the Corvette for the 2014 model year. With the LS engine series being so popular, one of the main questions asked by Chevy enthusiasts is what changed with the LT engine series. Ultimately, there are quite a few differences between the engines. The Gen V small block was entirely redesigned, with only basic structural similarities remaining between the two engines.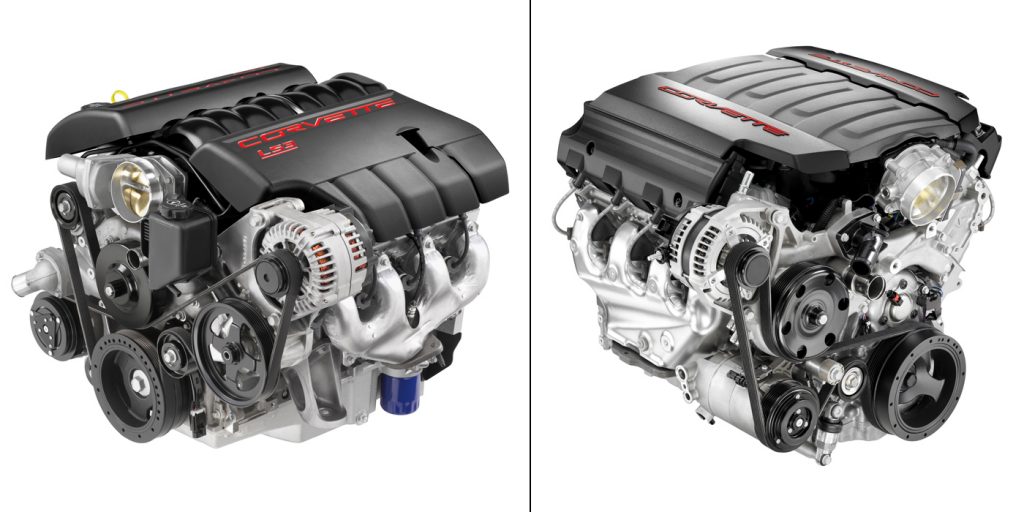 We'll start with the similarities first. Both the Chevy LT1 and LS3 share a 4.065" bore and a 3.622" stroke with the same 6.2L displacement. Like all Chevy small block engines, the LS3 and LT1 are also 90-degree two-valve pushrod V8s with 4.4" bore centers. Both use entirely aluminum construction and both have deep-skirted blocks, despite being different castings, for increased rigidity.
There's a lot more to be said about the differences between the engines. A significant amount of the discrepancies between the LS and LT engines boils down to the difference in fuel systems. While the LS3 uses port injection, the LT1 uses a direct injection system. That forced GM to redesign the cylinder heads, readjust exhaust valve locations, implement a high-pressure fuel pump, and change the combustion chamber size and piston design. The 6.2 liter V8 also improved on some of the modern technology introduced on the Gen III and Gen IV small blocks, including a revised active fuel management system and a new continuously variable valve timing system. 
That is honestly just scratching the surface, as there were tons of more minor changes made as well. If you are interested in learning more about the differences between the engines, take a look at our Chevy LS vs LT Engine Guide. 
6.2L LT1 Engine Applications
| | | | |
| --- | --- | --- | --- |
| Model | Years | Power  | Torque |
| Corvette C7 | 2014–2019 | 455 hp @ 6000 rpm | 460 lb-ft @ 4600 rpm |
|   |   | 460 hp @ 6000 rpm (Performance Exhaust) | 465 lb-ft @ 4600 rpm (Performance Exhaust) |
|   |   |   |   |
| Camaro SS | 2016-Present | 455 hp (339 kW) @ 6000 rpm | 455 lb-ft (617 N⋅m) @ 4400 rpm |
Chevy 6.2L LT1 Engine Specs
| | |
| --- | --- |
| Engine | Chevrolet LT1 6.2 V8 |
| Configuration | 90-degree Pushrod V8 |
| Displacement | 6.2L (376 CID) |
| Aspiration | Naturally Aspirated |
| Valvetrain | OHV 2 valves x cyl. w/VVT |
| Block/Head | Cast Aluminum |
| Bore x Stroke | 4.065 in × 3.622 in (103.25 mm × 92 mm) |
| Compression Ratio | 11.5:1 |
| Weight | 465 lbs |
| Horsepower | 455 hp-460hp @ 6,000 rpm |
| Torque (lb-ft) | 455 lb-ft @ 4,400 rpm – 465 lb-ft @ 4,600 rpm |
Chevy LT1 Engine Design
As with every other Chevy small-block V8 engine since 1954, the Chevy LT1 engine is a pushrod 90-degree V8 with 4.400-inch bore centers. While there are some common links between the 6.2L LT1 and other engines in the Chevy small-block family, the LT1 was comprehensively redesigned from the ground up.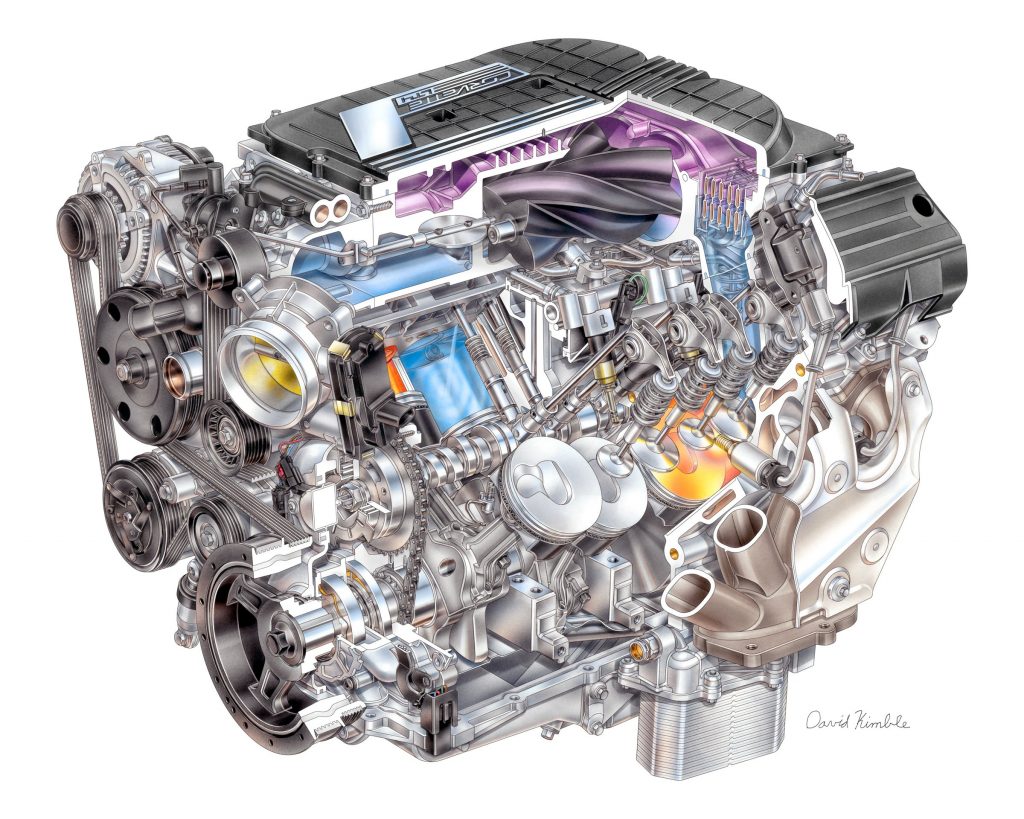 Compared to the earlier 350 LT1 engines, the Gen V received a higher 6.2L displacement. Both the LT1's block and cylinder head are made from aluminum. Like previous generation small blocks, the LT1 features a deep-skirted block for added rigidity. The cylinder heads were also comprehensively reworked to support the new direct-injection fuel system and simultaneously improve flow. The LT1's cylinder head features a smaller 59.02cc combustion chamber designed to work with the engine's dished aluminum alloy pistons to create a higher 11.5:1 compression ratio. 
Massive changes were also made to the Gen V small-blocks valvetrain. Compared to the LS, the LT1's exhaust valves swapped positions with the intake valves. The 6.2 LT1 also received a slightly more aggressive and reworked camshaft. The LT1 cam features a "tri-lobe" design, which allows it to drive the high-pressure fuel pump. Unlike previous Gen IV small blocks which only had binary variable valve timing, the LT1 has continuous variable valve timing.
In addition to the changes and updates listed above, the LT1 also received an improved, and less intrusive Active Fuel Management system, a more robust oiling system, revised high-flow intake and exhaust manifolds, electronic throttle, a reworked cooling system, new 58X ignition system, and distinctive PCV-integrated rocker covers.
Chevrolet 6.2L V8 Engine Reliability
One of the main reasons that so many people adore the Chevrolet short block is their unparalleled reliability. Luckily, the heavily redesigned LT1 follows the trend perfectly. Generally speaking, there are very few common problems with the Chevrolet 6.2 V8 engine, even as a performance-oriented V8. 
The most significant issue with the engine is a problem that happens with all direct injection engines, carbon buildup. Due to the fact that LT1 V8 uses a purely direct injection fuel system, no gasoline passes over the intake valves as it does with port injection. As a result, carbon deposits slowly build up on the valves, reducing performance over time. This typically manifests at around the 60,000-mile mark but can be cleaned with walnut blasting.
While not an engine problem, per se, there have also been some reports of the A8 automatic transmission found in early model C7 Corvettes and LT1 Camaros being prone to issues if pushed too hard or put in strenuous situations. Most LT1 owners that have experienced the issue report that the transmission can forcefully downshift and get stuck in a single gear. The majority of these cases happened on track or during hard driving. However, most of the issues with the A8 transmission were fixed when GM updated the design of the transmission input speed sensor.
Best Chevy LT1 Engine Mods
It's hardly a stretch to assume that if you own an LT1 Corvette or LT1 Camaro, a little more power would be nice. That isn't to say that the 6.2 V8 isn't plenty capable on its own, but it's always fun to go faster. Luckily, there are plenty of engine modifications available for the LT1 at this point, with a few standing above the rest in terms of value for money and overall performance gains.
While the potential is massive with the LT1, the amount of performance that you can extract from the engine heavily depends on budget. For example, it is possible to lay down over 600 wheel horsepower with a supercharger. But with that comes the need for all of the supporting mods as well. While forced induction is a very popular and effective route, we'll be focused primarily on LT1 bolt-on mods in this guide.
E85 Fueling
A Chevy LT1 Flex Fuel kit is widely considered to be the best bang-for-buck bolt-on modification for an LT1 Camaro or Corvette. While some Chevy engines come from the factory with Flex Fuel capabilities out of the gate, that unfortunately isn't the case for the LT1. But, with a relatively easy-to-DIY Flex Fuel kit, you can run your LT1 Camaro or Vette on E85 or any ethanol blend that you want. 
There are actually a few benefits to installing a Flex Fuel kit. For starters, E85 burns more efficiently and effectively than regular pump gas. As a result, E85 has shown to provide up to a 40 whp gain with a corresponding tune. In addition to the power gains, E85 burns cooler than pump gas as well, lowering combustion temperatures. This can help reduce internal damage and create a safer atmosphere to make even more power down the line.
Overall, an LT1 flex fuel conversion is a no-brainer from a performance and engine safety perspective. Most of the E85 LT1 Flex Fuel kits on the market will do the job effectively. With that being said, Lethal Garage's LT1 Flex Fuel kit is the most popular in the community and has solid reviews all around. It is also important to mention that the kit will not work out of the box. You will have to tune your vehicle alongside installing the kit in order to run an ethanol blend.
LT1 Headers
Performance headers have been a go-to mod on Chevy small blocks since the very beginning. They can yield some pretty impressive gains on the LT1 as well. Performance LT1 exhaust headers will clear some of the restrictions present in the factory exhaust system, freeing up some tangled horsepower and sound.
Almost all of the LT1 header options on the market are catless, which removes the two factory catalytic converters in the stock exhaust manifolds. However, Corvette C7 and LT1 Camaro have two additional cats in the X-pipe. To get the maximum performance from the 6.2L V8, you can also swap the factory X-pipe for one that has either high-flow cats or no cats at all. That will obviously cause your Chevy to fail emissions testing, produce a strong fuel smell, and be loud as hell, but is the best setup from a purely performance standpoint.
Long tube headers are far and away the most popular type of LT1 headers. They tend to help with mid-high rev range performance. Offerings from Kooks Headers and BBK Performance are popular options for the C7 Corvette and Sixth Gen Camaro respectively. With a corresponding tune, the addition of performance headers to your LT1 can yield up to 25 whp. 
Upgraded Cam
Cam upgrades are unquestionably one of the most popular LT1 modifications if you're after more power than simple bolt-ons can provide. It's not a straightforward modification though, as there is a lot to consider before upgrading your LT1 cam.
By upgrading to a more aggressive cam, you are changing the duration and lift of the intake and exhaust valves to let more fuel and air in and out of the cylinder. This obviously has a massive impact on power production and performance. To get the most out of an upgraded LT1 cam, it should be paired with other supporting modifications that bring the most out of the increased lift and duration. An upgraded intake manifold, ported throttle body, headers, and intake all work well when paired with an upgraded cam.
Once you have chosen your supporting modifications and power goals, you'll have to choose an appropriate cam grind. This can also be tricky as there are tons of cam profiles available. If you plan on doing mostly street driving, a mild street cam, like the Texas Speed Stage 1 cam, won't hamper drivability too much while still providing notable gains. If daily drivability isn't a concern, a more aggressive cam, like the Texas Speed EL-C7 cam, will provide more power and torque gains at the cost of on-street drivability.
Chevy 6.2 V8 FAQ
How much HP Does a 6.2 LT1 have?
The Chevy 6.2 LT1 produces between 455-460 horsepower and 455-465 lb-ft of torque. The LT1 on the C7 Corvette was available with an optional performance exhaust that gave the engine 5 additional horsepower.
Is the 6.2 LT1 a big block?
No, the Chevy 6.2 LT1 is a Chevy small-block engine. It was the first engine in the Gen V small-block family which was released in 2013. While the 6.2 LT1 shares some elements with earlier small block engines, it was largely redesigned and features a number of modern technologies like direct injection fueling, infinite variable valve timing, and active fuel management.
What is the difference between 6.2 LT1 and 6.2 LS3?
The 6.2 LT1 and 6.2 LS3 are somewhat similar, but come from different small block generations. The 6.2 LT1 is a Gen V small block, while the LS3 is a Gen IV small block. Despite their identical displacements, the LT1 shares almost no internal components with the LS3. The LT1 features higher compression and better overall performance. It also implements a number of modern technologies like direct injection fueling, infinite variable valve timing, and active fuel management.