Pontiac 455 Engine Guide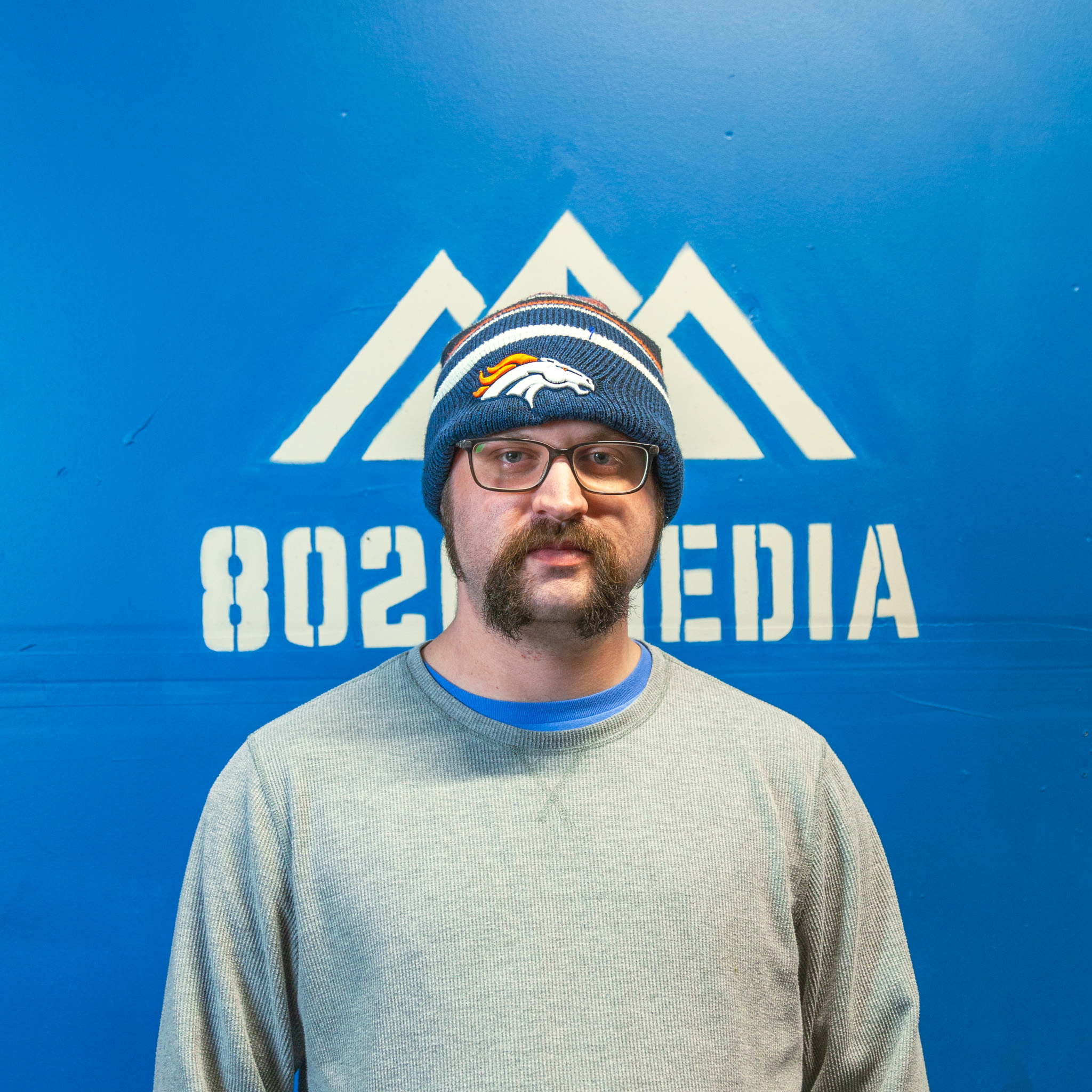 Meet Chandler
Chandler has a bachelors and masters degree in history as well as a passion for classics and muscle cars. His education and historical knowledge makes him skilled at crafting highly detailed articles about America's muscle cars and automotive history. His love of muscle cars is undeniable, with him seeking them out at every opportunity during his visits to auto shows and car meets. Chandler's knowledge and enthusiasm towards automotive history make him a great asset to the Muscle Car Club community.
Even though its glory days may have been relatively short lived, the Pontiac 455 is one of the most iconic V8 engines of the muscle car era. Pontiac built the engine for the 1970–1976 model years, where it produced a maximum of 370 horsepower and 500 lb-ft of torque. It was the biggest engine that Pontiac ever produced, and rivaled the Buick 455, Chevy 454, and Oldsmobile Rocket 455, as the top of the line General Motors' muscle car offerings.
Unfortunately, emissions caused Pontiac to detune the engine almost immediately, and they discontinued it after just seven model years. Today, muscle car enthusiasts look back fondly on the Pontiac 455 as a potent big-block V8 that powered everything from luxury cars like Catalina, to muscle cars like the GTO and Firebird Trans Am. Read on to learn all about the famed Pontiac big-block 455.
Pontiac V8 History
Pontiac's V8 history dates back to 1955, when they introduced their first V8 engine. Prior, the only eight-cylinders Pontiac had used were straight-8 engines, and they finally debuted their inaugural V8 in 1955 alongside GM-partner Chevrolet. From 1955–1961, Pontiac produced V8s ranging from 287-389 cubic inches in displacement. These engines had main-bearing journals that measured to 3.000 inches, and are widely known as the Pontiac "small-journal" V8s.
In 1961, Pontiac brought out the first of their "large-journal" V8s, which many consider to be big-blocks. These had main-bearing journals that measured to 3.250 inches and had larger main-bearing journal caps on three of the positions. This V8 was 421 cubic inches, which Pontiac expanded to 427 cubic inches in 1967, and finally to 455 cubic inches in 1970. The Pontiac 455 came out the same time as their GM-counterpart Buick 455, Chevy 454, and Oldsmobile Rocket 455 V8s.
Of them, the Chevy 454 was the most powerful, producing a maximum of 450 horsepower and 500 lb-ft of torque. The Buick, Olds, and Pontiac 455s all topped out and a still respectable 370 horsepower, with the Pontiac making 500 lb-ft of torque. Pontiac's 455 powered a variety of vehicles, including the full-sized Bonneville, Catalina, and Executive. They also used it to great acclaim in several muscle cars such as the GTO, Firebird Formula & Trans Am, Le Mans, and ultra-rare Tempest GT-37.
A Steep Decline
In its debut year of 1970, the 455 Pontiac produced as much as 370 horsepower and 500 lb-ft of torque, but things went downhill quickly. Largely due to emissions restrictions, Pontiac started dropping the compression and detuning the engine as early as 1971. In addition, in 1972 they began rating the engine's horsepower using SAE Net instead of SAE Gross calculations, the result of a new federal mandate. This made the engines appear vastly less powerful than they had been, even if they performed similarly on the street.
Most years, Pontiac produced several different versions of the engine, including a detuned economy version and at least one high-output or super-duty version (through '74). The engine survived through 1976, after which Pontiac focused on creating smaller and more fuel efficient engines. Since its official demise, the engine has remained a popular power-plant for drag racers and muscle car builds. With the right set of upgrades, these engines have been shown to make more than 1,000 horsepower when modified.
Pontiac 455 Specs
| | |
| --- | --- |
| Engine | Pontiac 455 |
| Engine Family | Pontiac "large-journal" V8 |
| Model Years | 1970-1976 |
| Displacement | 455 cid (7.45 liters) |
| Aspiration | Naturally Aspirated |
| Configuration | 90° V8 |
| Compression Ratio | 7.6:1 – 10.25:1 |
| Firing Order | 1-8-4-3-6-5-7-2 |
| Bore and Stroke | 4.1510 in x 4.210 in |
| Valve Train | Overhead Valve, 16 valves (2 val/cyl) |
| Variable Valve Timing | No |
| Fuel System | Carburetor |
| Head Material | Cast Iron |
| Block Material | Cast Iron |
| Horsepower Output | 185-370 horsepower |
| Torque Output | 330-500 lb-ft |
Pontiac 455 Vehicles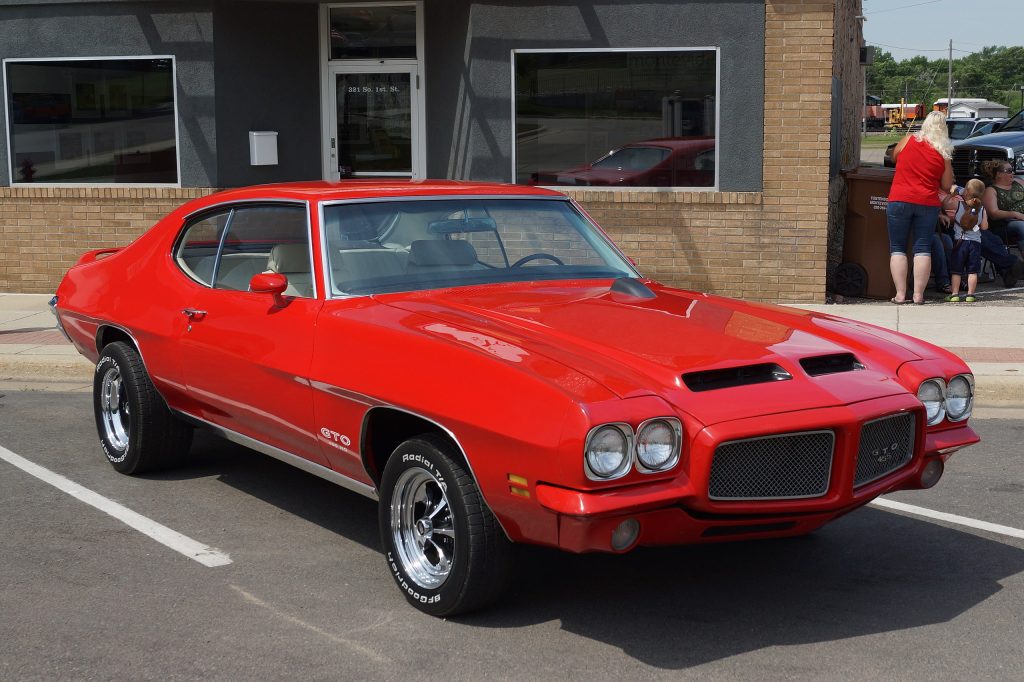 The Pontiac 455 engine appeared in the following vehicles:
Pontiac 455 Basics
The Pontiac 455 was a big-block 455 cubic inch (7.45 liter) V8 that had a cast iron block and heads. With a 4.1510 in x 4.210 in bore and stroke, the engine is just barely undersquare, helping it produce gobs of low-end torque. As a "large-journal" engine, the main-bearing journals are 3.250 inch diameter, and nearly all blocks have four-bolt main caps until 1973. After 1973, only the Super Dutys retained the four-bolt main caps, with the rest shifting to using two.
The engine uses a relatively simple overhead valve design with 16 valves total (2 valves/cylinder). This was long before the days of variable valve timing, and the engine uses a single in-block camshaft. Most versions used hydraulic lifters and some had hollow pushrods for reduced weight.
Compression ranged from a high of 10.25:1 in 1970 to a low of 7.6:1 from 1975–1976. Most of the drop in compression was due to emissions restrictions. Engineers had to decrease compression so that cars could run on non-premium fuel, which helped reduce emissions outputs.
For its entire run, the Pontiac 455 used either double or quad-barrel carburetors. The most popular of the carbs was probably the Rochester QuadraJet. This was a four-barrel unit that usually produced 750-800-cfm of airflow.
The Pontiac 455 HO and 455 SD Engines
In addition to the standard engine, Pontiac also made "high-output" and "super duty" versions of the Pontiac 455, too. The first 455 HO debuted alongside the standard engine in 1970, making 360 horsepower (or 370 horsepower in the Grand Prix). It used an aluminum intake manifold with larger valved round-exhaust-port heads, as well as a more aggressive camshaft. Pontiac only made the HO version of the 455 for three years. Starting in 1973, the more powerful 455s became marketed under the Super Duty moniker.
Super Duty versions used a strengthened block with four-bolt mains that had a provision for dry-sump oiling, forged steel rods and pistons, and a nodular iron crankshaft. The intake manifold was a high-flow cast iron version, and the carburetor a Rochester four-barrel QuadraJet.
The Super Duty engines lasted from 1973–1974, and in 1975 the HO moniker returned, but now as an option package for the engine. It didn't make any more horsepower than the standard 200 horsepower version, and was dropped for the 1976 model year.
Pontiac 455 Performance
For its debut in 1970, the Pontiac 455 was a very high performance engine. It produced a maximum of 360-370 horsepower to go along with a tire-burning, axle-breaking, 500 lb-ft of torque. There was also a 280 horsepower version inside the Bonneville and Catalina, and it still made a solid 455 lb-ft of torque. Yet, almost from the beginning, many people looked at the 455 as somewhat of an underachiever. While it matched the output of 455 Buick and Oldsmobile V8s, it was substantially less than the 450 horsepower Chevy 454 inside the Chevelle SS and Monte Carlo.
In addition, even within Pontiac, the 455 had some serious competition. The Pontiac 400 V8, which they had introduced back in 1967 inside the GTO, was still around and made almost the same power. The Ram Air III 400 pumped out 366 horsepower and the Ram Air IV 400 made 370 horsepower — the same as the 455. However, the larger engine had them beat in the torque department, with the Ram Airs making 445 lb-ft each compared to the 500 lb-ft from the larger engine.
On the street, the Pontiac 455 was actually the slowest of them all. The top dog 450 horsepower 1970 Chevelle SS 454 put down a zero to 60 mph time of 5.4 seconds and a ¼ mile of 13.81 seconds @ 104 mph. Next up was actually the 400 Ram Air III/IV, which did the same tests in 6.0 seconds and 14.6 seconds. Finally, the 455 brought up the rear with a 6.6 zero to 60 mph and 14.8 second ¼ mile.
The Decline of the Big-Block
Beginning in 1971, the year after it was first introduced, the Pontiac 455 already started its decline. The only models to actually get the original 360-370 horsepower version were the Bonneville, Catalina, Executive, GTO, and Grand Prix. Even though they were the same engines, Pontiac rated the GTO at 360 horsepower and the Grand Prix at 370 horsepower.
The following year, there were three outputs available: 280 horsepower, 325 horsepower, or 335 horsepower. Compression dropped from 10.25:1 the year prior to 8.2:1 – 8.4:1 in 1971, largely due to emissions restrictions. Pontiac had to decrease compression so that cars could run on non-premium fuel, which helped reduce emissions outputs.
Unfortunately, it meant the engine would continue to get depowered over the years. In 1972, a 185 horsepower version was available, but the highest output inside the Firebird Formula & Trans Am and the GTO still made 300 horsepower (SAE Net). Up until 1974, there was still a 290 horsepower version, but that finally bit the dust after 1974. From 1975-1976, the only output available was a 200 horsepower version, which had a low 7.6:1 compression ratio.
For 1977, the 455 was no longer an option. Emissions restrictions and consumer preferences for more fuel efficient vehicles heralded its demise. Nobody really wanted a 7.4 liter big-block if it couldn't even crack 201 horsepower from the factory, especially when engines half the size were performing almost as well. It still had aftermarket support, and with mods you could make it respectable, but the factory 455 was dead.
Best Pontiac 455 Mods
For those of you planning on building a Pontiac 455 V8, there are definitely a few mods that you should consider. It is important to keep in mind that if you are working with an older engine from 45–50 years ago, it's not going to be nearly as fresh as a newly rebuilt engine. This means that if you plan on adding serious power through new heads, camshaft, or forced induction, the internals probably won't hold up very long.
For those looking to make lots of power, you'll need a full refresh and rebuild of the engine, or it just won't hold up once you start to turn up the wick. Additionally, the earlier and HO/SD blocks' internals are capable of making more power than the later non-HO/SD blocks from 1975-on.
For a moderate build in the ~500 horsepower range, you'll want to mainly look at upgrading the airflow into and out of the engine. The best way to do this is to replace the restrictive stock intake and exhaust systems with higher-flowering aftermarket versions. Pontiac never gave the 455 the Ram Air intake, though there were rumors it would have gotten the Ram Air V in 1971. As a result, the stock intake is heavy and inefficient.
Intake & Exhaust Upgrades
Your first step is to upgrade to a high-flow air filter and look at an aluminum single or dual-plane intake manifold. Both of these will allow for superior airflow, and the intake will also help shed lots of weight over the stock cast iron manifold. The Edelbrock RPM Performer is one of the top choices for dual-plane, high-flow manifolds. Porting the factory QuadraJet manifold is also an option. For the carburetor, most builds will be able to utilize something in the 700-800-cfm range. The stock carbs are between 600-750-cfm, depending on the venturi and model.
For those really looking to make power, porting or getting high-flow cylinder heads is also a great option. Porting is a cheaper option, and will improve flow significantly. However, upgrading to high-flow aluminum heads will not just increase flow, but also helps reduce weight over the cast iron, too.
Compression on the stock 455 varies from 7.6:1 to 10.25:1. For a good street build able to run on 91-93 octane, you'll want to shoot for a compression ratio around 9.0:1 – 9.5:1. Possibly a hair less if you plan on running some boost.
Next will be opening up the exhaust. Replacing the existing cast iron stock manifold with some nice aluminum long-tube headers is a great start. If you are staying naturally aspirated, generally an exhaust in the 1.75"-2.5" range will be sufficient enough, especially if you are catless. True dual outlets will also help free up some back pressure.
455 Cams
Finally, a starter 455 build will want an upgraded camshaft. To put it lightly, there are A TON of different options for upgrading the cam. Keep in mind, however, that using a cam with higher than stock lift will necessitate new valve springs, and potentially new pushrods and lifters too. Some of the most popular options are the Voodoo and the Edelbrock Performer-plus. In addition, there are also offerings from Crower and Lunati.
Overall, the Pontiac 455 is a solid big-block V8 that is highly capable of making some serious horsepower and torque. Especially the earlier high-output (HO) and super duty (SD) engines, which already came stock with nearly double the power output the later engines would produce. You won't be disappointed with a big-block Pontiac build, and the 7.4 liter 455 is a great choice.
Pontiac 455 FAQ
How much HP does a 455 Pontiac have?
Depending on the year, the 455 Pontiac made 185-370 horsepower and 330-500 lb-ft of torque. The most powerful Pontiac 455 was the 1970 HO version, which produced 370 horsepower and 500 lb-ft of torque.
Is the Pontiac 455 a good engine?
Yes. The Pontiac 455 V8 is widely considered one of the top muscle car engines in history. It produced massive amounts of horsepower and incredible low-end torque, all while maintaining reliability and dependability.
Was Pontiac 455 a big block?
While Pontiac never officially referred to the 455 as a "big-block" engine, many people consider it to be one. The Pontiac 455 was part of Pontiac's big-journal series of V8 engines, all of which are over 400 cubic inches and can be considered "big-block" V8 engines.
How many years did Pontiac make a 455?
Pontiac built the 455 for seven model years from 1970–1976. Unfortunately, increasing smog and emissions restrictions caused Pontiac to drop it from 1977-on.