Best Corvette C7 Mods – 2014-2019 Corvette Upgrades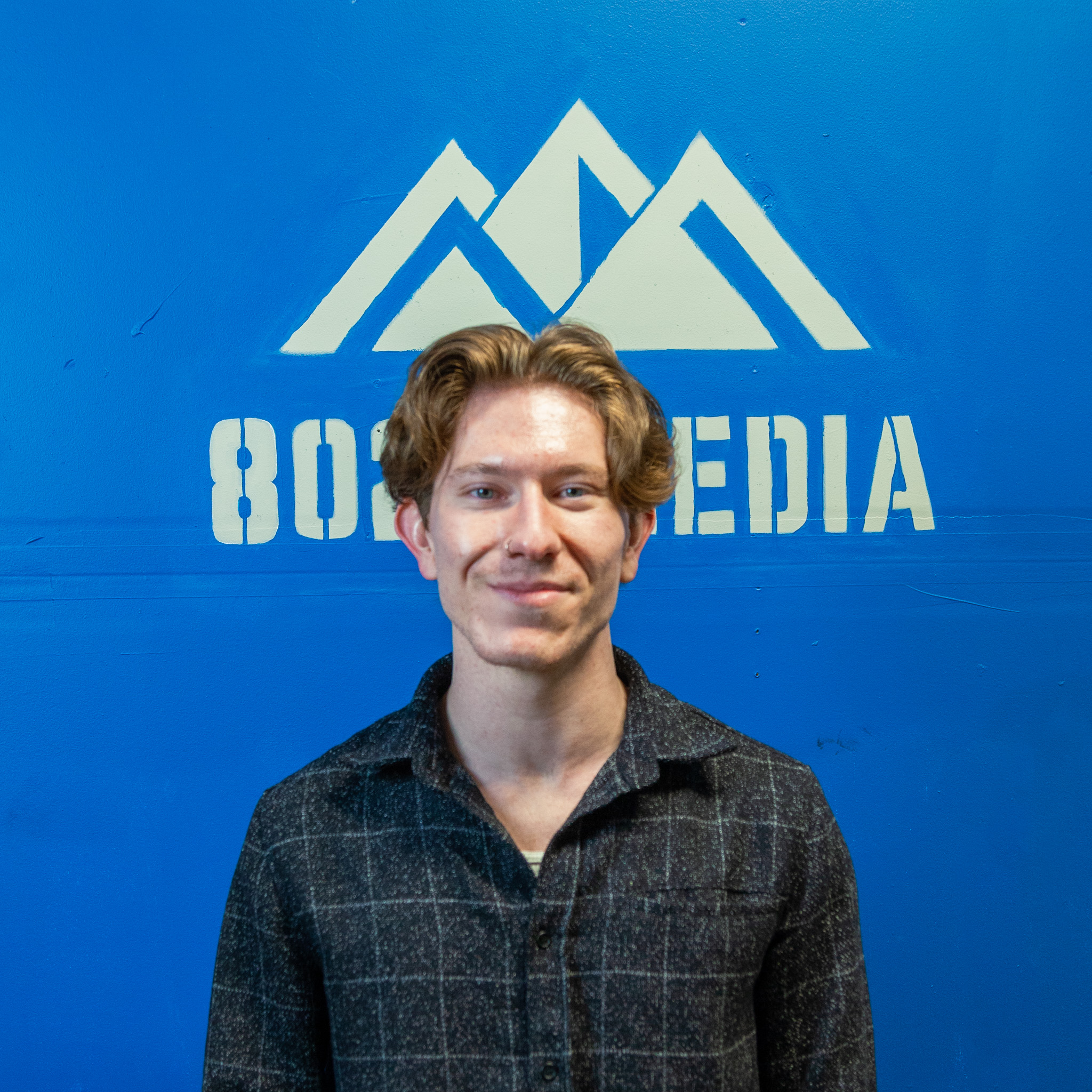 Meet Austin
Austin has been a muscle car enthusiast since an early age with his Dad having a collection including a 1965 Mustang, 1968 Mercury Cougar, and a 1969 Mustang Mach 1 among many others. Austin received a technical writing degree from University of Colorado Denver with the intentions of becoming an automotive journalist. His automotive knowledge, enthusiasm, and hands on experience allow him to craft detailed, accurate, and high-quality articles for the passionate Muscle Car Club audience.
The Chevrolet Corvette has always been the pinnacle of American sports car performance. Since the 1950s, the Corvette has represented the best that the US has to offer. When the C7 Corvette hit the streets in 2014, it borrowed elements of the generations before it while also defining a new direction. The flowing body lines of the C6 were thrown out in favor of more aggressive and angular styling. The C7 also introduced some new engines to the Chevy fleet like the LT1 V8, LT4 V8, and LT5 V8.
The Corvette C7 is an undeniable beast right out of the box. With the introduction of new and advanced suspension technology and a murderous 455 horsepower from the base Stingray, the C7 can certainly punch outside its tax bracket. With that being said, there are ways to improve on nearly every vehicle out there. In this article, we'll cover some of the ways to make a Corvette C7 a more capable and comfortable machine. We'll split the article into two different sections, with the first concerned with cosmetic and drivability Corvette C7 mods. The second section will be dedicated to performance Corvette C7 mods and ways to enhance the driving experience.
Corvette C7 Cosmetic and Drivability Modifications
Not all C7 Corvette mods have to be centered around performance. In fact, it can be argued that some of the best mods for the C7 have to do with the cosmetics of the car and the driver's experience behind the wheel.
When the C7 launched, there was a lot of talk about its appearance. While the Corvette C6 was rounded and aerodynamically styled with flowing body lines, the C7 is more angular and sharp. The rear end of the C7 caught a lot of flack for looking very similar to the 6th generation Camaro. Through some aesthetic modifications like body kits and aero accessories, it is possible to give the C7 Corvette a bit more of its own unique identity. Some of the most popular cosmetic C7 Vette mods also double to protect vulnerable paint areas prone to rock chips.
While the interior of the C7 Corvette is unquestionably higher quality than previous generations, there are some areas that can be improved. C7 daily drivers often complain of the copious road noise in the cabin. Luckily, there are some inexpensive and easy fixes for this problem.
Z06 Front Grille Swap
Z06 Replica Grille for C7 Stingray: acscomposite.com
Price: $429.00
Swapping from a standard Stingray or Z51 grille to a Z06 grille is one of the most popular modifications in the C7 community. Quite a few C7 owners dislike the chrome bar that runs through the standard grille. Swapping to the Z06 grille removes the chrome bar and replaces it with an entirely black grille. In addition to being a great cosmetic modification, the Z06 grille includes additional brake cooling ducts and a less restrictive mesh for better airflow to the radiator.
Since the grille area of the standard and Z51 Corvette are the same dimensions as the Z06, replacing the standard Stingray grille with the Z06 grille is very straightforward. There are a number of replica C7 Z06 front grilles available for sale, but the most popular ones come from ACS Composite and West Coast Corvette. Both options come with a pre-installed camera that is calibrated out of the box.
Replacing the grille only requires a few tools including a 7mm socket, 10mm socket, T30 bit, T15 bit, a socket wrench, some clip pullers, and some plastic wedges. We'll include a video below that walks you through the process. For C7 owners with moderate experience, the entire job should only take around an hour and a half to perform.
When it comes to cosmetic modifications for the Corvette C7, it's hard to beat a Z06 grille replacement. Not only will it give your Vette a more attractive front end, but it will also help marginally with brake cooling and better airflow.
C7 Sound Deadening and Lloyd Floormats
Corvette C7 BLOCKIT Sound Deadening Kit: horsepowerobsessed.com
Lloyds Rubberized Corvette Floor Mats: Lloydmatsstore.com
Loud cabin noise is another common topic of discussion in C7 forums. While there are certainly louder sportscars out there, the combination of lightweight fiberglass construction and an aluminum chassis makes interior noise in the C7's cabin apparent. There are some tried and tested ways to get rid of some of the noise, though.
One way to reduce C7 cabin noise is by installing a sound-deadening mat in the rear cargo compartment. There are a number of options on the market, but BLOCKIT is the most popular option. BLOCKIT sells a three-piece kit that covers the rear cargo area, and the area behind the rear seats. The product itself is made from an inch of acoustic-deadening foam that prevents sound from leaking into the cabin. Reviews in the forums are mostly positive, with most owners claiming that it made a significant difference.
Another way to reduce cabin noise even more while also improving the aesthetics of your C7 interior is by installing thicker floormats. Let's be honest, the thin stock C7 carpet floor mats are boring and ineffective. For that reason, many C7 owners swap them out for higher-quality ones.
When researching modifications for the C7, I was surprised to see how often Lloyds mats appeared in the recommendations. Many C7 owners like the rubberized Lloyds mats for their easy-clean properties, noise-deadening properties, and their look. I can't blame them. If you're looking for easier interior maintenance, C7 Lloyds mats are the way to go.
Z06 Rocker Panels
Corvette C7 Z06 Rocker Panels: performancecorvettes.com
Price: $599.00
Upgrading to Corvette Z06 rocker panels is another common aesthetic mod for those with a Stingray or Z51. Like the upgraded Z06 grille, the Z06 rocker panels also add some function as well. C7 stingrays are notorious for accumulating rock chips on the doors from the front wheels throwing them up. Z06 rocker panels extend out much further, preventing as many rocks from hitting the paint.
The other obvious reason for upgrading to Z06 rocker panels is how they look. Base C7 Stingrays come with pretty bland rocker panels and no side skirts. The Z06 upgrade gives a little more visual intrigue to the side profile of your C7. It is important to mention that some aftermarket Z06 rocker panels will require you to drill mounting points into the existing panels.
The OEM Z06 rocker panels are carbon fiber and many aftermarket companies make replica ones for the Stingray. Some companies like C7 Carbon offer Z06-style Corvette side skirts in unpainted composite, carbon flash, and full carbon fiber. Other companies like AC Composites sell PC composite replicas that have a bit more flex to them.
Performance Corvette C7 Mods
At the end of the day, the Corvette C7 is a performance car. While aesthetic and experience-enhancing modifications are nice to have, performance modifications are where you can unlock the true potential of your Vette. All three engines in the C7, including the LT1, LT4, and LT5, are very capable in factory form. With that being said, there are areas where all of them can be improved.
Of course, with enough money, you can transform a C7 into an entirely different beast. There are some highly modified C7s pushing more than 1,000 horsepower. However, that level of performance isn't attainable for most people. That's why we'll be primarily focused on bolt-ons and bang-for-your-buck Corvette C7 mods. Some of the mods to follow have a noticeable impact on power while some fix issues with the factory setup.
Ported Corvette C7 Throttle Body
Upgraded throttle bodies get a pretty varied response from enthusiasts. Some say that they do nothing while others claim that they massively increase horsepower. In reality, a ported Corvette throttle body is beneficial for a reason outside of that. The point of an upgraded C7 throttle body is to improve throttle response.
The two most common myths about ported C7 throttle bodies are that they will increase horsepower and that they are larger in diameter than a stock Corvette throttle body. In actuality, porting is meant to smooth out any imperfections caused by the initial casting process. There is often debris left over from the casting process which can interfere with airflow and velocity. With that being said, there are some C7 ported throttle body manufacturers that go beyond just this process.
Soler Engineering Corvette C7 Ported Throttle Body
Price: New – $438.90 Refurbished – $355.50
Purchase Here: solerengineering.com
Beyond any shadow of a doubt, Soler Engineering is the leading name in the Corvette throttle body game. In addition to simply porting a new, refurbished, or sent-in C7 throttle body, they also modify them in some very significant ways. Soler C7 throttle bodies include in-house designed Optimized Active Contours with sonic flow nozzles, lip and bore reduction, a greater discharge blade, and other unique design implementations to improve airflow at every point of throttle actuation.
The combination of all of the mentioned features adds up to the best ported Corvette C7 throttle body on the market. While it might not add horsepower, the improved throttle response is immediately noticeable.
Corvette C7 Ported Throttle Body Benefits
Lower weight-to-power ratio at part throttle, for a more nimble/spirited driving experience
Linearization and smoothing of the curve for a more predictable response and crisper shifts
Immediate response right off idling while keeping idling function undisturbed (No Hesitation/Stumble)
Does not require tuning. Warranty safe.
More air/power at every single throttle position after idle. Crucial for starting or expanding power gain modifications
Corvette C7 AFM Disabler
When Chevrolet introduced active fuel management to GM trucks in 2007, enthusiasts prayed that it wouldn't spread to performance cars. Unfortunately, cylinder deactivation made its way into every Corvette C7. This technology shuts down cylinders to conserve fuel in low-stress situations. While it might sound okay on the surface, there are a couple of problems with AFM. For one, it is unreliable and expensive to repair. Second, there is a period of lag after stepping on the throttle before all of the cylinders come back online. That is extremely annoying for performance driving.
Almost every Corvette C7 owner despises AFM and all of the problems that come along with it. Luckily, there is a way to eliminate the active fuel management system altogether. An AFM disabler is undoubtedly one of the most popular Corvette C7 modifications overall. AFM disablers are very simple devices that you plug into your OBD-II port. They don't change any ECU programming and everything is reset to stock when you remove it. It is a cheap modification and makes the Corvette C7 driving experience much better at the press of a button.
Range Technology AFM Disabler
Price: $230.95
Purchase Here: Phastekperformance.com
There are multiple Corvette C7 AFM disablers on the market but they all ultimately work the same. Range Technology has the most popular unit on the market. For a little over $200 you can get rid of the annoying power loss and potential engine-threatening issues that come with GM's active fuel management system.
Corvette C7 AFM Disabler Benefits
Eliminate the annoyance of power cutting in and out due to active fuel management
Limit the risk of lifter failure caused by AFM system
Stay in full engine power 100% of the time
Simple OBD plug-and-play device
Upgraded Corvette C7 Headers
Rounding out our list, we'll end with a bang. Exhaust modifications are one of the best options for getting a bit more power and a lot more sound from your Corvette C7. Headers are the most crucial part of the exhaust system for a few reasons. They are the first components in the exhaust system, so it is important for them to be efficient. If Corvette headers have too many obstructions, they can negatively affect exhaust flow and velocity. Factory Corvette C7 headers have catalytic converters that aren't optimally designed for maximum exhaust flow.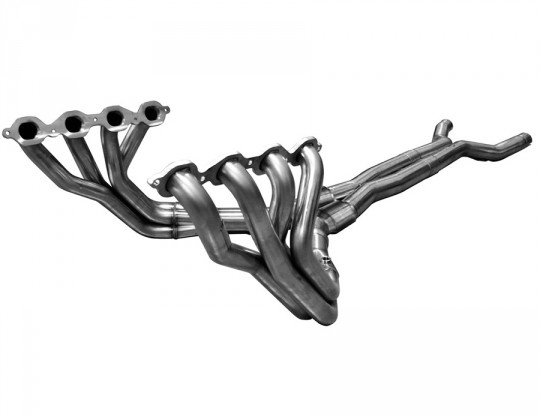 A set of aftermarket Corvette C7 headers can help eliminate the restrictions present in the stock manifolds. Ultimately, there are two choices. You can either buy high-flow Corvette C7 headers or catless Corvette C7 headers. High-flow cats will improve performance a bit while remaining road legal while catless headers improve performance more but will cause you to fail emissions testing and are illegal in many states. Corvette C7 High-flow headers will typically result in around 10-15 horsepower while catless Corvette C7 headers might result in around 20.
You'll also have to decide between short-tube and long-tube headers. Both types of headers will affect performance differently. Short-tube headers tend to enhance low-end power and torque, while long-tube C7 Corvette headers improve high RPM performance. While there are some short-tube C7 headers on the market, long-tube Corvette headers are by far the more popular option.
It is also important to note that many aftermarket Corvette C7 headers are not compatible with the rest of the factory exhaust system. As a result, many people order an aftermarket X-pipe along with upgraded headers.
Kooks 1-⅞" C7 Corvette Long Tube Headers
Price: $1,472.03
Purchase Here: kooksheaders.com
Kooks Corvette C7 X-Pipe: kooksheaders.com
For many people, Kooks is the only header manufacturer out there worth their salt. In most C7 Corvette header forum discussions, you can't scroll for more than about 10 seconds without the name "Kooks" making an appearance. Kooks has built a reputation for their exceptional attention to detail and top-notch build quality. They have devoted themselves to producing high-performance headers and exhaust components for American racing purposes for nearly half a century. Their C7 Corvette headers are no exception.
Kooks offers multiple runner tube diameter options for their Corvette C7 headers. Their 1-⅞" diameter headers are the most popular option, blending high exhaust velocity with ample flow. All Kooks headers are built from 304 stainless steel, making them one of the strongest options on the market. Everyone that has installed them says that there were no clearance issues or fuss with installing them on their C7 either.
As stated above, the Kooks Corvette C7 headers do not bolt up directly to the factory exhaust system. To run these headers, you'll have to combine them with the Kooks Corvette C7 X-Pipe.
Corvette C7 Long-Tube Header Benefits:
(Catted) 10-20 hp gain w/ similar torque gain with tune
(Catless) 20-30 hp gain w/ similar torque gain with tune
Notable increase in power in the mid-high rev range between 4,500-6,000 rpm
Reduced backpressure
Lower exhaust gas temperatures
Better exhaust scavenging characteristics
Improved exhaust sound
Best Corvette C7 Mods Summary
The Chevrolet Corvette C7 was a defining car for the future of the Vette. It's undeniable that the C7 is a beast right out of the box. However, there are ways to improve the C7 Corvette's performance and driving experience. Ultimately, these improvements can be broken down into cosmetic and drivability mods and performance C7 Corvette mods.
Regarding cosmetic and drivability modifications, replacing the standard grille with a C7 Z06 grille is a great first step. It has a more attractive appearance while also helping marginally with brake cooling and better airflow. Z06 rocker panels are another good exterior modification that provides better looks and some function. A sound-deadening mat in the rear cargo compartment is another favorite in the C7 community. A BLOCKIT mat and thicker Lloyd floor mats help to reduce cabin noise while also improving the aesthetics of the car's interior.
Obviously, Corvette C7 performance upgrades are vital too. Soler Engineering is the leading name in the Corvette throttle body game, and their product has unique design implementations to improve airflow. AFM disablers are popular among Corvette C7 owners since the active fuel management system is unreliable and can lead to other serious problems. Range Technology offers a popular AFM disabler that eliminates the annoyance of power cutting and potential engine-threatening issues. Upgraded Corvette C7 headers are the best option for getting more power and sound from your car since they help eliminate restrictions in the stock manifolds.
Let us know what your favorite Corvette C7 mods are in the comments below. If you enjoyed this content, also check out our Best Corvette C6 Mods guide and our Chevrolet Corvette History and Specs guide.