Ford Cobra Jet Guide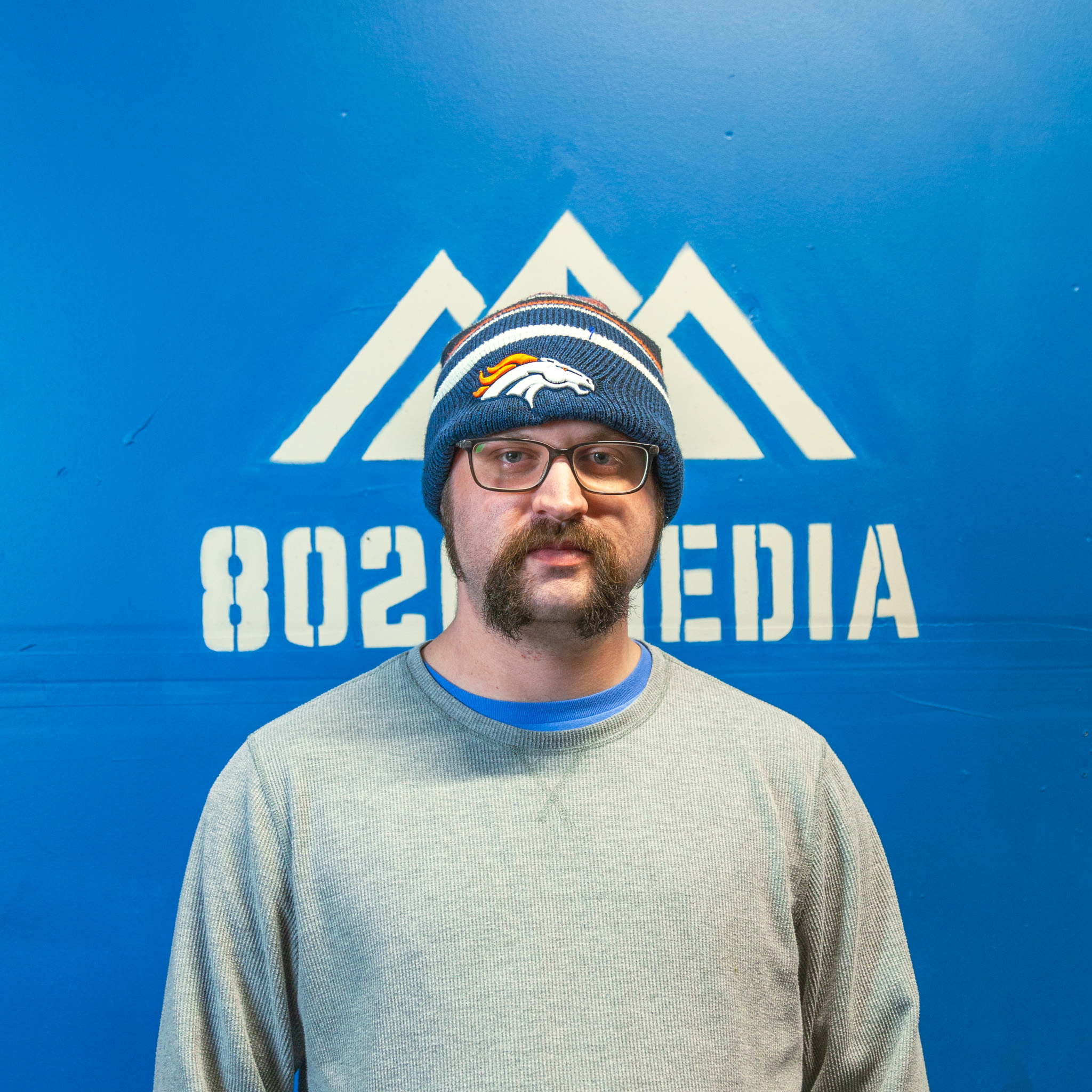 Meet Chandler
Chandler has a bachelors and masters degree in history as well as a passion for classics and muscle cars. His education and historical knowledge makes him skilled at crafting highly detailed articles about America's muscle cars and automotive history. His love of muscle cars is undeniable, with him seeking them out at every opportunity during his visits to auto shows and car meets. Chandler's knowledge and enthusiasm towards automotive history make him a great asset to the Muscle Car Club community.
Over the years, Ford has produced some incredibly iconic cars and engines. The Model T has long been considered one of the greatest manufacturing feats in modern history, and Ford's flathead engine transformed V8s for the future. In 1968, Ford released the first versions of their now famed V8 Cobra Jet engines. Ford Cobra Jets came in either 351, 428, or 429 cid displacements, and there were also Super Cobra Jets, too.
In the '60s-'70s, Ford put the Cobra Jet and Super Cobra Jet engines in Mustangs, Thunderbirds, and of course, Cobras. The most iconic are probably the Ford Cobra Jet Mustangs, which won numerous drag racing championships. The engine was widely praised for its performance and design, and it was by far the most powerful Ford production motor available. Ford's Cobra Jet engines rivaled high output big blocks from General Motors and Chrysler, and finally made some Mustangs worthy of being called muscle cars.
The original Ford Cobra Jets never made it past the 1970s, as increasing emissions restrictions and environmental and energy concerns ended up converging to squeeze the Cobra Jets out of existence. Yet, in 2008, Ford brought back the Cobra Jet badging for its 40th Anniversary. There have been eight new models since then, culminating in the 50th Anniversary Cobra Jets for 2018.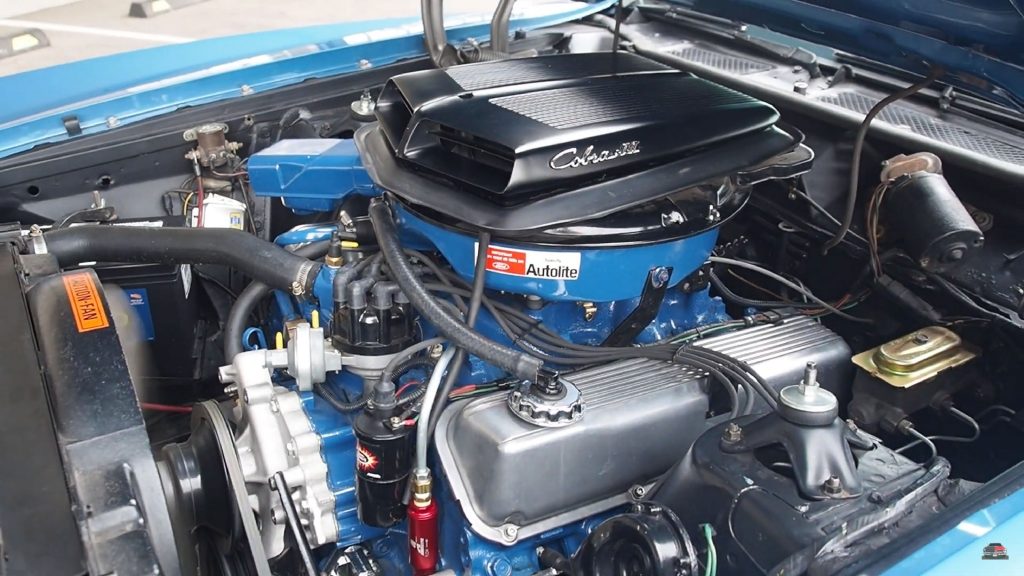 Table of Contents
Ford Cobra Jet History
Ford Engines Before the Cobra Jets
In 1958, Ford introduced their first line of big block motors, known as the Ford FE engines. Yet, while they were considered big blocks, the first generation of the Ford FE never had displacements of larger than 400 cid. The largest was the 390 cid, which Ford first brought out in 1961. Ford introduced their second generation of FE V8 big block engines in 1962 with the 406 cid big block.
The 406 was a serious development for Ford, as it catapulted them to NHRA and NASCAR victories in the mid-1960s. The 406 was essentially a bored 390, and in 1963 Ford went even bigger and bored the 406 out to 427 cid. The 427 quickly became one of the most popular and powerful Ford engines, pumping out 425 horsepower. The Ford 427 became immortalized in 1966, when Ken Miles piloted it during the 1966 24 Hours of Le Mans (later chronicled in Ford v. Ferrari).
Yet, Ford did not use any of the second generation big blocks in pony cars – like the Mustang – at first. The Mustang still used small blocks in their engines, with the 289 cid being the largest available. In 1967, this changed when they put the first generation 390 big block in the Mustang. However, Ford ran into a problem. The 390 Mustang was getting abused at the drag strip by Chevrolet's new 396 powered Camaro.
Carroll Shelby, Bob Tasca, and The Hybrid 427/428 Engines
In response to the Camaro, in mid-1967 Carroll Shelby created the first Shelby GT500 Mustang. The 1967 Shelby GT500 featured a new 428 cid engine that had been used in the Thunderbirds and Galaxies. The 428 was basically a bored out 427, though it performed better and was more reliable. The GT500 wasn't quite as fast as the Camaros, though it was closer than the 390 powered Mustangs.
At the same time, a Ford dealer named Bob Tasca was also looking to get more power out of his 390-powered Mustangs. Incredibly, he too put a 428 cid block in his Mustangs, but he took it a step further than Shelby. Whereas Shelby had scrapped plans to redesign the 428's intake manifold – a notorious choke point – Tasca came up with a different idea. In lieu of reverting back to the factory 428 head castings, Tasca put heads from the 427 instead.
As it turned out, the 427 heads massively improved both low-end torque and top-end power on 428. They were almost a direct fit, and Tasca called his new creation the KR-8 Mustang. When the Ford execs at their plant in Dearborn, Michigan saw Tasca's KR-8 428 engine in person they were impressed. Reportedly, they didn't even let Tasca leave with the car. The Ford engineers kept the KR-8 so they could break it down and discover what made it so powerful.
The Birth of the Cobra Jets
Combined with their burgeoning competition with the new Chevy Camaro, Ford decided to put a modified 428 – heavily based on Tasca's 428 – into the Mustang for 1968. Ford branded the new 428 the Ford Cobra Jet engine, and they also put it in the Fairlane and Torino. The Mercury division of Ford put the 428 Cobra Jet in their Comets and Cyclones, and Shelby used one for his new GT500KR (King of the Road).
Ford rated the engine at 335 horsepower and 440 lb-ft of torque, but that was probably understated for insurance purposes. Most estimates put the 1968 Ford Cobra Jet 428s at north of 400 horsepower.
Ford had first introduced the public to the new Ford Cobra jet powered Mustangs at the 1968 NHRA Winternationals. Its outstanding showing, including a first place finish, and immediate fan reaction prompted Ford to put the engine in production Mustangs. There were slight differences in the base and higher trim Ford Cobra Jets, yet they were all rated the same 335 horsepower, likely meaning Ford was really sandbagging the numbers the whole time.
In 1969, Ford created an even higher performance version, known as the 428 Super Cobra Jet. These were sold as part of the "Drag Pack" option. They were almost identical to the standard Cobra Jets, but had stronger internals. They were still rated the same 335 horsepower as the Cobra Jets, which was probably still underestimated by 100 horsepower.
The 429 Cobra Jet Arrives
In 1970, Ford began phasing out the FE engines in favor of the new 385 big block series of engines. The 428 Cobra and Super Cobra Jets continued for 1970, but there was also a new 429 Cobra Jet now. Though almost identical in displacement, Ford based the new 429 Cobra and Super Cobra Jets on the 385 series.
Ford had introduced the 385 series in 1968, and the 429 first appeared in the Thunderbird. Ford created a few high performance variants of the 429, the Boss 429 and the 429 Cobra/Super Cobra Jets. The Ford Cobra Jet and Super Cobra Jet were introduced in 1970, and they were improvements over the 428s.
The 429 Ford Cobra Jet pumped out 370 horsepower, while the Super Cobra Jets pushed out 375 horsepower. They also made a healthy 450 lb-ft of torque, which made for total increases of 35-40 horsepower and 10 lb-ft over the 428s. While the engine was widely praised in car magazines for its performance, its large weight (720 lbs) was often chastised.
It's not very well known, but Ford also branded another Cobra Jet from 1971-1974 – the 351 Cleveland. The Cobra Jet version of the 351 Cleveland was one of four 351 Clevelands Ford released that year. It didn't come close to comparing with the 351 Boss, and was below even the standard 351 in performance. In 1971, the 351 Ford Cobra Jet made 280 horsepower, but that dropped to 266 horsepower and then 255 horsepower. The 351 Cobra Jet is also known as the Q-Code 351, due to its RPO.
The End of the Original Cobra Jets
Ford discontinued the 429 Cobra Jet and Super Cobra Jet options after 1971, largely due to the increasing emissions restrictions. With the elimination of the 428 Ford Cobra Jets after 1970, this left only the measly, low compression 351 Cobra Jet as the only one remaining for 1972-'74.
By 1975, the Ford Cobra Jet had ceased to exist in production. This marked the end of the original run of Ford Cobra Jet engines and vehicles. Ford couldn't let the legacy of the Cobra Jet die with the 351, but it took quite some time to revive.
The Cobra Jet Mustang Returns in 2008
Four decades after its initial release, and 34 years after it was discontinued, Ford brought back the Cobra Jet badge in 2008. They did so to honor the 1968 Mustangs that won the NHRA Winternationals, and inaugurated the first Cobra Jet era. The new 2008 Ford Cobra Jet Mustangs were built strictly for the drag strip, so they weren't even given VINs. Initially, Ford limited production to only 50, but later increased that by 250 due to popular demand.
Ford released new versions of the Cobra Jet Mustang in 2010, 2012, 2013, 2014, 2016, and 2018, making 50 annually. Instead of a Cobra or Super Cobra Jet engine, the new Mustang Cobra Jets feature modified existing production engines. From 2008-2012, Ford used a supercharged version of their 5.4 L Modular V8. From 2013-2016, they used the 5.0 L Coyote engine as their powerplant. For the most recent 2018 Ford Cobra Jet, Ford used their modified Coyote variant, the 5.2 L Voodoo.
All of the new Ford Cobra Jets are supercharged, except the Cobra Jet TT from 2013 that has twin-turbos. In order to keep the car eligible for the stock NHRA category, Ford capped power at 430 horsepower. However, there have been multiple anniversary Ford Cobra Jets that have made sub-8 second quarter mile passes, showing there is serious room for modding.
The Electric Cobra Jet
In 2020, Ford came out with the most unique Cobra Jet in history, the All-Electric Mustang Cobra Jet 1400. Ford gave the electric Cobra Jet its name because it produces 1,400 horsepower and 1,100 lb-ft of torque. However, in true Cobra Jet fashion, Ford underestimated the horsepower from the factory. According to Ford themselves, independent dynos showed electric Cobra Jets making north of 1,500 wheel-horsepower. But of course, it was too late to change the name.
The Electric Ford Cobra Jet Mustang can blast through the quarter-mile in just 8.12 seconds at 172 mph, annihilating any Mustang that has ever been in production. Reportedly, Ford plans on getting even crazier with the electric Mustang Cobra Jet, shooting eventually for one that can hit the quarter-mile in less than 7 seconds.
There is no word on when the next Ford Cobra Jet Mustang will be released, or even if there will be another one. The increasing shift towards electric power plants makes it likely that any future Cobra Jets will be electric. But as the 1,500 whp 2020 Ford Cobra Jet showed, that might not be a terrible thing. Just as long as they don't add gimmicky speakers with faux-engine noise, like some of their competitors.
Original Ford Cobra Jet Engines Specs
| | | | |
| --- | --- | --- | --- |
| Engine | 428 Cobra Jets | 429 Cobra Jets | 351 Cobra Jet |
| Production Years | 1968-1970 | 1970-1971 | 1971-1974 |
| Configuration | V8 | V8 | V8 |
| Displacement | 428 cid | 429 cid | 351 cid |
| Aspiration | Natural Aspiration | Natural Aspiration | Natural Aspiration |
| Head/Block Material | Cast Iron | Cast Iron | Cast Iron |
| Engine Family | Ford FE | Ford 385 Series | Ford 335 Series |
| Bore & Stroke | 4.13 in X 3.98 in | 4.36 in X 3.59 in | 4.0 in X 3.5 in |
| Compression Ratio | 10.5:1; 10.6:1 | 11.3:1 | 8.0:1; 9.0:1 |
| Weight | 625 lbs | 720 lbs | 525 lbs |
| Valve Train | OHV 16V | OHV 16V | OHV 16V |
| Fuel System | 4 bbl Carb | 4 bbl Carb | 4 bbl Carb |
| Carburetor | Holley 735 cfm | Ford 715/Holley 780 | 4300-D 750 cfm |
| Horsepower Output | 335 horsepower | 370-375 horsepower | 245-280 horsepower |
| Torque Output | 440-445 lb-ft | 450 lb-ft | 301-345 lb-ft |
428/429 Cobra Vehicle Applications
428 Cobra Jet Vehicle Applications
1968-1970 Ford Mustang
1968-1969 Ford Fairlane
1968-1969 Ford Torino
1969 Ford Cobra
1968-1970 Mercury Cougar
1968 Mercury Comet
1968-1969 Mercury Cyclone and CJ
1969 Mercury Montego
1968 Shelby GT500KR
428 Super Cobra Jet Vehicle Applications
1969-1970 Ford Mustang
1969 Ford Fairlane
1969 Ford Torino
1969-1970 Mercury Cougar
1969 Mercury Cyclone and CJ
1969 Mercury Montego
429 Cobra Jet and Super Cobra Jet Vehicle Applications
1971 Ford Mustang
1970-1971 Ford Fairlane
1970-1971 Ford Ranchero
1970-1971 Ford Torino
1970-1971 Mercury Cougar
1970-1971 Mercury Cyclone and CJ
1970-1971 Mercury Montego
351/428/429 Ford Cobra Jet Engines
Now let's take a look at the various Ford Cobra Jet engines. There were three original Cobra Jets, the 351, 428, and 429. Each engine was from a different Ford engine family, with the 428 and 429 both being big blocks.
351 Cobra Engine Design
The 351 Cobra Jet was the final Cobra Jet engine that Ford released, and it lasted from 1971-1974. It was very similar to the standard 351 Cleveland engine, but with a few key differences. Compression was lowered from 10.7:1 to 9.0:1, and in 1971 it actually made 5 horsepower less than the standard 351 at 280 horsepower. Bore and stroke was 4.0" X 3.5". The chambers were open head, which helped with emissions, and Ford fitted the Autolite/Ford 4300-D 750 cfm 4bbl carburetor to it.
The 351 Ford Cobra jet also had four-bolt mains, hydraulic valve lifters, high lift/duration cams, and larger valves than the standard 351. 1973-1974 351 Cobra Jets had smaller valves, which resulted in a drop in horsepower on some models to 245. The block and head were both cast iron, but some models may have had aluminum intakes instead of cast iron.
428 Cobra Jet Engine Designs
Unlike the 351, Ford based the 428 Cobra Jet and Super Cobra Jets on the FE series of engines. Ford released the original 428 in 1966, and in 1968 the Cobra Jet variant was born. The following year, the Super Cobra Jet became an option. The Cobra Jets are very similar to the standard 428s, with only minimal upgrades for better performance and reliability.
The block and head are both cast iron, and the bore and stroke were 4.13" X 3.98". As mentioned, the 428 Ford Cobra Jets had 427-style heads, which had 2.09" intake valves and 1.66" exhaust controllers. The cast iron intake manifold was a high-rise style, which was exceedling heavy at 90 lbs. The 428 also got a single snorkel air cleaner and had a Holley 735 cfm carburetor. Compression was either 10.5:1 or 10.6:1, with 10.6:1 taking over from 1969-on.
There was also the optional Ram-Air induction system that featured a newly designed air cleaner to draw in the coolest air possible, which was available for both models. Both the Cobra and Super Cobra Jets had dished cast pistons, and used stronger connecting rods than the standard 428. The rotating assemblies between the Cobra Jet and Super Cobra Jets are different, and mixing them leads to balance issues. Super Cobra Jets also had oil coolers as standard, which were options for the Cobra Jets.
429 Cobra Jet Engine Designs
Ford based the 429 Cobra Jets on their 385 series of V8 engines. They had introduced the 385 series in 1968 to start replacing the outgoing FE series. The 429s are also known as the 7.0 Lima V8s, due to their metric displacement. With a bore and stroke of 4.36" X 3.59", the 429 has a larger bore but smaller stroke than the 428s.
Ford released a few high performance variants of the 429, including the Boss 429 and the Cobra Jets. The Boss and Cobra Jets had the same block with four bolt mains, short skirts, and thin wall castings. The Cobra Jets had three bolt caps instead of four like the Boss, and also did not have the screw-in freeze plugs like the Boss. The 429 blocks are incredibly solid, and the Cobra Jets got a high nodularity, Brinnel tested crank and forged rods.
For the 429 Ford Cobra Jet carbs, there were either 715 cfm or 780 cfm 4 bbl options. The 715 was a Ford replica of a Rochester carb, and was fitted to the base Cobra Jets. The 429 heads were incredibly free flowing, and in reality some of the best Ford big block heads ever created. The Super Cobra Jets got forged aluminum pistons and higher performance camshafts, as well as a high-rise intake manifold.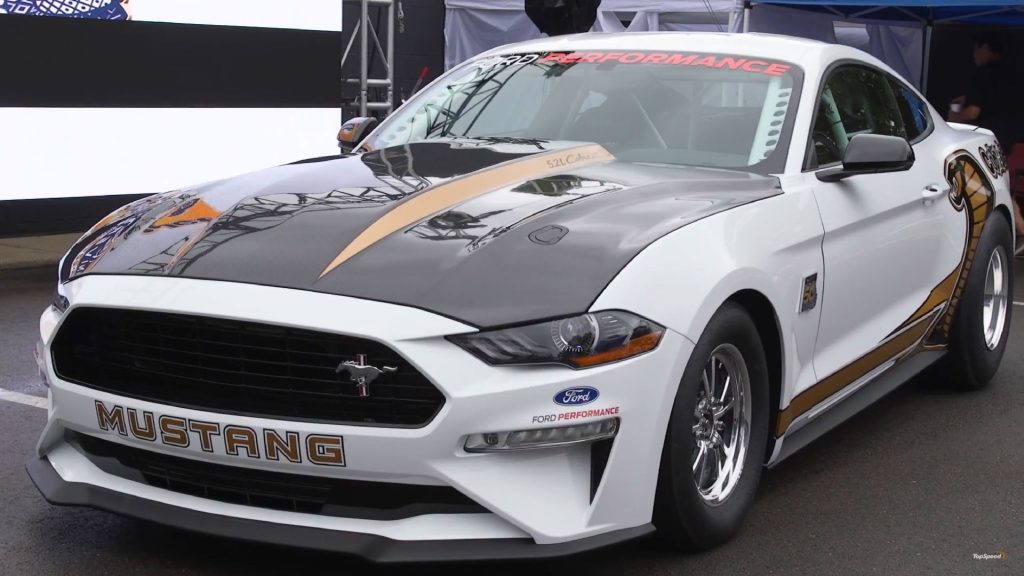 Ford Cobra Jet Legacy
The Ford Cobra Jets are some of the most iconic engines in Ford history, and have been since their release back in 1968. The original production run only lasted for six years, from 1968-1974, but it made an incredibly outsized impact. Enthusiasts immediately latched onto the 428 and 429 Cobra and Super Cobra Jets, pushing them to their limits at local drag strips on the main drag. Even in 2022, almost six decades later, the Ford Cobra Jets are still lusted over today by generations of gearheads.
Ford, realizing the sin of allowing the last Cobra Jet production engine to be the lukewarm 351 Cleveland Cobra Jet, finally revived the badging in 2008. They have released new Cobra Jets every two years, with 2022 being the first exception so far. In 2020, Ford switched from massive superchargers to an all-electric platform, but dropped jaws by making 1,500 wheel-horsepower – a worthy trade-off to get rid of the internal combustion engine.
The future of the Cobra Jet is unknown, and it's unclear whether Ford will ditch petrol for good and switch to electric, or if that was a one year anomaly. Either way, you can be guaranteed it will be a monster at the drag strip and not be lacking for power. The spirit of Bob Tasca and Carroll Shelby's original 427/428 hybrids still live on today – if you're lucky enough to see one in person.